Weekly Energy Update (February 17, 2022)
by Bill O'Grady, Thomas Wash, and Patrick Fearon-Hernandez, CFA | PDF
Oil prices briefly moved above $95 per barrel and are threatening the $100 per barrel level.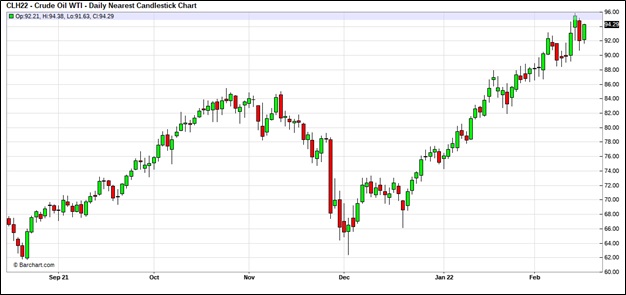 (Source: Barchart.com)
Crude oil inventories rose 1.1 mb compared to a 1.9 mb draw forecast.  The SPR declined 2.7 mb, meaning the net draw was 1.6 mb.

In the details, U.S. crude oil production was unchanged at 11.6 mbpd.  Exports fell 0.8 mbpd while imports fell 0.6 mbpd.  Refining activity plunged 2.9%.  It is possible that the cold snap in the reporting week adversely affected refining in Texas and Louisiana.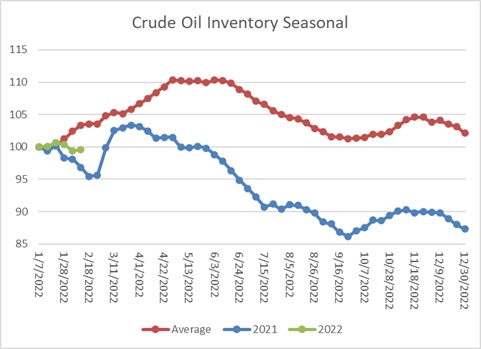 (Sources: DOE, CIM)
This chart shows the seasonal pattern for crude oil inventories.  This week's report shows we are "splitting the difference" between last year's plunge and the usual rise seen in the 5-year average.

Based on our oil inventory/price model, fair value is $70.99; using the euro/price model, fair value is $55.07.  The combined model, a broader analysis of the oil price, generates a fair value of $63.76.  It is rather clear that the relationships between crude oil prices and the dollar/oil inventories have changed.  The pandemic has likely led to these changes, but the bigger issue may be the impact of climate change policy on investment.
 Market news:
As tension rise with Ukraine, Germany's natural gas reserves have fallen to dangerously low levels.  If a conflict emerges in Ukraine, Germany could face an energy crisis which would likely lift oil and gas prices even above their current elevated levels.
High energy prices are a serious political problem for the White House.  Unfortunately, there are few short-term actions that the administration can take to ease prices.  There are essentially four actions the administration is taking—SPR releases, lobbying OPEC+ for higher output, cajoling higher domestic output (while seeing environmental rules reduce supplies), and reviving the Iran nuclear deal.  So far, none of these have had much effect.
As oil prices rise, there is growing speculation that U.S. shale producers will ramp up output.  However, so far, we are not seeing much evidence of expansion.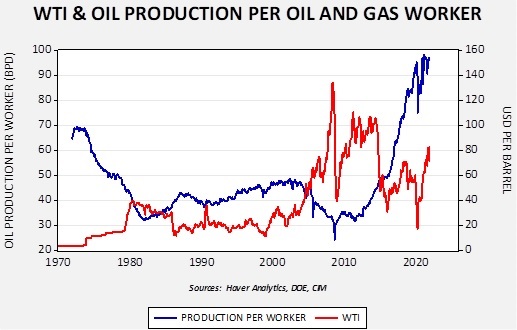 This chart compares WTI to the barrels of production per worker, which is near all-time highs.  If U.S. producers were moving headlong into boosting output, we would expect fewer barrels per worker, as we saw during the shale boom in the last decade.  So far, that isn't happening.  It is possible that technology has improved to the point where productivity is elevated.  But hiring has been restrained, and we expect production gains to remain modest.
Geopolitical news:
Although Ukraine is dominating geopolitical news, there are problems in other parts of the world, too. Libya has been in turmoil since the ouster of Moamer Kadhafi in August 2011.  Various groups are attempting to take control of the country; the U.N. is trying to bring elections in a bid to create some sort of unified government.  However, the list of presidential candidates has been delayed, raising fears of additional tensions and production disruptions.  In addition, a power struggle has emerged in the Libyan parliament over naming a prime minister.  Libyan oil production has been volatile.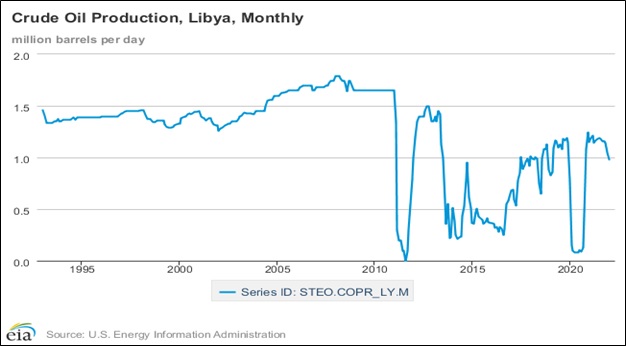 However, in a world short of oil supplies, anything that would reduce output could drive prices higher.
Alternative energy/policy news:
There is evidence that EVs are rising in popularity.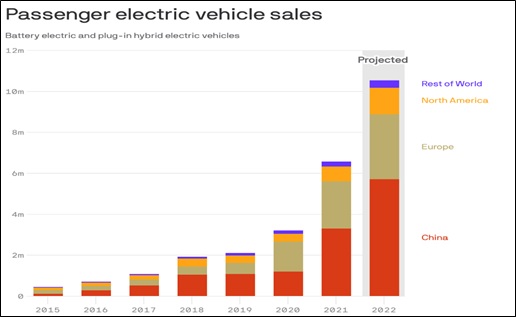 (Source: Axios)
Moving to EVs will have a profound impact on the auto industry, as such cars require fewer parts and maintenance.  It is quite possible that rising EV production will reduce the workforce tied to the auto industry.