Weekly Energy Update (February 16, 2023)
by Bill O'Grady, Thomas Wash, and Patrick Fearon-Hernandez, CFA | PDF
Crude oil prices appear to have based but so far have failed to break above resistance at around $80-$82 per barrel.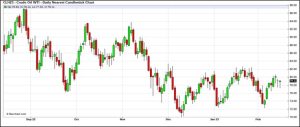 (Source: Barchart.com)
Crude oil inventories rose a whopping 16.3 mb compared to a 2.0 mb build forecast.  The SPR was unchanged.

In the details, U.S. crude oil production was unchanged at 12.3 mbpd.  Exports rose 0.2 mbpd, while imports declined 0.8 mbpd.  Refining activity fell 1.4% to 86.5% of capacity.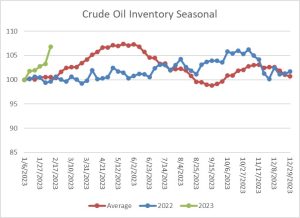 (Sources: DOE, CIM)
The above chart shows the seasonal pattern for crude oil inventories.  We are accumulating oil inventory at a rapid pace, even without SPR sales (see below).  The primary culprit is low refining activity, which should pick up later this year.  The rapid rise in stockpiles, though, is a bearish factor for oil.

Since the SPR is being used, to some extent, as a buffer stock, we have constructed oil inventory charts incorporating both the SPR and commercial inventories.  With another round of SPR sales, the combined storage data will again be important.

Total stockpiles peaked in 2017 and are now at levels last seen in 2001.  Using total stocks since 2015, fair value is $95.37.
The Nord Stream Issue:  Seymour Hersh, a long-time investigative reporter, released a blockbuster allegation a few days ago, suggesting that the U.S., along with Norway, attacked the Nord Stream pipelines.  According to his report, U.S. Navy divers from the Diving and Salvage Center based in Panama placed explosives on the pipeline and were responsible for the damage.  If these allegations are true, it would create a crisis.  Arguably, this action is a casus belli and could put the U.S. and NATO into a direct conflict with Russia.  Although, before we take the report at face value, caution should be exercised.
Hersh is an 85-year-old investigative reporter who won a Pulitzer Prize in 1970 for uncovering the Mỹ Lai massacre.  However, over the years, a good bit of his reporting has been increasingly discredited.  He wrote a large piece for the London Review of Books that suggested the Obama administration's account of the assassination of Osama bin Laden was essentially a lie.  He faced strong criticism for that report, which relied heavily on unnamed sources.  Later, he seemed to side with the Assad regime over chemical weapons, but the allegations he made were not entirely refuted either.  Our take is that Hersh, at least at one time, was an important journalist.  Over the years, though, his reporting seems to have become increasingly erratic.
As we noted, Hersh isn't a crackpot, but likely due to his experiences in dealing with the U.S. military and intelligence agencies, he seems to have taken a position more recently that the benefit of the doubt should go to foreign interests.  Thus, there is a potential bias to his reporting.  At the same time, even though there is a notable lack of sourcing in the report, there are solid geopolitical reasons for the U.S. to want to end Nord Stream.
The age of oil has been difficult for Europe, mainly because the continent doesn't have much oil of its own.  Although Europe is blessed with ample coal resources, the superiority of oil as an energy source meant that without secure sources of oil, European dominance of the world was in trouble.  There is a bit of production available in Romania, and of course, after oil prices spiked in the 1970s, oil was extracted from the North Sea, but Europe was never going to achieve oil and gas independence.  The European powers attempted to expand their colonial reach into the Middle East and Asia to acquire oil, but those areas proved difficult to secure.  The Dutch lost the oil in Southeast Asia to Japan during WWII.  After WWII, when the U.S. fostered independence for European colonies, Europe lost controlled access to oil in North Africa and the Middle East.  Until the early 1970s, Europe was mostly dependent on the U.S. for oil.  Not wanting to be fully dependent on Washington for energy, Europe, and especially Germany, turned to Russia.  Naturally, this reliance on Russia wasn't popular with the U.S.  Consistently, American administrations criticized Europe for its increasing reliance on Russia oil and gas.  The Nord Stream projects were especially galling because they directly linked Russia to Germany.
Thus, the destruction of the pipelines is arguably in American interests.  That's why this narrative will likely be hard to quash, even if the Hersh reporting is false.  It is natural to assume that if a party benefits from an event it might have had a role in causing it.  However, that is about as far as this goes.  It is quite possible that Hersh received this information from someone that would also benefit from increased tensions between the U.S. and Russia.  And since no sources are named, it may be impossible to really prove anything.
We will continue to monitor developments and reporting around this issue.  We doubt that we will see anything definitive on this in the near term, so the most likely outcome is that it won't cause an escalation directly involving the U.S. and NATO against Russia.  But we could see "tit-for-tat" actions, such as sabotage of LNG facilities, cutting of fiber optic cables, etc.
Market News:
 Geopolitical News:
 Alternative Energy/Policy News: