Weekly Energy Update (December 8, 2022)
by Bill O'Grady, Thomas Wash, and Patrick Fearon-Hernandez, CFA | PDF
Crude oil prices continue to come under pressure on worries over economic growth.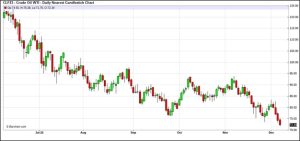 (Source: Barchart.com)
Crude oil inventories fell 5.2 mb compared to a 3.9 mb draw forecast.  The SPR declined 2.1 mb, meaning the net draw was 7.3 mb.

In the details, U.S. crude oil production rose 0.1 mbpd to 12.2 mbpd.  Exports fell 1.5 mbpd, while imports were unchanged.  Refining activity rose 0.3% to 95.5% of capacity.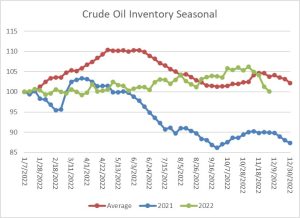 (Sources: DOE, CIM)
The above chart shows the seasonal pattern for crude oil inventories.  As the chart shows, we are past the seasonal trough in inventories and heading toward the secondary peak which occurs in early Q4.  SPR sales have distorted the usual seasonal pattern in this data.  This week's draw takes inventories further below the seasonal average, though perhaps the most important takeaway is that the usual seasonal pattern in inventory is breaking down.
Shortly after the war started, we stopped reporting on our basic oil model that uses commercial inventory and the EUR for independent variables.  We have updated that model, which puts fair value at $73.60 per barrel.  We are currently trading near fair value for the first time since the war began.

Since the SPR is being used, to some extent, as a buffer stock, we have constructed oil inventory charts incorporating both the SPR and commercial inventories.

Total stockpiles peaked in 2017 and are now at levels last seen in 2001.  Using total stocks since 2015, fair value is $106.07.
The Cap:  At long last, the EU has finally agreed on a price cap plan for Russian oil, pending Poland's approval tomorrow.  The cap price is $60 per barrel, and since the current Urals price is around that level, it's possible that not much will change.  The price was below what the Eastern Europeans were pushing for—Poland wanted a $30 price.  The U.S., however, was afraid that a price that low, which would effectively ban Russian oil exports, would trigger a major price rally and harm the world (and U.S.) economy.  The current price won't really stop Russian exports if Russia wants to sell the oil.  Russia's initial reaction is to refuse to sell oil to nations using the price cap.  We also note that, effective last Monday, the EU and U.K. will stop seaborne oil imports from Russia, which will have a more material impact on the oil markets.  The most likely market reaction is volatility.  The initial reaction to the cap and the OPEC+ decision was a sharp rise in oil prices, but that reaction faded earlier this week.
It's important to remember that this isn't so much a price cap as a plan to restrict Russian oil shipments by denying this oil access to European and U.S. shipping and insurance. Without access to insurance and shipping finance, port and canal operators either won't handle the cargo or will demand higher processing rates.

There are reports that Russia has been amassing tankers in order to avoid sanctions. Although these vessels may ease some of the pressure on global oil supplies, they will probably not be enough to prevent shortages.
The initial reaction to the cap is a bit as we expected; although it may not stop shipments, it is causing disruption. A large number of tankers are said to be awaiting passage through the Bosporus Strait as Turkish officials check paperwork.

Once the EU signs off, the G-7 and Australia will be the next bodies to approve the measure.
To ensure Poland's participation, the EU will review the price cap every two months beginning in January.
In anticipation of the cap and the EU embargo, Asian buyers have been purchasing Russian crude oil and Russia has been boosting production. Now that the deal is in place, we may actually see a slowdown in Russian purchases.
OPEC+ met over the weekend and left production targets unchanged. There had been talk of both increases and cuts to targets, but in the end, the cartel decided to adopt a "wait and see" approach.
Here are the key items to watch for in the coming weeks:

Russia really can't afford to cut production significantly. If Russia shuts in wells, it will likely lead to a near-permanent loss of productive capacity.  If the cap had been set much lower, below $40, for example, it might have led to supply loss.  This cap probably won't do much to change overall supply.
Russia is facing increasing budget pressures, and the cap won't help those.
The price cap will, however, change supply patterns. Russia will need to sell more oil to non-EU and non-G-7 nations.  Although this is doable, it will be more costly and could cause short-term disruptions.
OPEC+ worries that the price cap could evolve into a buyer's cartel. That may lead to more hostile actions from the oil producers.
Daniel Yergin warns that the price cap may mark a new era where oil is no longer a global commodity.
Market News:
 Geopolitical News:
 Alternative Energy/Policy News: