Weekly Energy Update (December 16, 2021)
by Bill O'Grady, Thomas Wash, and Patrick Fearon-Hernandez, CFA | PDF
(The Weekly Energy Update will go on hiatus until January 6, 2022.  To all our readers, Merry Christmas and Happy New Year.)
After recovering last week, oil prices have started to drift lower.  Worries about rising production and weakening demand due to the Omicron variant, in addition to monetary policy tightening, are pressuring prices.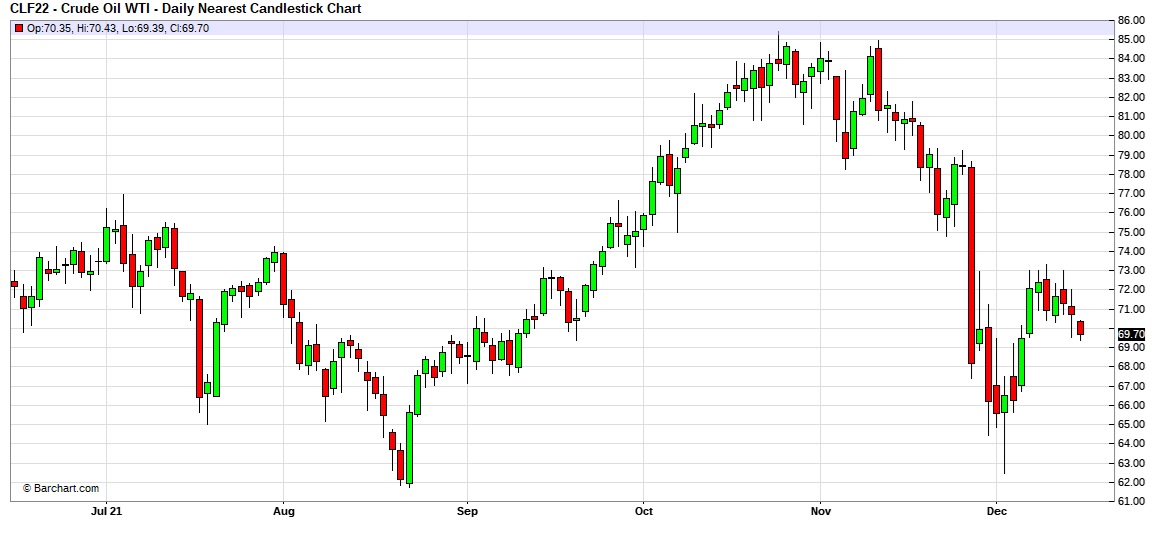 (Source: Barchart.com)
Crude oil inventories fell 4.6 mb compared to a 2.3 mb draw forecast.  The SPR declined 2.0 mb, meaning the net draw was 6.5 mb (difference due to rounding).

In the details, U.S. crude oil production rose 0.1 mbpd to 11.7 mbpd.  Exports rose 1.4 mbpd, while imports were unchanged.  Refining activity was steady.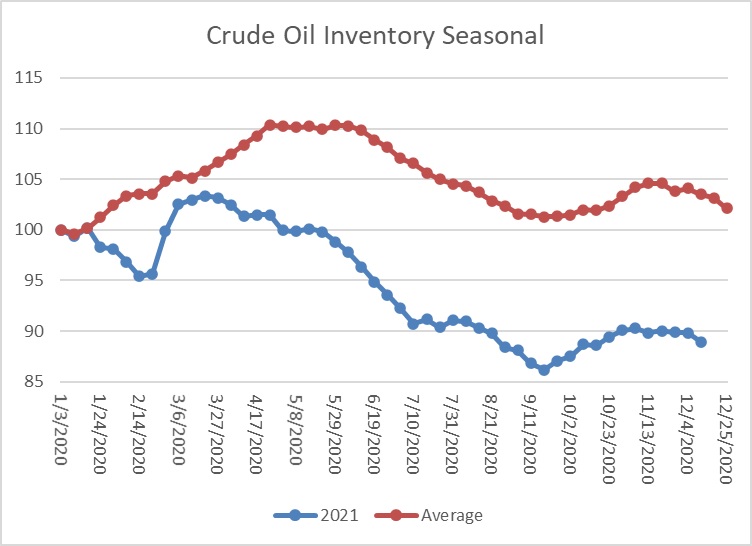 (Sources: DOE, CIM)
This chart shows the seasonal pattern for crude oil inventories.  Inventories usually decline in December, so last week's draw was normal.  Note that stocks are significantly below the usual seasonal trough.  Our seasonal deficit is 75.3 mb.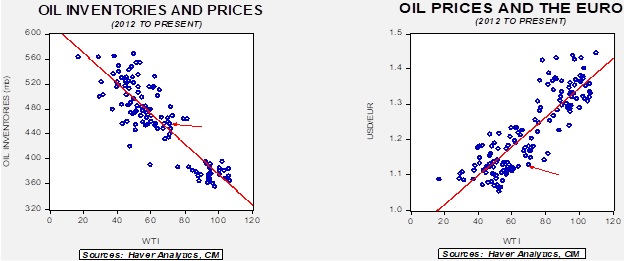 Based on our oil inventory/price model, fair value is $65.32; using the euro/price model, fair value is $52.49.  The combined model, a broader analysis of the oil price, generates a fair value of $58.50.  The recent decline in oil prices has brought the market closer to fair value.  Dollar strength remains a bearish factor, and the SPR release has eased the bullish pressure from falling stockpiles.  Fears of future supply tightness remain a bullish factor.
Market news:
Geopolitical news:
Alternative energy/policy news: