Weekly Energy Update (December 15, 2022)
by Bill O'Grady, Thomas Wash, and Patrick Fearon-Hernandez, CFA | PDF
(This will be the last report of 2022; we will resume publication on January 12, 2023.)
Crude oil prices continue to come under pressure on worries over economic growth.  There was likely some bullish positioning in front of the Russian price cap which is probably being liquidated.

(Source: Barchart.com)
Crude oil inventories jumped 10.2 mb compared to a 3.8 mb draw forecast.  The SPR declined 4.7 mb, meaning the net build was 5.5 mb.

In the details, U.S. crude oil production fell 0.1 mbpd to 12.1 mbpd.  Exports and imports rose 0.9 mbpd.  Refining activity fell 3.3% to 92.2% of capacity.  Pipeline issues caused the drop in refinery activity.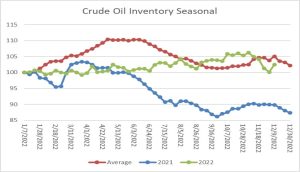 (Sources: DOE, CIM)
The above chart shows the seasonal pattern for crude oil inventories.  This week's data reversed the recent contra-seasonal pattern of the past few weeks, most likely due to the drop in refinery activity caused by pipeline issues.
Shortly after the war started, we stopped reporting on our basic oil model that uses commercial inventory and the EUR for independent variables.  We have now updated that model, which puts fair value at $73.60 per barrel.  We are currently trading near fair value for the first time since the war began.

Since the SPR is being used, to some extent, as a buffer stock, we have constructed oil inventory charts incorporating both the SPR and commercial inventories.

Total stockpiles peaked in 2017 and are now at levels last seen in 2001.  Using total stocks since 2015, fair value is $104.10.
Market News:
 Geopolitical News:
 Alternative Energy/Policy News: