Weekly Energy Update (December 2, 2021)
by Bill O'Grady, Thomas Wash, and Patrick Fearon-Hernandez, CFA | PDF
Oil prices fell sharply on SPR sales and due to the Omicron variant of COVID-19.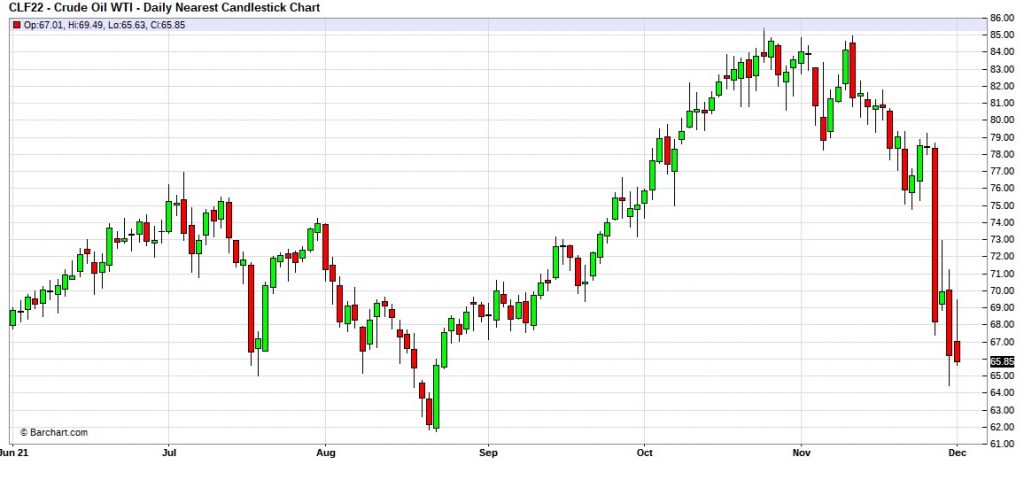 Crude oil inventories fell 0.9 mb compared to a 1.4 mb build forecast.  The SPR declined 1.9 mb, meaning the net draw was 2.9 mb (due to rounding).

In the details, U.S. crude oil production rose 0.1 mbpd to 11.6 mbpd.  Exports and imports both rose 0.1 mbpd.  Refining activity rose 0.2%.  This build season usually ends in mid-November.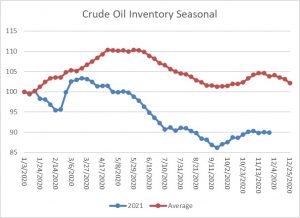 This chart shows the seasonal pattern for crude oil inventories.  As we head into December, inventories usually decline.  Note that stocks are significantly below the usual seasonal trough.  Our seasonal deficit is 71.9 mb.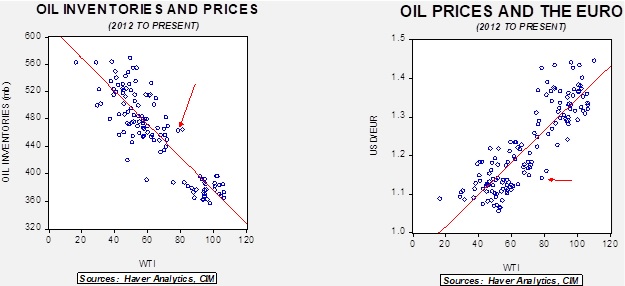 Based on our oil inventory/price model, fair value is $63.81; using the euro/price model, fair value is $54.68.  The combined model, a broader analysis of the oil price, generates a fair value of $58.67.  The recent decline in oil prices has brought the market closer to fair value.  To generate a larger rally, we would either need to see falling stockpiles, which will be hard during conditions of SPR sales, or dollar weakness.  The dollar's strength has surprised us, but as long as worries about inflation remain elevated, it is unlikely policymakers will try to push the greenback lower.
Gasoline prices are politically sensitive; our preferred way to look at gasoline is by comparing prices to wages for non-supervisory workers.  Specifically, we like to look at how many gallons of gasoline a worker can purchase with one hour's wages.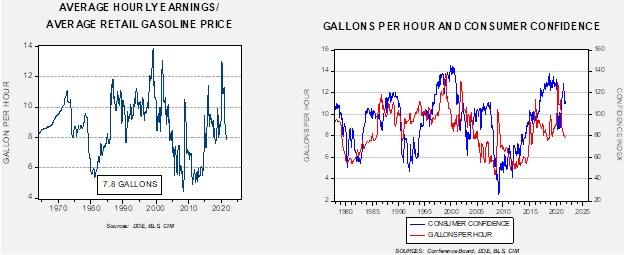 Although the price of gasoline has increased recently, so have hourly wages.  Currently, a worker can purchase 7.8 gallons at the hourly wage.  That is a bit below the long-term average of 8.6 gallons but still not unusually low.  On the above chart, the right side shows there is a relationship between this measure of gasoline prices and consumer confidence.  In general, if workers can buy more fuel for an hour of work, confidence tends to improve.  Overall, if the ratio of gasoline and wages continues to fall, we would expect lower future confidence readings.  However, the recent decline in oil prices will likely bring lower gasoline prices.  We assume wage growth will remain strong, which should support higher confidence levels.
Market news:
Geopolitical news:
The most important geopolitical news is that the U.S. and Iran are entering indirect talks about restoring the JCPOA.  Iran has made its opening requirement a removal of sanctions.  Ali Bagheri Kani is the lead negotiator.  He is a hardliner, setting a harsh tone to the discussions.  The U.S. wants Iran to return to the agreement's restrictions on its nuclear activities, which is unlikely.  The stance Iran has taken will put the Biden administration in a bind.  Iran is unpopular in the U.S.  The U.S. administration would need to use political capital to return to the agreement.  Given the legislative agenda, there isn't much room to use its influence on this issue.  At the same time, if the talks fail, it will tend to be modestly bullish for crude oil prices.  Our take is that the recent decline in oil prices will likely undermine the chances of a return to the JCPOA, and the other legislative goals of the administration will probably mean that President Biden won't expend the effort to bring a new agreement.  Nevertheless, Iran has no guarantee that a future administration wouldn't leave a new deal anyway.  We don't expect success.

If the talks fail, we expect Israel to increase hostile acts against Iran.  In the short run, this will likely be cyber-attacks and assassinations, but if Iran demonstrates it can build a nuclear weapon, direct military action is possible.

Iran has moved to repress protests over water rights.
Alternative energy/policy news: