Weekly Energy Update (August 3, 2023)
by Bill O'Grady, Thomas Wash, and Patrick Fearon-Hernandez, CFA | PDF
Oil prices challenged the upper end of the trading range but so far have failed to breakout above that level.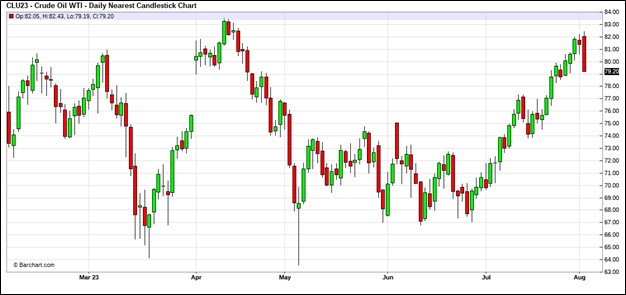 (Source: Barchart.com)
Commercial crude oil inventories fell a massive 17.0 mb, well above the 2.3 mb draw forecast.  The SPR was unchanged.

In the details, U.S. crude oil production was steady at 12.2 mbpd.  Exports rose 0.7 mbpd, while imports increased 0.3 mbpd.  Refining activity fell 0.7% to 92.7% of capacity.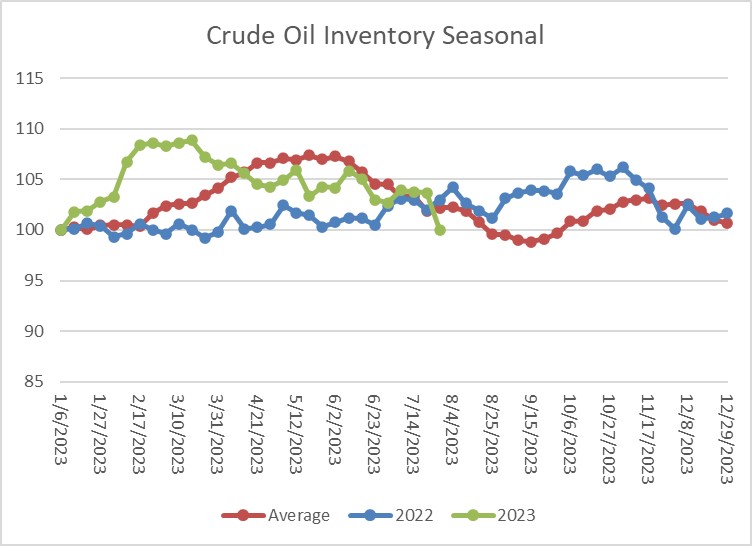 (Sources: DOE, CIM)
The above chart shows the seasonal pattern for crude oil inventories.  Last week's large decline has put inventories below their seasonal average.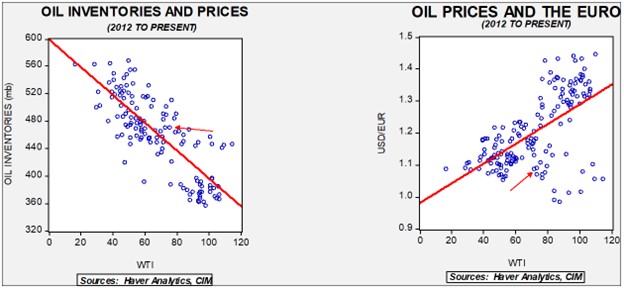 Fair value, using commercial inventories and the EUR for independent variables, yields a price of $65.79.  Commercial inventory levels are a bearish factor for oil prices, but with the unprecedented withdrawal of SPR oil, we think that the total-stocks number is more relevant.
Since the SPR is being used, to some extent, as a buffer stock, we have constructed oil inventory charts incorporating both the SPR and commercial inventories.

Total stockpiles peaked in 2017 and are now at levels last seen in late 1985.  Using total stocks since 2015, fair value is $94.97.
Market News:
 Geopolitical News:
 Alternative Energy/Policy News:
As EV sales rise, China is aggressively expanding its EV industry across the globe. So far, the U.S. is trying to fend off Chinese EV imports in order to build the domestic industry.  The problem for the U.S. is that protecting domestic producers will slow the achievement of climate goals.  Europe, on the other hand, appears to be more open to buying China's EVs.
Several automakers are collectively trying to build out EV charging stations. Some of this drive is to create an alternative charging network to Tesla's (TSLA, $255.71).
Research by Capital Economics projects that EVs will displace 7.5% to 8.0% of global oil demand by 2050.
The Swiss solar company Meyer Burger (MYBUF, $0.65) is postponing plans to expand a solar plant in Germany and opting for a new plant in Colorado to take advantage of U.S. subsidies.
Commodity production throughout history has often been a dangerous pursuit. Turns out, mining for the metals needed for the energy transition is not exempt from this issue.
China and the KSA have effectively gutted attempts to apply greenhouse gas emissions targets. Essentially, China is signaling that it will not comply with global attempts to curtail fossil fuel consumption.

The lack of international compromise increases the odds that geoengineering will be tried as a solution to climate change.

Hydrogen offers promise as a replacement fuel for hydrocarbons. By separating out the "carbon" part, the gas could be used directly with no pollution.  However, the method by which hydrogen is created is complicated.  The "greenest" hydrogen, using only renewable energy to split water, for example, is very expensive and difficult to scale.  Energy groups want to tap the subsidies available for making hydrogen but use less "clean" methods in order to lower costs.
Germany's attempts to ban boilers in favor of heat pumps have been unpopular. Now, a controversy has emerged over the use of hydrofluoroolefins in heat pumps.  Germany wants to prohibit the use of such gases in German heat pumps, meaning U.S. and other EU heat pumps would not be allowed.  Foreign providers of heat pumps are arguing against the exclusion of hydrofluoroolefins.
Offshore wind projects are in trouble due to rising costs of construction and key metals needed for the windmills.
During the 1970s, oil companies, flush with cash, ventured into other businesses. Some bought coal companies, while others tried to diversify in other ways from oil and gas.  For the most part, these investments didn't do much for the oil companies.  We note that oil companies are looking to invest in lithium production as extracting lithium from brine is a similar chemical process to petrochemicals.  Whether this foray proves fruitful is another matter.