Weekly Energy Update (August 26, 2021)
by Bill O'Grady, Thomas Wash, and Patrick Fearon-Hernandez, CFA | PDF
After reaching $62 per barrel support, prices have snapped back.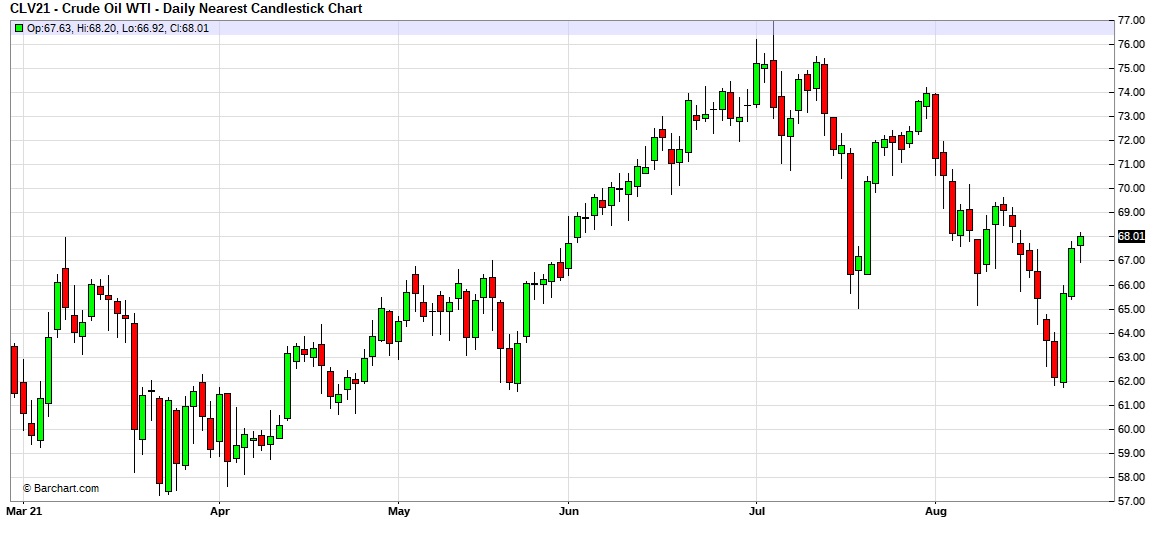 (Source: Barchart.com)
Crude oil inventories fell 3.0 mb compared to the 2.0 mb draw forecast.  The SPR was unchanged this week.

In the details, U.S. crude oil production was steady at 11.4 mbpd.  Exports fell 0.6 mbpd, while imports declined 0.2 mbpd.  Refining activity rose 0.2%.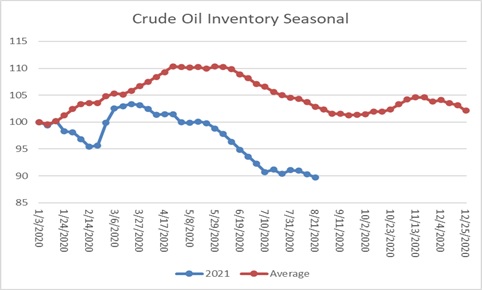 (Sources: DOE, CIM)
This chart shows the seasonal pattern for crude oil inventories.  We are well into the summer withdrawal season.  Note that stocks are significantly below the usual seasonal trough seen in early September.  A normal seasonal decline would result in inventories around 550 mb.  Our seasonal deficit is 67.7 mb.  Since early July, inventory levels have stabilized.  As the chart indicates, seasonal inventory stabilization usually occurs in September, and with stabilization, the seasonal deficit has narrowed compared to earlier in the summer.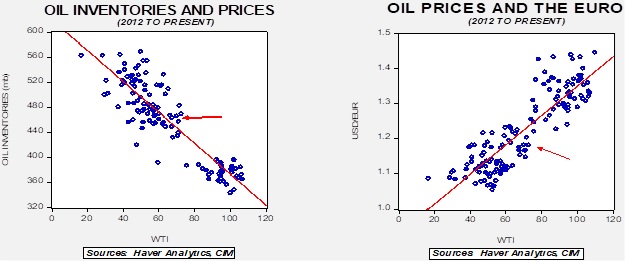 Based on our oil inventory/price model, fair value is $63.65; using the euro/price model, fair value is $61.75.  The combined model, a broader analysis of the oil price, generates a fair value of $62.43.  Continued dollar strength is weighing on oil prices.
 Market news:
Geopolitical news:
The world's attention has been focused on the crisis in Afghanistan, but the U.S. is also planning to withdraw combat forces from Iraq.  The Kurds could be at risk, as both Iran and Turkey want to prevent moves toward a Kurdish state.  Turkey has been taking aggressive actions against Kurdish groups they deem as terrorist organizations.
As the Taliban gains control of Afghanistan, Iran is facing a series of potential problems.  The Taliban is a Sunni group, and Shiites in Afghanistan may be at risk; if they are, the logical place to flee would be Iran.  Iran has established refugee camps along its border with Afghanistan.  As the West freezes accounts and denies the Taliban government aid, it is likely the new government in Kabul will turn to opium, which raises the risk of trafficking and addiction in Iran.
EU carbon taxes may be worse for Russia than sanctions, according to Igor Sechin, the head of Rosneft (OJSCY, USD, 6.23).
 Alternative energy/policy news: