Weekly Energy Update (August 24, 2023)
by Bill O'Grady, Thomas Wash, and Patrick Fearon-Hernandez, CFA | PDF
Oil prices continued to weaken this week, although there are technical signs that prices might be consolidating at these elevated levels.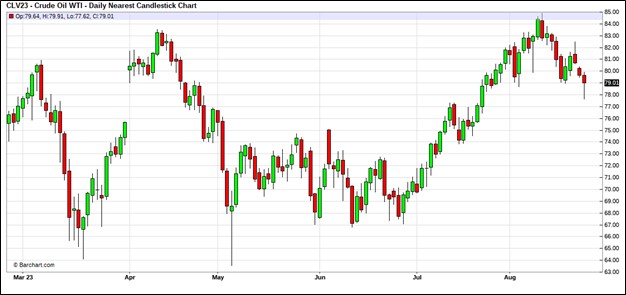 (Source: Barchart.com)
Commercial crude oil inventories fell 6.1 mb, lower than the 2.5 mb draw forecast.  The SPR rose 0.6 mb which puts the net build at 5.5 mb.

In the details, U.S. crude oil production rose 0.1 mbpd to 12.8 mbpd.  The DOE is projecting higher U.S. output on rising well productivity.  Exports rose 2.2 mbpd, while imports rose 0.5 mbpd.  Refining activity rose 0.9% to 94.7% of capacity, the highest level since early June.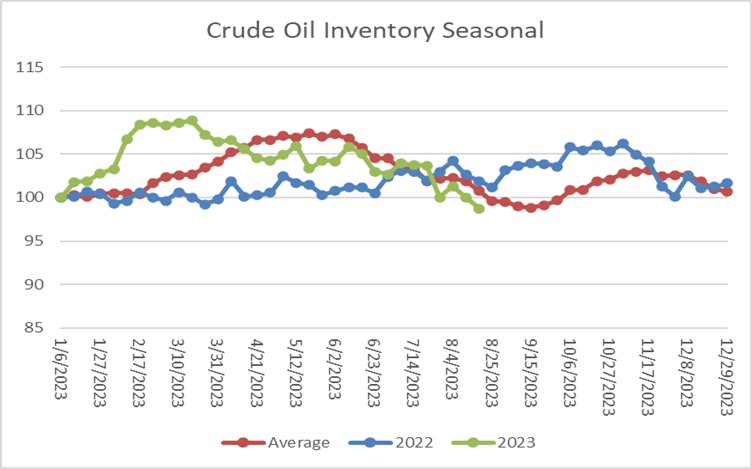 (Sources: DOE, CIM)
The above chart shows the seasonal pattern for crude oil inventories.  Over the past few weeks, the decline in stockpiles is consistent with seasonal patterns.  Inventories remain a bit below their seasonal average.  Based on the seasonal pattern, inventories should start to rise after mid-September.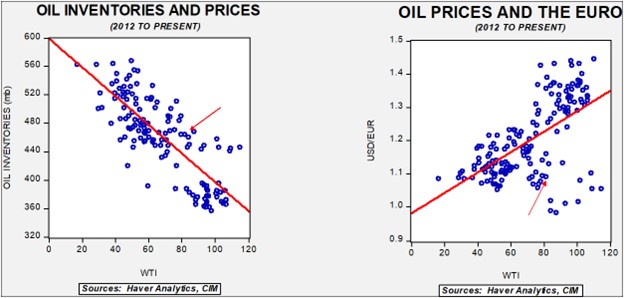 Fair value, using commercial inventories and the EUR for independent variables, yields a price of $68.13.  Commercial inventory levels are a bearish factor for oil prices, but with the unprecedented withdrawal of SPR oil, we think that the total-stocks number is more relevant.
Since the SPR is being used, to some extent, as a buffer stock, we have constructed oil inventory charts incorporating both the SPR and commercial inventories.

Total stockpiles peaked in 2017 and are now at levels last seen in late 1985.  Using total stocks since 2015, fair value is $94.46.
Market News:
Geopolitical News:
 Alternative Energy/Policy News: