Weekly Energy Update (August 17, 2023)
by Bill O'Grady, Thomas Wash, and Patrick Fearon-Hernandez, CFA | PDF
Oil prices did break out of the trading range but were unable to maintain the uptrend.  We suspect the recent pullback is corrective in nature and not the start of a major selloff.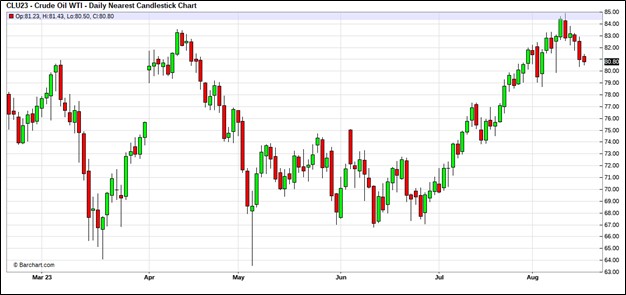 (Source: Barchart.com)
Commercial crude oil inventories fell 6.0 mb, much lower than the 2.3 mb build forecast.  The SPR rose 0.6 mb which puts the net build at 5.4 mb.

In the details, U.S. crude oil production rose 0.1 mbpd to 12.7 mbpd.  Reported production has been rising, but there are also reports arguing that further increases may be difficult.  Exports rose 2.2 mbpd, while imports rose 0.5 mbpd.  Refining activity rose 0.9% to 94.7% of capacity, the highest level since early June.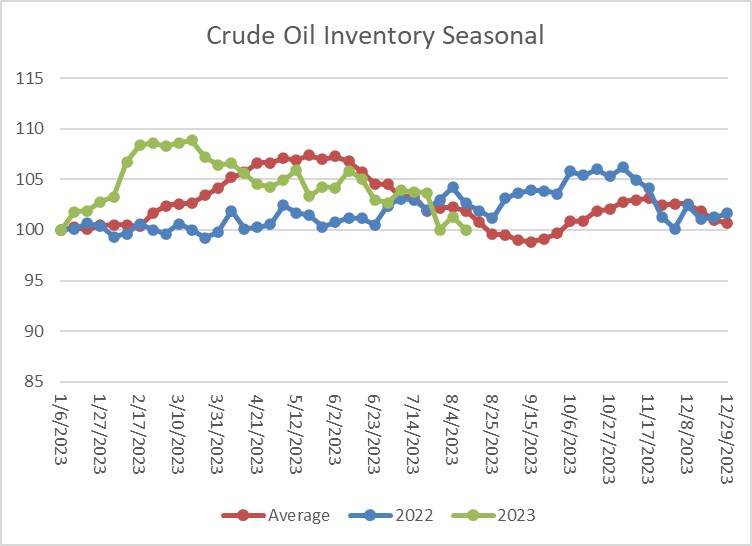 (Sources: DOE, CIM)
The above chart shows the seasonal pattern for crude oil inventories.  The last decline is consistent with seasonal patterns.  Inventories remain a bit below their seasonal average.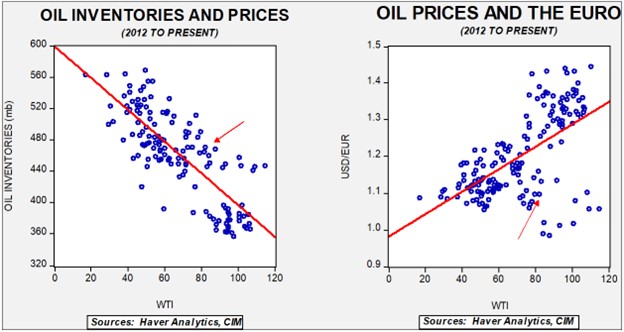 Fair value, using commercial inventories and the EUR for independent variables, yields a price of $66.20.  Commercial inventory levels are a bearish factor for oil prices, but with the unprecedented withdrawal of SPR oil, we think that the total-stocks number is more relevant.
Since the SPR is being used, to some extent, as a buffer stock, we have constructed oil inventory charts incorporating both the SPR and commercial inventories.

Total stockpiles peaked in 2017 and are now at levels last seen in late 1985.  Using total stocks since 2015, fair value is $93.89.
Market News:
The threat of a strike by Australian LNG workers led to a massive jump in European natural gas prices. Prices had been weak because European inventory levels were seen as elevated.  The rise shows how vulnerable Europe remains due to the loss of Russian supplies.
The IEA notes that, despite efforts to transform the energy sector, oil demand is hitting new records. The energy transition has dampened investment in oil and gas, and therefore, if demand continues to rise, oil prices will likely rise as well.
A couple of weeks ago, we noted that temperatures were likely being affected by the sunspot cycle and El Niño. We can now add volcanic activity to the list.  Volcanic eruptions tend to spew particulates into the atmosphere, which reflect sunlight back to space and cool the planet.  We are currently seeing a large eruption in Sicily.
 Geopolitical News:
 Alternative Energy/Policy News: