Weekly Energy Update (August 12, 2021)
by Bill O'Grady, Thomas Wash, and Patrick Fearon-Hernandez, CFA | PDF
Oil prices remain depressed, with $67 acting as support.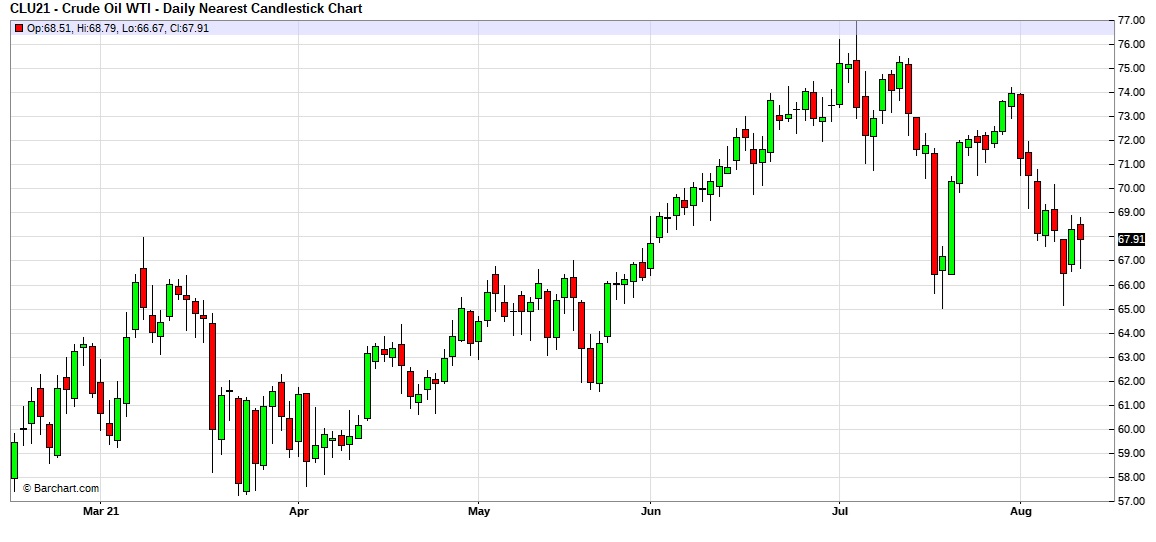 Crude oil inventories unexpectedly fell 0.4 mb compared to the 2.0 mb draw forecast.  The SPR was unchanged this week.

In the details, U.S. crude oil production rose 0.1 mbpd to 11.3 mbpd.  Exports rose 0.8 mbpd, while imports were unchanged.  Refining activity rose 0.5%.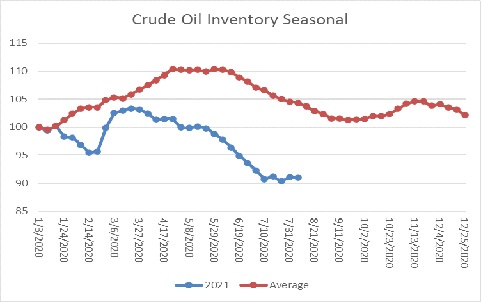 This chart shows the seasonal pattern for crude oil inventories.  We are well into the summer withdrawal season.  Note that stocks are well below the usual seasonal trough seen in early September.  A normal seasonal decline would result in inventories around 550 mb.  Our seasonal deficit is 69.2 mb.  Since early July, inventory levels have stabilized; as the chart indicates, seasonal inventory stabilization usually occurs in September, so if this pattern continues, the seasonal deficit should narrow.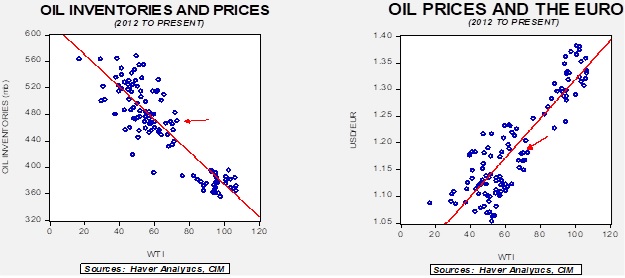 Based on our oil inventory/price model, fair value is $61.67; using the euro/price model, fair value is $62.50.  The combined model, a broader analysis of the oil price, generates a fair value of $61.76.  The weaker EUR has started to affect the model forecast, putting all the models' fair value calculations well below the current price.
Market news:
Headlining this week's market news is the IPCC report that suggests global temperatures are rising rapidly and the odds of climate destabilization are rising. One element of this destabilization is wildfires, which are punishing Europe and the Western U.S.  Although devising new ways to limit methane and CO2 emissions will help limit the damage, in reality, much of the damage is already in place and even moving to zero emissions today will not likely prevent continued warming.  So, policymakers have to not only move on alternative energy but also climate mitigation.
The Senate passed a $1.2 trillion infrastructure package, which has some measures to address both mitigation and emissions control. The bill includes:

$73 billion for grid upgrades and increased powers to FERC for power lines. One of the problems facing the country is that alternative energy production usually exists in low population areas and long power lines are required to move the "juice" to where it is needed, which are urban areas.  However, building these lines is difficult because of local opposition, which is sometimes funded by urban utilities that don't want the wind or solar competition.
$6 billion for nuclear energy which is designed to extend the life of existing facilities. Although nuclear power is controversial, it is clearly emission-free power.
$7.9 billion for funding clean energy initiatives, with an emphasis on battery manufacturing and recycling.
$15 billion for electrification, with half going to funding EV charging stations.
$8.5 billion for carbon capture and sequestration.
$1.0 billion for clean hydrogen.
An initiative but no funding for orphaned oil and gas wells.
Overall, the bill mostly supports big electricity.  Distributed power didn't get much support.  In addition, there was a clear focus on building the infrastructure for auto electrification.
Politics by its very nature leads to disingenuous behavior.  One of the primary functions of the political process is to determine who bears the cost of adjustment with any policy action.  Politicians always attempt to hide the costs from those who will bear them, or somehow argue that those stuck with the "bill" deserve the pain.  Acknowledging the fact that allocation costs and benefits are simply part of the political process isn't enough; political operators also have to justify their actions.  After all, elections are popularity contests and being difficult makes one unpopular.  With that being said, we watched the recent actions by the administration with some degree of astonishment.  From the outset, as we have discussed in earlier reports, the administration has taken the path of acting on climate change.  The administration has enforced several actions, including restricting drilling on federal lands, discouraging the finance industry from supporting the fossil fuel industry, and threatening legal action against polluters, which are mostly oil and gas companies.  If the goal is to reduce CO2 emissions, rising energy prices are an unavoidable consequence.  However, this action conflicts with the popularity contest nature of elections.  And so, yesterday, National Security Director Sullivan criticized OPEC+ for not increasing oil production enough to lower oil and gas prices.

This criticism is epic in its disingenuousness.  Oil prices are up, in part, because the administration is reducing land available for oil and gas production and is starving the industry for investment funding.  These actions were taken due to climate concerns.  Pushing OPEC+ to boost output conflicts with the goal of addressing climate change.
The U.S. is rapidly abandoning involvement in the Middle East.  The U.S. troop withdrawal is leading to the Taliban retaking control in Afghanistan, which could destabilize parts of the region.  We are also reducing our involvement in Iraq to mere training of security forces.  Again, there are clearly justifiable reasons for reducing involvement in the region.  We can see peak oil demand on the horizon, and we should be focusing on great power competition with China.  Freeing up resources for this outcome makes sense.  But you can't expect OPEC+ to listen when you have made it clear that most of the major oil-producing nations are no longer important.
The administration is also calling on the FTC to investigate gasoline "price gouging."  I have covered energy since 1989 and have seen this sort of call occur numerous times.  It's a bit like "rounding up the usual suspects."
Overall, we don't think this jawboning will have any effect.  The White House should be worried about higher energy prices hurting them politically.  An easy response would be to support domestic production which supports the U.S. economy.  Having OPEC+ increase output does nothing to meet climate change goals.

Recent fires in North Dakota are increasing calls for greater environmental rules on fracking in a region generally supportive to the activity.
The administration is reviewing oil and gas drilling rules for northern Alaska.
This week, the Senate held its amendment session for the upcoming budget.  In general, this activity is an exercise in political posturing.  The goal is to frame one party's policies in a favorable light and make the opponent's position unattractive.  It's mostly a gaming session, but occasionally some insights emerge into the leanings of senators.  For example, an amendment to prevent the EPA from banning fracking picked up several Democratic Party votes.  Another one to means test EV tax credits won narrowly.  It is unlikely either will ever become law, but it does show where senators are leaning.
NOAA is still calling for an active hurricane season.  So far, the Atlantic has had seven named storms.  NOAA is still projecting 15-21 named storms.  Hurricane activity usually peaks on September 10.
Geopolitical news:
Alternative energy/policy news: