Weekly Energy Update (April 8, 2021)
by Bill O'Grady, Thomas Wash, and Patrick Fearon-Hernandez, CFA | PDF
Prices continue to consolidate in a tight range between $62 and $58 per barrel.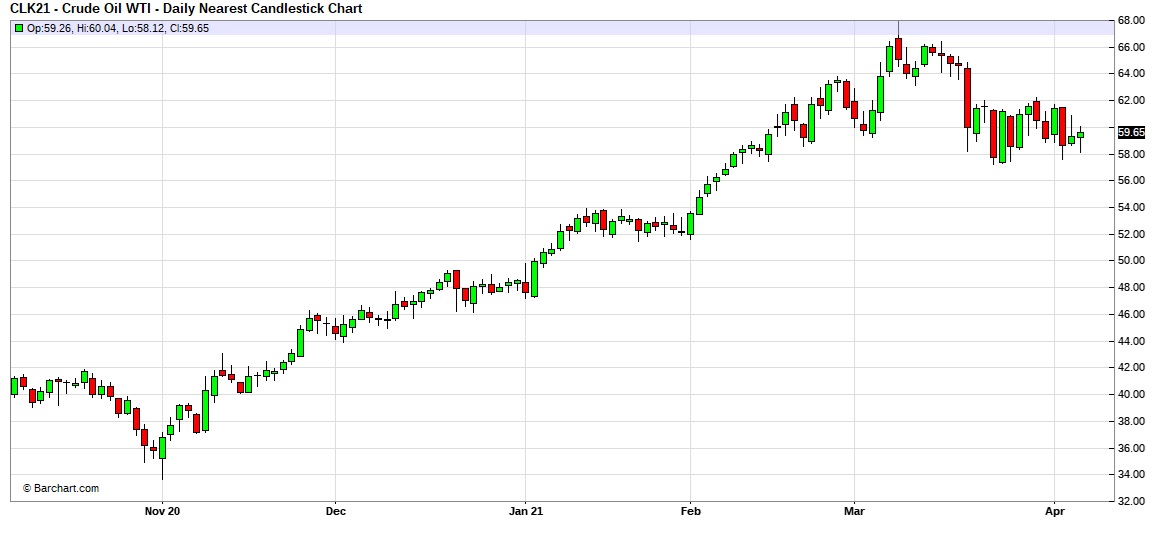 (Source: Barchart.com)
Crude oil inventories fell 3.5 mb compared to the 2.0 mb draw expected.  There was no change in the SPR.  Refinery operations have normalized to pre-Texas freeze levels.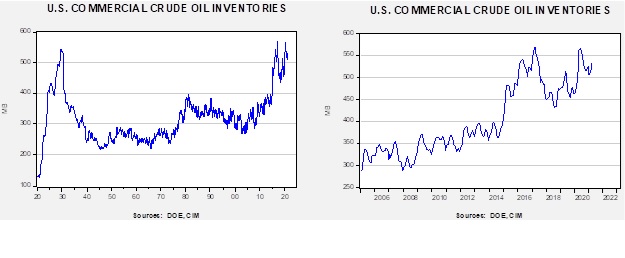 In the details, U.S. crude oil production fell 0.2 mbpd to 10.9 mbpd.  Exports rose 0.3 mbpd, while imports fell 0.1 mbpd.  Refining activity rose 0.1%.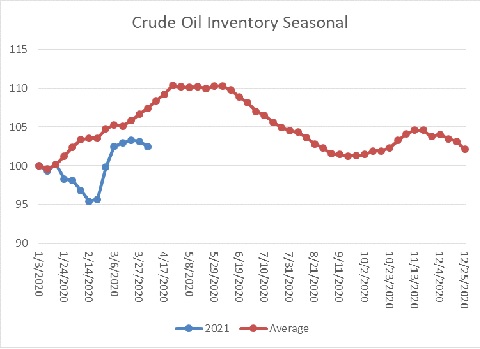 (Sources: DOE, CIM)
This chart shows the seasonal pattern for crude oil inventories.  We are well into the winter/early spring build season.  Until the Texas freeze, we were seeing a counterseasonal decline.  This week, stockpiles declined modestly but usually don't this time of year.  We are currently at a seasonal deficit of 25.5 mb.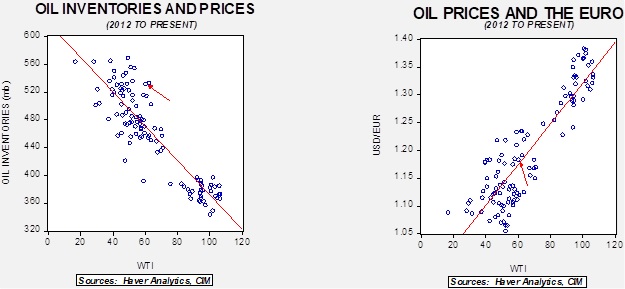 Based on our oil inventory/price model, fair value is $41.56; using the euro/price model, fair value is $62.94.  The combined model, a broader analysis of the oil price, generates a fair value of $50.90.  The divergence continues between the EUR and oil inventory models, although recent dollar strength has reduced the projected fair value generated from the euro/price model.  Since late February we have seen rising demand.  Although consumption remains below average, the gap is narrowing rapidly.  The gradual reopening of the economy is contributing to the recovery in consumption.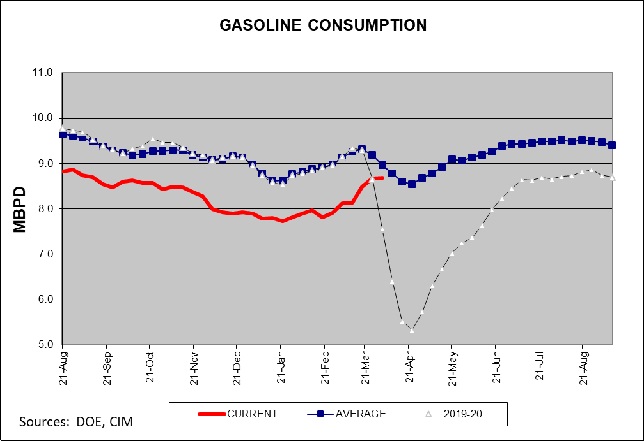 Market news:
OPEC+ compromised on a gradual increase in oil production starting next month.  The KSA will increase output by 0.25 mbpd in May, 0.35 mbpd in June, and 0.4 mbpd in July.  The rest of the cartel will add up to 0.5 mbpd in the coming months.
CP Salman has the long-term goal of diversifying the Saudi economy.  This process is difficult because the economy is overly dependent on hydrocarbons.  Salman is pressing Saudi Aramco (2222, SAR, 35.45) and other firms to increase their investments outside of energy.  The Saudi oil firm has maintained its dividend despite low oil prices; we note the company is considering the sale of a minority stake in its oil pipelines.  The KSA has been steadily monetizing its state-owned assets as oil steadily falls from favor.
Geopolitical news:
Alternative energy/policy news: