Weekly Energy Update (April 29, 2021)
by Bill O'Grady, Thomas Wash, and Patrick Fearon-Hernandez, CFA | PDF
After the recent rally in prices, the market is consolidating recent gains and establishing a larger trading range between $68 to $58 per barrel.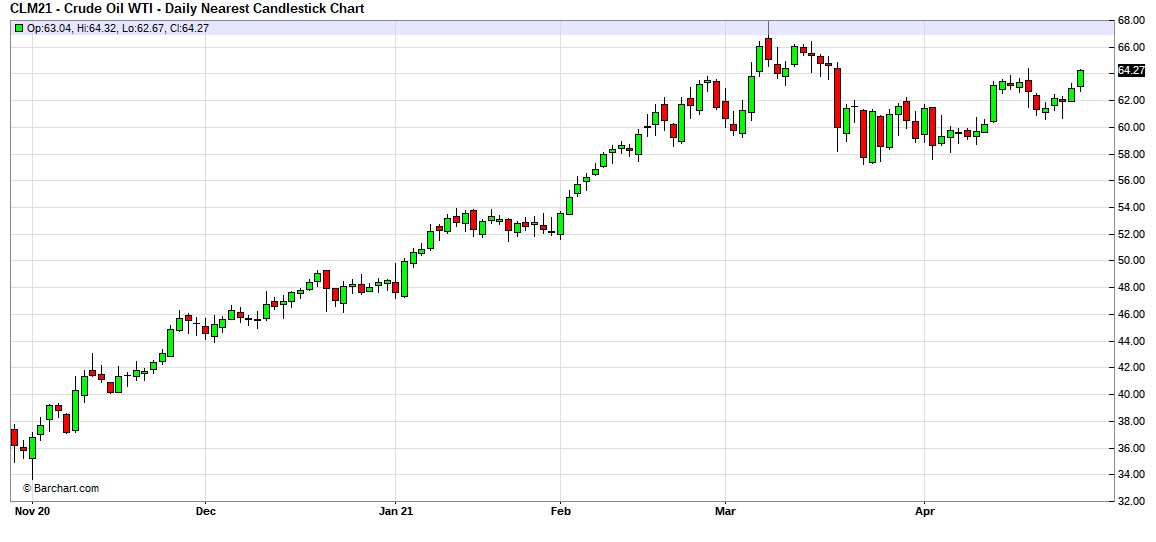 (Source: Barchart.com)
Crude oil inventories rose 0.1 mb compared to the 1.0 mb draw expected.  The SPR fell 1.4 mb, meaning without the addition from the reserve, commercial inventories would have declined 1.3 mb.

In the details, U.S. crude oil production declined 0.1 mbpd to 10.9 mbpd.  Exports were also unchanged while imports rose 1.4 mbpd.  Refining activity rose 0.4 mbpd.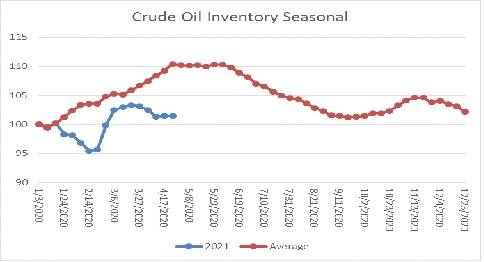 (Sources: DOE, CIM)
This chart shows the seasonal pattern for crude oil inventories.  We are now at the peak of the winter/early spring build season.  Until the Texas freeze, we were seeing a counterseasonal decline.  This week, stockpiles were mostly steady.  We are currently at a seasonal deficit of 40.6 mb.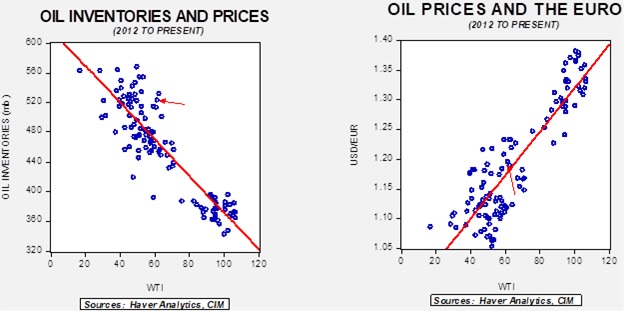 Based on our oil inventory/price model, fair value is $43.72; using the euro/price model, fair value is $65.91.  The combined model, a broader analysis of the oil price, generates a fair value of $53.66.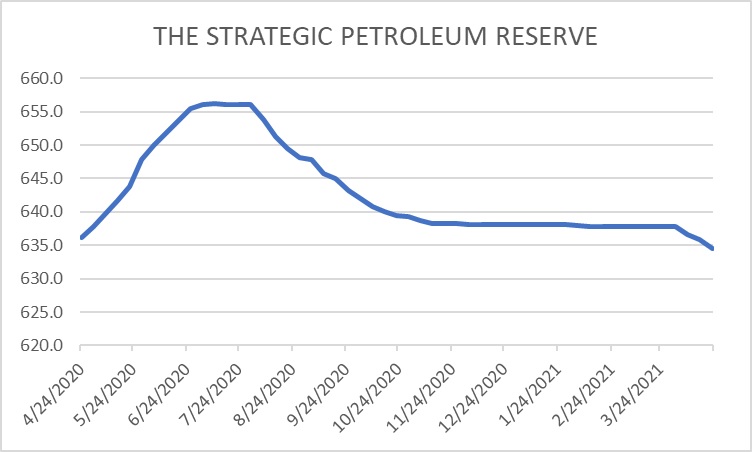 (Sources:  DOE, CIM)
One of the factors that led to last year's price collapse was the fear the market would run out of storage capacity.  To prevent that outcome, the U.S. purchased around 20 mb of crude oil from late April into early July.  Since peaking at 656.1 mb, the government reduced the SPR to 637.8 mb in February.  It held stocks at that level until three weeks ago when the government began to reduce the SPR again.  We note that current SPR levels are below the level where the pandemic affected the market.  In fact, this week's reading is the lowest SPR level since 2003.
Congress has mandated a sale of 10 mb this year; so far, they have sold 3.6 mb of that mandate.  We have been a bit surprised at the speed of the sale.  However, it does appear that the plan is to move quickly to meet the mandate.  Longer-term, the SPR poses a problem.  If the U.S. holds on to the oil, and the world moves away from it, the reserve could become a stranded asset, similar to an oil company's oil reserves when oil isn't used.  This issue would suggest the government should sell the reserve down before it loses its value.  At the same time, the economy still consumes a significant amount of oil, and having the reserve in place protects the economy from a supply shock.  It is possible that environmentalists would protest the sale of the oil to prevent its consumption from lifting carbon emissions.  Another use could be to contain oil prices if the lack of investment by oil companies curtails supply and lifts the price.  The SPR will bear watching in the coming months; although another 7.4 mb will be sold, what the administration does after that could be important.
Market news:
Geopolitical news:
Alternative energy/policy news: