Weekly Energy Update (April 15, 2021)
by Bill O'Grady, Thomas Wash, and Patrick Fearon-Hernandez, CFA | PDF
After consolidating for a month, prices are starting to move higher.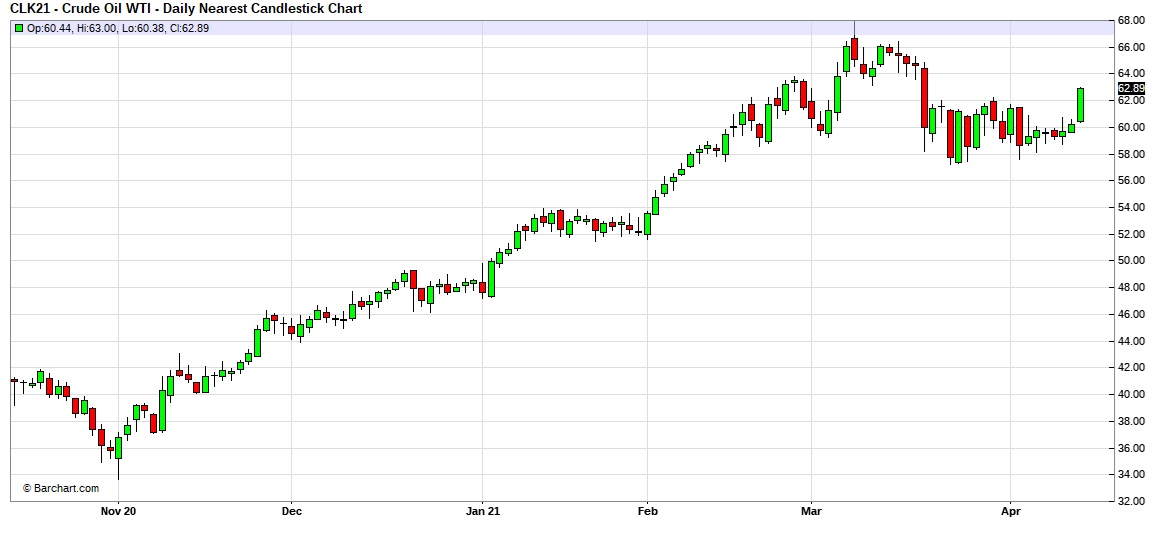 (Source: Barchart.com)
Crude oil inventories fell 5.9 mb compared to the 2.4 mb draw expected.  The SPR fell 1.1 mb, meaning without the addition from the reserve, commercial inventories would have declined 7.0 mb.

In the details, U.S. crude oil production rose 0.1 mbpd to 11.0 mbpd.  Exports fell 0.9 mbpd, while imports fell 0.4 mbpd.  Refining activity rose 1.0%.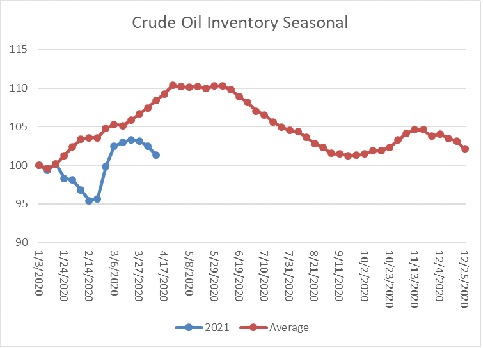 (Sources: DOE, CIM)
This chart shows the seasonal pattern for crude oil inventories.  We are about three weeks to the end of the winter/early spring build season.  Until the Texas freeze, we were seeing a counterseasonal decline.  This week, stockpiles declined more than forecast.  We are currently at a seasonal deficit of 30.3 mb.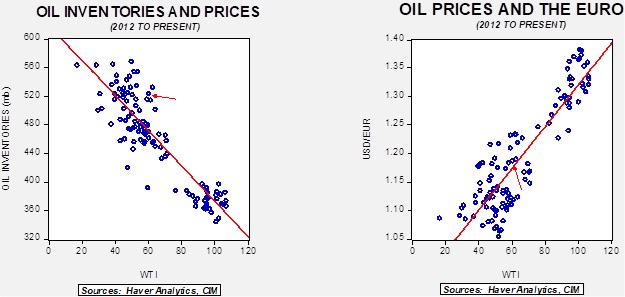 Based on our oil inventory/price model, fair value is $43.89; using the euro/price model, fair value is $64.06.  The combined model, a broader analysis of the oil price, generates a fair value of $52.74.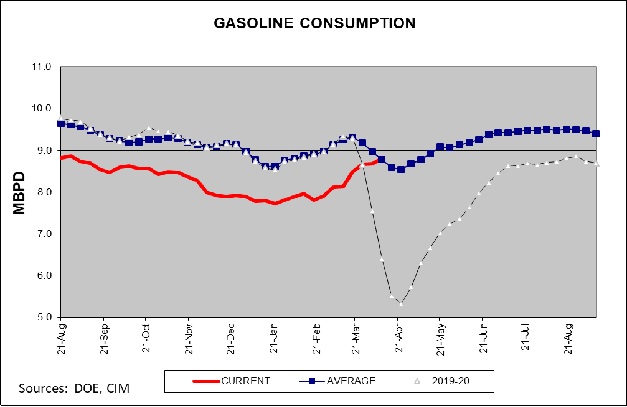 For the first time since December 2019, gasoline consumption has reached the five-year average, further evidence of economic recovery.
Market news:
Geopolitical news:
Iran's nuclear facility at Natanz was attacked last week.  The bombing destroyed some centrifuges for enriching uranium and also disrupted electrical power.  The damage was extensive and will set back Iran's nuclear program.  Despite the attack, Iran declared it would enrich uranium to the 60% level for the first time ever.  Although this is still below nuclear weapons strength, getting to 60% demonstrates Iran is approaching the nuclear weapons threshold.  We suspect Tehran is making this move to enhance its position in indirect negotiations with the U.S.  Iran is demanding that the U.S. remove sanctions put in place during the Trump administration.  The Biden government has indicated this isn't going to occur without Iran pulling back from uranium enrichment.  We believe that current negotiations to return to the Obama-era nuclear agreement will likely fail; simply too much has occurred since it was established, and trust levels are too low.
Alternative energy/policy news: