Quarterly Energy Comment (September 7, 2018)
by Bill O'Grady
The Market
Since mid-Q1, oil prices have ranged from a low of around $64 to a high of $71 per barrel.
Prices remain elevated, supported by OPEC production discipline, production problems in several OPEC nations, fears of new Iran sanctions and stable global oil demand.
Prices and Inventories
Inventory levels remain elevated but have clearly declined from last year's peak.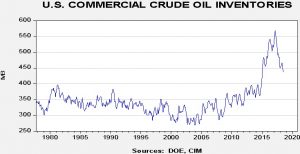 From the late 1970s into mid-2014, U.S. commercial crude oil inventories ranged between 275 mb and 400 mb.  However, from mid-2014 into 2017, rising U.S. production led to a major increase in stockpiles.