Quarterly Energy Comment (November 18, 2015)
by Bill O'Grady
The Market
Over the past year, oil prices fell sharply into the first quarter, remained rangebound from January through March, rallied above $60 per barrel in the spring and early summer, and then slid to new lows in August.  Since the August lows, prices have been in a range between the high $30s and $50 per barrel.  In November, prices have been weak, testing the low end of the trading range.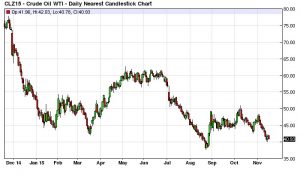 It is not unusual for prices to rally into year's end due to the rise in holiday driving and cold weather.  The latter can lift heating oil demand and refining activity.  We still expect a rally to develop into New Year's but it probably won't move prices much above $50 per barrel.
A much bigger worry for prices develops in early 2016.  Refinery maintenance begins soon after the New Year which will depress demand.  If production levels remain elevated, prices are vulnerable to breaking into the $30s in early spring.