Quarterly Energy Comment (May 10, 2016)
by Bill O'Grady
The Market
Oil prices have rallied since mid-February and are now back into the price range established last autumn.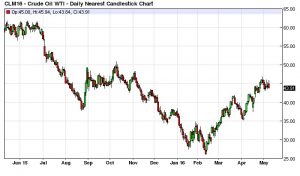 Oil Prices and Inventories
Inventory levels remain elevated but should begin their seasonal decline later this month.  In fact, working commercial storage hit an all-time high in April, exceeding the levels reached during the Great Depression.  Although there were concerns that prices could plummet once the Department of Energy's (DOE) estimate of working storage was exceeded, at 502 mb, it has become clear that there was ample storage available.  Thus, worries about a decline into the low $20s per barrel did not occur.