Quarterly Energy Comment (March 21, 2019)
by Bill O'Grady
The Market
Oil prices have been volatile over the past few months.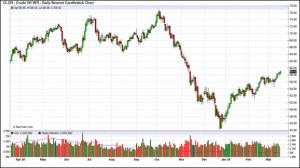 In October, OPEC producers increased output in anticipation of U.S. sanctions on Iran.  However, the Trump administration granted more waivers for Iranian exports than anticipated, leading to more oil supply.  As the above chart shows, prices plunged, falling from $78 per barrel to near $42 per barrel.  OPEC + Russia have since taken barrels off the market in a bid to boost prices.  Thus far, they have had some success in this effort but, clearly, we have not seen a full recovery in prices.
Prices and Inventories
Inventory levels remain below their 2017 peak but are still above what we would consider normal levels, below 400 mb.  Oil inventories rose sharply in 2015 as U.S. output rose due to shale production.  Unfortunately, the U.S. had regulations in place that limited oil exports to Canada and Mexico.  As these regulations were lifted, allowing for expanded oil exports, stockpiles have declined.