Quarterly Energy Comment (March 13, 2018)
by Bill O'Grady
The Market
Over the past quarter, oil prices have ranged from a low of around $56 to a high of $66 per barrel.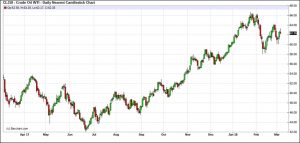 Prices remain elevated, supported by OPEC production discipline and solid global oil demand.
Prices and Inventories
Inventory levels remain elevated but have clearly declined from last year's peak.