Quarterly Energy Comment (December 30, 2016)
by Bill O'Grady
The Market
Oil prices have broken above their $44 to $52 per barrel trading range in the wake of the recent OPEC output agreement.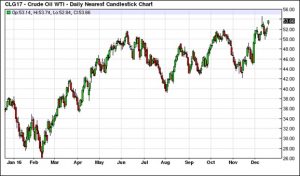 OPEC
In a reversal of recent policy, Saudi Arabia spearheaded an agreement to cut oil production.  OPEC has agreed to cut production by about 1.3 mbpd and select non-OPEC producers have chipped in additional reductions of 0.53 mbpd as well.  The total OPEC output quota is 32.7 mbpd.
The table below shows the projected cuts relative to what OPEC said it was producing (the reference column) and what Bloomberg estimated for October's actual production.  We have calculated the differences relative to quota from the two production estimates.  The areas in yellow represent nations that were not awarded a quota.  Indonesia is no longer an oil exporter, while Nigeria and Libya were not given a quota due to persistent production interruptions.