Quarterly Energy Comment (August 27, 2019)
by Bill O'Grady
The Oil Market
Since June, oil prices have held within a range of $50 to $60 per barrel.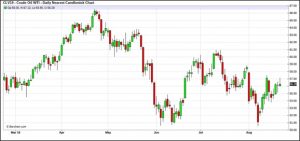 After a sharp decline in prices from late May into early June, due in part to a contra-seasonal build in inventories, inventories fell and oil prices rebounded.  Rising tensions with Iran added to the lift in prices.  Since then, we have seen a retest of the lower end of the range and another bounce.  Unfortunately, we are heading into a weak demand period for crude oil as the summer vacation season comes to a close.  Therefore, the lower support level may get tested again.
A Tale of Two Variables
Although there are several variables that affect the price of oil, within the business cycle the two we focus on are the dollar and commercial crude oil inventories.  As with many situations, there are data accommodations that are necessary.  Oil inventories can be problematic because, throughout history, the correlation between stockpiles and prices can flip.