Quarterly Energy Comment (April 11, 2017)
by Bill O'Grady
The Market
Since December, oil prices have been ranging between $48 and $55 per barrel.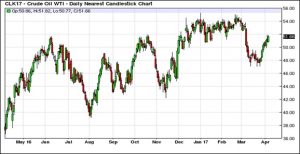 Prices and Inventories
Inventory levels remain elevated, reaching historic highs.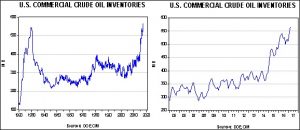 In the above charts, the one on the left shows the long-term inventory situation, while the chart on the right shows a 12-year history.  Normal inventories would be below 400 mb, so stockpiles remain elevated.