Daily Comment (September 6, 2018)
by Bill O'Grady and Thomas Wash
[Posted: 9:30 AM EDT] For financial markets, it's fairly quiet (especially compared to the political turmoil in Washington) with EM still coming under pressure.  Here is what we are watching today:
New Chinese tariffs?  One of the effects of the Woodward book and yesterday's anonymous editorial is that there appears to be some distraction on trade.  Today is the deadline for deciding on new Chinese tariffs; these would be an additional $200 bn in size.[1]  There doesn't appear to be any talks of substance underway and we do expect some kind of announcement today.  Anything less than $200 bn at 25% would likely be taken as bullish by equities.  If a tariff announcement is made, we would expect China to retaliate, although China is starting to approach limits to what it can do because of the trade disparity.  And, as yesterday's data showed, the goods deficit with China continues to widen.  On a rolling-12 month basis, the deficit is $393.5 bn.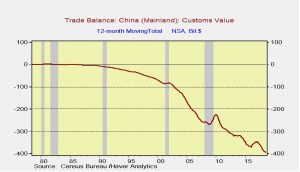 NAFTA: According to reports, U.S. and Canadian negotiators made progress in NAFTA discussions.[2]  If an agreement is reached, it would be bullish for equities.
Government shutdown?  Although Congressional Republicans appear cool to the idea, President Trump seems open to shutting down the government to force funding for a border wall.[3]  Government funding is set to lapse on September 30.  A government shutdown could further undermine the GOP's chances to retain the House.  For financial markets, we would not expect too much of a reaction.  Shutdowns in the past have been bullish for Treasuries and bearish for equities but, given that we have seen a few of these now, the financial markets will likely look beyond the initial event and assume a timely resolution.
Another North Korean thaw?  Kim Jong-un was quoted as saying he wants to achieve Korean peninsula denuclearization by the end of President Trump's first term.[4]  President Trump responded positively.  Our take on the overall negotiations is that Kim would like to improve relations with the U.S. in order to be less dependent on China.  We note that China has openly flouted sanctions[5] in the aftermath of SoS Pompeo's recent difficult talks with North Korean officials.  Beijing does not want a thaw between the U.S. and North Korea; a potentially hostile power on its border would be an unwelcome development.  At the same time, Pyongyang does not want to denuclearize without getting something substantial in return.  Normalization of relations and the chance to see better economic growth are probably minimum requirements.
Italian populists blink: The leadership in Italy has indicated it will adhere to EU fiscal constraints.[6]  Until these comments, Italy appeared ready to challenge the EU and expand beyond the 3% deficit/GDP limit.  However, rising Italian yields appear to have sent a message to the government and this climb down is likely designed to reduce Italy's borrowing costs.
India and Iranian oil: U.S. and Indian officials are in talks regarding Iranian oil imports.[7]  The U.S. is implementing sanctions on Iran and is pressing all of Iran's export customers to cease buying Iran's oil.  India has indicated it will likely continue to purchase Iran's oil but is probably willing to make concessions to the U.S. and at least reduce imports from Iran.  If the U.S. is successful in that effort, it will put further pressure on the Iranian regime. 
---
[1] https://www.reuters.com/article/us-usa-trade-china-analysis/as-next-round-of-u-s-tariffs-on-china-looms-both-sides-dig-in-idUSKCN1LM0YN
[2] https://www.reuters.com/article/us-trade-nafta/nafta-talks-make-progress-u-s-canadian-officials-to-work-into-night-idUSKCN1LL0CM
[3] https://www.politico.com/story/2018/09/05/government-shutdown-conservatives-border-wall-807989
[4] https://www.reuters.com/article/us-northkorea-southkorea/north-koreas-kim-says-wants-to-denuclearize-in-trumps-first-term-seoul-idUSKCN1LM07M
[5] https://www.nbcnews.com/news/north-korea/china-eases-economic-pressure-north-korea-undercutting-trump-admin-n906166
[6] https://www.politico.eu/article/matteo-salvini-italy-eurozone-softens-tone-pledges-to-respect-eu-deficit-rule/?utm_source=POLITICO.EU&utm_campaign=5eb385e814-EMAIL_CAMPAIGN_2018_09_06_04_40&utm_medium=email&utm_term=0_10959edeb5-5eb385e814-190334489
[7] https://www.reuters.com/article/us-india-usa-iran/u-s-india-in-very-detailed-talks-about-halting-iran-oil-imports-state-department-official-idUSKCN1LM0FW