Daily Comment (September 5, 2017)
by Bill O'Grady and Thomas Wash
[Posted: 9:30 AM EDT] Goodbye summer!  We are now moving into autumn.  Here is what we are watching today:
North Korea: The Hermit Kingdom was active over the holiday weekend.  It detonated another nuclear device, claims to have miniaturized it for a warhead and is reportedly preparing for another missile test.  The U.S. is working with the UNSC on additional sanctions but the Russians appear to have killed the idea, suggesting additional sanctions won't work.  In some respects, nothing has changed.  The U.S. doesn't want to see North Korea acquire a nuclear weapon that can threaten the U.S.  South Korea doesn't want any military action, fearing it will face an artillery barrage that will leave thousands dead.  China isn't pleased with North Korea's actions but (a) doesn't want any drama before the CPC's October meetings when Chairman Xi gets his second term and his own team of advisors, and (b) doesn't want to lose a buffer state on the Korean peninsula.  Russia likes to see the U.S. occupied with something other than Russia.  Japan fears a North Korean attack; it also worries that the U.S. will be willing to sacrifice Tokyo to a nuclear attack in order to spare Los Angeles.  The situation is a mess; the U.S. must work quickly if it wants to prevent North Korea from acquiring a nuclear threat to the U.S. mainland.  Although the Hermit Kingdom has missiles and devices, it hasn't proven it can actually deliver a warhead.  Clearly, it is working hard to acquire such capabilities.
War isn't inevitable.  Diplomacy can still work.  However, it appears that warlike actions will be necessary in order to really deter North Korea.  One way to achieve this would be a total blockade, which is considered an act of war; to work, China must be on board.  China has mixed aims with North Korea but probably wouldn't support a blockade, which would cut off oil supplies.  There are reports the military has a year of oil reserves in storage but the rest of the economy has only about a month; on the other hand, the Kim regime has historically been willing to tolerate extreme deprivations of the civilian economy to achieve its aims.
We continue to monitor the situation.  Clearly, the financial markets are worried but don't think war is imminent.  Our position is that the potential for conflict is still well below the 50/50 threshold but probably higher than the market expects.  In today's market, we are seeing some risk-off trading, with Treasuries and the JPY higher.
Good world growth: As the PMI data below shows, the global economy is doing rather well.  The JPMorgan Global Manufacturing PMI hit 53.1, the highest level since May 2011.  In addition, 96.3% of nations are seeing readings above the expansion line of 50, and 92.6% are seeing positive yearly readings.  Developed markets are outperforming emerging and Europe is putting in the strongest data.
Hurricane Irma: This cyclone is now a Category 5 hurricane.  The five-day forecast cone shows it entering the Gulf of Mexico on Sunday.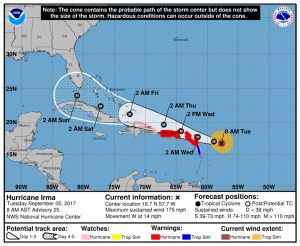 There is a high-pressure cell over the mid-Atlantic; meanwhile, a cold front passed through St. Louis yesterday evening, bringing rain and cooler temperatures.  The steering of these two factors will determine the path of Irma.  At present, forecasters are assuming the combination of these two factors will push Irma up into Florida, Georgia and the Carolinas.  Nearly all the models show it taking a sharply northern turn early next week.  However, if the cold front stalls, Irma could end up in the GOM and perhaps affect recovery efforts in Texas.
The debt ceiling: We believe the debt ceiling issue is now probably resolved with the spending needed for Texas's recovery.  We will be watching for how far borrowing limits are extended.  If they are not moved significantly, we could revisit this issue by December.