Daily Comment (September 2, 2016)
by Bill O'Grady and Kaisa Stucke
[Posted: 9:30 AM EDT] Happy labor data day…just before Labor Day weekend!  We will spend much of this report going over the data but we want to make a couple of comments about yesterday's ISM manufacturing data.  The report came in unusually weak, at 49.4 compared to expectations of 52.0.  It also contradicted the Markit number (a data provider that offers a similar survey), which came in at 52.0, near the 52.1 forecast.  New orders, a key sub-component of the report, came in at 49.1, down from 56.9 in July.
Although there are concerns about this data, it should be noted that it is one data point and a bit of an outlier.  We would need to see a couple more like this before we would get really worried.  Although a reading under 50 means that the majority of survey participants saw weakness, it is a slim majority.  Looking at the data on a six-month average basis shows nothing out of the ordinary.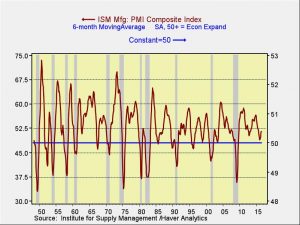 A simple GDP/ISM manufacturing model suggests that a reading of 49.4 would generate a GDP for Q3 of 2.1%.  We would expect the Atlanta FRB's Q3 forecast for GDP to dip off this report, but the data, by itself, is not signaling recession.  It is confirming continued slow growth.