Daily Comment (September 15, 2017)
by Bill O'Grady and Thomas Wash
[Posted: 9:30 AM EDT] Hawkish comments from the BOE continue to lift the GBP.  Here is what we are watching today:
North Korea launches (yawn): As expected, North Korea launched a missile that passed over the Japanese island of Hokkaido.  The missile appears to be an intermediate-range ballistic missile, not an ICBM.  This missile's distance exceeded the recent one over Japan and shows North Korea can now threaten Guam.  Market reaction thus far has been enlightening.  The usual flight to safety trade is long JPY, Treasuries and gold.  All are lower today.  Geopolitical tensions exhibit a pattern in markets over time.  Unless conditions escalate significantly, each event has less impact with repetition.  We have seen this pattern with terrorist events and now we are seeing it with missile launches.  It does not appear that Kim Jong-un is taking into account Western financial market behavior with his provocations but, if he did, this one would be rather disappointing.
Terrorist attack in the London Underground: There was a terrorist attack in a London subway platform this morning.  It appears to be an improvised explosive device that injured 22 people, none seriously.  There was no obvious market impact, although follow-on attacks after these events do occasionally occur.  We will continue to monitor the news flow.
Venezuela suspends dollar auctions, prices oil in EUR: Venezuelan President Maduro has indicated that his nation, in a bid to dilute the impact of U.S. sanctions, will be invoicing oil in EUR going forward.  Iraq did something similar under Saddam Hussein.  This scheme probably won't work well for Caracas.  The U.S. is a major trading partner with Venezuela and forcing U.S. firms to use EUR will simply discourage American buyers further.  In addition, having EUR will increase the cost of servicing dollar-denominated debt, in that it will take another step in translation to adjust the debt.  This move smacks of desperation.
The return of the Italian lira?  Three of Italy's largest political parties are calling for a dual currency to trade alongside the EUR.  The Five Star Movement, the Northern League and Silvio Berlusconi's Forza Italia have all proposed introducing a new currency following the election scheduled for next year.  Italian lawmakers are using this as a threat to Brussels to allow Italy to violate the fiscal spending rules.  In the last ECB press conference, Draghi shot down this idea, saying that there is only one legal tender in the Eurozone, the EUR.  If Italy were to exit the Eurozone, it would be a serious blow to European unity, perhaps a bigger problem than Brexit.  Although we have been bullish the EUR, this position would need to be reevaluated if this parallel currency movement gains momentum.
Bitcoin tumbles: China has outlawed cryptocurrency exchanges and various financial leaders in the U.S. have said derogatory things about these currencies.  Bitcoin, the predominant cryptocurrency, has fallen over 30% recently.  The sharp decline is an indication of the ephemeral nature of cryptocurrencies.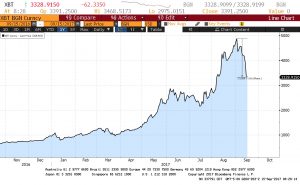 Saudi news: There were a few items of interest emerging from Saudi Arabia.  First, Sputnik (admittedly, not the most reliable of sources) is saying the kingdom is looking for a vendor to build nuclear reactors for electrical power.  The report indicates that no U.S. firms will be asked to bid on the project (which seems odd, given the warm relations the president seems to have with the king).  The worry, of course, is that this plan will eventually lead to the kingdom getting nuclear weapons.  Second, the crown prince appears to be behind a series of arrests designed to stifle dissent.  According to reports, a number of clerics have been arrested.[1]  We have been hearing rumors that the royal family is working to curtail the influence of the clerical establishment in a bid to loosen Saudi Arabia's rather stodgy social scene.  In addition to clerics, others have been arrested as well, including a member of the royal family.  The NYT reports that Jamal Khashoggi, a long-tenured journalist and commentator, has moved to the U.S., fearing arrest.[2]
Iran deal approved: Yesterday, we noted that President Trump had to renew the Iran deal, which was expiring.  Although there is growing concern he will end the deal, he did approve it yesterday but is indicating that he intends to curtail Iran's influence in the region.
---
[1] https://www.thenational.ae/opinion/new-saudi-policy-will-ensure-clerics-fall-in-line-1.628123
[2] https://www.nytimes.com/2017/09/14/world/middleeast/saudi-arabia-clerics.html?emc=edit_mbe_20170915&nl=morning-briefing-europe&nlid=5677267&te=1