Daily Comment (September 11, 2019)
by Bill O'Grady, Thomas Wash, and Patrick Fearon-Hernandez, CFA
[Posted: 9:30 AM EDT]
It is 9/11, the 18th anniversary of the terrorist attack on New York and Washington.  Equity markets are mostly steady this morning.  We are rotating in equities.  China gives in (a little) on trade.  Bolton's out.  Here is what we are watching this morning:
China trade:  China announced it will exempt a range of goods from the 25% extra tariffs that were implemented last year.  However, notably, corn, soybeans and pork failed to make the list.   Drugs, non-grain animal feed and lubricants were exempted.  Although the action does suggest that China may be making a good faith effort to improve the environment for negotiations, the move itself is quite limited.  Still, any sign of hope will be welcomed.
China market news:  There were a couple items of note on China and its impact on markets.  First, China has removed quota limits on foreign investment.  This action would suggest China is interested in attracting foreign investment; we note that the previous quotas had not been fully utilized, so this action probably won't trigger a major influx of new funds.  Second, although China's foreign reserves held steady in August, Hong Kong's fell 3.5%, or about $15.6 bn.  This drop suggests that capital flight is probably starting to develop.  Third, China's car sales fell for the 14th consecutive month.  There are growing concerns about China's economy and its impact on the U.S. and global growth.
Bolton:  John Bolton either resigned or was fired yesterday.  There were reports that he was signed by the Patriots, but those have not been confirmed.  Usually, the removal of a national security director isn't a market event.  When Trump's two previous directors departed, H.R. McMaster and Michael Flynn, they weren't market-moving events.  However, Bolton's departure did have a dramatic effect on the oil markets, which fell sharply on the news.
Every president "learns on the job."  There really is no position that prepares one to be president of the U.S., although a governor may be the best learning experience.  However, what we usually see is that a new president starts with a deep team of notables, especially if the new president's party has been out of office.  There are a lot of people who have been waiting to take a role in a new administration.  However, over time, presidents begin to figure out the job and want to be around people who will execute the policy of the president, not try to shape it.  Bolton and Trump were not of the same mindset.  Using Mead's taxonomy,  Bolton was a mix of Wilsonian and Jacksonian archetypes, but leaned mostly to the former.  Thus, he was more of a neoconservative, wanting to use force against a myriad of enemies.  President Trump, on the other hand, is nearly a pure Jacksonian.  This archetype tends to be isolationist unless provoked.  Thus, we would expect Trump to attack Iran if it would engage in an action that killed an American but not use force as a matter of policy goals.  Bolton, on the other hand, wanted to use force against Iran as a matter of policy.
As presidents begin to shape their own administrations, they tend to remove those who have been trying to shape the president.  Those who follow the initial group of aides and cabinet members tend to be less notable but more willing to execute the president's wishes.  Although the media will act as if what we are seeing is completely unique to this administration, the shifting is normal, although it may be happening faster with this one.
SoS Pompeo is the remaining member of the national security and foreign policy staff.  Although he is probably a similar archetype to Bolton, he has a better personal relationship with the president and seems more willing to execute policy.  What we expect to see going forward is more of a Trumpian foreign policy with less interference.
This probably means the odds of negotiations with North Korea and Iran are likely.  We may even see some thaw with Venezuela.  President Trump likes face-to-face meetings with leaders to solve what have been intractable problems.  Bolton opposed such meetings, as does Pompeo, but he will go along (at least for now).  Additionally, we do not expect Pompeo to stick around, either.  He seems to be considering a Senate run.  What is most interesting about President Trump's foreign policy is how it is shifting the GOP from a Hamiltonian/Wilsonian stance to a Jacksonian one.  We will be watching to see if this shift becomes permanent or ends when Trump leaves office.  A Jacksonian foreign policy probably isn't conducive for hegemony; America seems okay with ending that role, but the rest of the world is still dealing with the shock.
EU news:  Margrethe Vestager, the EU commissioner who has gone after the large tech firms, has been given a rare reappointment.  Usually, new EU leaders select an entirely new slate.  This is unwelcome news for the U.S. tech giants.  Political negotiations in Spain have failed and new elections are likely.  German economic think tanks are forecasting a recession for Germany.  Although the new government in Italy is less confrontational than the previous one, in terms of fiscal policy, the trend is the same.  Italy's current proposed budget will violate EU guidelines.  We will be watching to see if this new government is given some "wiggle room" to support non-populist governments.
Turkey:  President Erdogan has a plan for Syrian refugees.  Either the U.S. and Turkey create and secure territory in Syria for over one million refugees or Turkey will release these refugees into Europe.  Turkey has an estimated 3.6 mm Syrian refugees, but the EU has an arrangement with Turkey.  Over the past four years, Europe has given Turkey $6.7 billion to keep these refugees from coming into Europe.  Erdogan is indicating this isn't enough.  The Turkish president has wanted a buffer zone in Syria to (a) gain territory in Syria, and (b) create an area it controls to push Kurds further away from his border.  Although the U.S. has agreed in principle to establish this zone, it seems unlikely that President Trump will support a major U.S. effort to put in troops to secure this zone and create a buffer that undermines an American ally in the region, the Kurds.  Erdogan is accusing the U.S. of backing away from the deal.  If the agreement falls through, another European refugee crisis is in the offing, which could be bearish for the EUR and European equities.
The rotation:  In the past few days, we have seen an impressive rotation in equities, with value and non-momentum stocks gaining, while growth and momentum have taken a hit.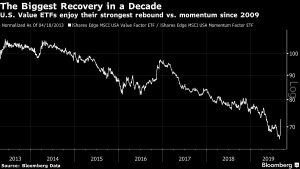 Along with the momentum/value reversal, Treasury rates have jumped, and the yield curve has steepened.  There is no doubt that the momentum/growth areas had become "crowded" and value was due for a bounce.  The issue now is whether this is the beginning of a broader trend or a mere correction.  If it's going to be more than just a correction, we will likely need to see long-duration Treasury rates continue to rise, and for that to occur we would need to see a significant reversal of easing expectations.  In general, shifts in value to growth usually require P/E contraction.  Although long-term interest rates are not the sole determinant of P/Es, they are important.  Thus, what we are seeing is probably not a reversal in trend but a correction.
Brexit news:  Boris Johnson's decision to prorogue Parliament was ruled "unlawful by the Scottish court."  The ruling sets up a possible showdown in the Supreme Court.  In response, the ruling members of Parliament have asked to be summoned back to debate the issues surrounding Brexit, which Johnson is likely to deny.  The Supreme Court is expected to take up the issue next week.
In addition to the ruling, PM Johnson received flak from members of the rivaling Labour Party for not making enough progress in Brexit negotiations.  With seven weeks left until Brexit, it is believed that PM Johnson has not made substantial progress in securing a deal.  One of the primary hurdles to negotiations is the Irish backstop.  PM Johnson has asked for it to be removed from the deal completely but has not offered an alternative to the backstop.  There are rumors that he is exploring building a bridge that would link Scotland and Northern Ireland, but nothing has been formerly proposed.  One of the major risks to the proposal is that there are believed to be undetonated WWII bombs located in the water.
As the Brexit deadline looms closer, it is becoming clear that PM Johnson may not be able to come up with a Brexit deal; therefore, assuming elections are not called, the likelihood of a no-deal Brexit is really elevated.  Countries within the EU such as Spain and France have begun preparing for the worst.  This morning, Spanish PM Pedro Sanchez asked Spanish businesses with commercial ties to the U.K. to evaluate their exposure, and create contingency plans in the event of a no-deal Brexit.  France, which gave its businesses the same directive last week, also began testing a smart border in Calias, which is where a lot of French goods are transported to the U.K.  We expect a frantic adjustment if a no-deal Brexit happens, as it will be unclear how the U.K. and European countries will cope with the sudden withdrawal.