Daily Comment (September 11, 2017)
by Bill O'Grady and Thomas Wash
[Posted: 9:30 AM EDT] Sixteen years ago, the U.S. suffered its worst terrorist attack in its history.  The nation was changed in numerous ways, both large and small.  Every time we fly commercial we are reminded that our safety was compromised.  The country is still trying to unwind two wars related to the attack.  On the other hand, the fears that the U.S. would suffer a subsequent similar attack have not come to fruition.  This is due, in part, to America's security and intelligence apparatus.  It is also due to the likely fact that 9/11 was something of a long shot by al Qaeda that worked much better than expected.  In any case, we still remember those directly affected by the event and keep them in our prayers.
Risk-on has returned to the financial markets.  Here is what we are watching today:
A quiet Korean Peninsula: Although there was great fear that Kim Jong-un would test another ICBM, nothing occurred over the weekend.  It's possible that, despite Saturday being a major holiday in the DPRK, there are backchannel discussions going on and the lack of launch is a good faith effort.  Or, it may mean Kim simply decided to enjoy the weekend.  Meanwhile, the UNSC is working on some rather meek sanctions that probably won't matter much.  We would not be surprised to see the U.S. apply unilateral financial sanctions on North Korea, but it won't be possible to put a direct oil embargo on North Korea because China won't cooperate.  At the same time, the NYT reports that the trade imbalance between North Korea and China is widening.[1]  It isn't clear what currency China uses when it settles trade with North Korea.  Nobody wants the North Korean won and so we suspect North Korea simply builds arrears in CNY.  Eventually, either trade will stop because firms will no longer want to accept IOUs from the DPRK or the Chinese government will swap the IOUs to pay the firms and settle the debt.  Simply put, Chinese trade with North Korea could become more like aid, something we doubt China will continue with indefinitely.
TS Irma: Hurricane Irma, which has been downgraded to a tropical storm, is now at the bend of the Florida panhandle.  Although it led to devastation in the Caribbean, the impact on Florida, though significant, has been less than anticipated.  It is rapidly turning into a rain event for Georgia and Alabama.  Hurricane Jose looks like it is going to circle itself in the Atlantic.  We will continue to monitor the storm but, for now, it doesn't appear to be a threat to the U.S.  On average, hurricane season peaks on Sept. 10th, so activity should steadily decline going forward.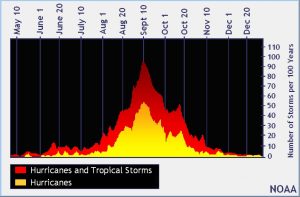 China continues to clamp down on cryptocurrencies: China has shut down all virtual trading platforms as it takes steps to rein in cryptocurrencies.  These electronic currencies are useful in skirting capital controls, something the Xi administration has been tightening over the past couple of years.  Although XBT/USD rates remain elevated, the exchange rate is weakening, probably due to China's restrictions on the use of cryptocurrencies.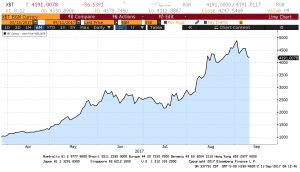 ---
[1]https://www.nytimes.com/2017/09/08/business/north-korea-china-trade.html?emc=edit_tnt_20170908&nlid=18733852&tntemail0=y&utm_source=The+Sinocism+China+Newsletter&utm_campaign=9f544c05c1-EMAIL_CAMPAIGN_2017_09_10&utm_medium=email&utm_term=0_171f237867-9f544c05c1-29661833&mc_cid=9f544c05c1&mc_eid=e77499fecc