Daily Comment (September 10, 2019)
by Bill O'Grady, Thomas Wash, and Patrick Fearon-Hernandez, CFA
[Posted: 9:30 AM EDT]
Good morning!  Equity markets are a bit lower this morning, although there is a huge amount of rotation in the sectors.  Chinese inflation data was mixed.  Parliament is prorogued.  Here is what we are watching this morning:
Is the ECB set to disappoint?  Mario Draghi leaves the ECB on Halloween and he is trying to deliver one last burst of stimulus.  Talk of new rate cuts, tiered negative rates and new QE have been offered but there is growing concern that Draghi, a lame duck, won't be able to deliver.   Growing opposition among the members of the ECB centers on the idea that things aren't all that bad, at least not bad enough to warrant such aggressive actions.  This situation is important, because if Draghi can't implement these measures, it's unlikely his successor, Christine Legarde, will be able to push measures through, at least immediately.  Legarde is not considered an economic heavyweight and thus probably won't be able to sway the members on the strength of her arguments.  Instead, she will likely need time to build a consensus on the committee to bring any changes into place.  If the ECB falls short, look for a further rise in long-term rates, weaker gold prices and a stronger EUR.  We don't view these market reactions as the beginning of a long-term trend.  The European economy is still struggling and will need additional stimulus.  Although there is a glimmer of hope for fiscal loosening (see below) if economic conditions don't improve, we will likely see the ECB eventually adopt what Draghi is proposing.  But, in the short run, we think the odds of disappointment are elevated with the aforementioned results.
A fiscal expansion in Germany?  German officials are starting to make noise about a fiscal expansion and there is growing speculation that policymakers are working on ways to get around the balanced budget rules.  To some extent, this is a "no duh" moment; Germany has ample fiscal capacity (negative yielding sovereign debt is a clear indication of its existence).  Europe, and, for that matter, the world, needs Germany to shrink its current account surplus and fiscal expansion could do the trick.  However, despite the obvious need, Germany has a deep-seated aversion to fiscal expansion and inflation.  Actual deficit spending probably doesn't occur without a full-blown recession in place.  Nevertheless, if the policy mechanisms are in place, fiscal expansion could be implemented quickly.
Brexit:  Prime Minister Johnson has lost a second vote on having a snap election, as the Labour Party and other opposition groups refused to allow the ballot in order to ensure that Johnson asks the EU for a delay with Brexit, as now required by law.  Since parliament is now on leave for the next five weeks, the earliest an election can take place is November.  Recent polling shows Johnson is still the most popular British politician, with much higher support than Labour Party leader Jeremy Corbyn.  However, he doesn't necessarily have a majority, and he continues to lose support from traditional Conservative Party stalwarts who reject his drive toward a no-deal Brexit.  In the House of Lords, the Duke of Wellington announced he would quit the party to protest Johnson's program.  As Johnson becomes increasingly hemmed in, there are some signs that he may be shifting his position.  In talks yesterday with Prime Minister Varadkar of Ireland, Johnson said Northern Ireland and the Republic of Ireland could trade agricultural and food products under EU rules, although that idea would be strongly resisted by British nationalists on grounds that it would weaken the status of Northern Ireland in the United Kingdom.
We may see the GBP drift higher as positions are squared in front of the return of Parliament in mid-October.
Chinese inflation:  China released PPI and CPI for August.  The data told two stories.  On the CPI data, it's all about pork.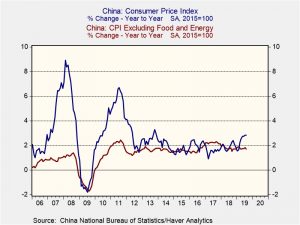 Overall, CPI rose 2.8%, while core CPI rose by only 1.7%.  Food prices jumped 10.2%, led by a 47% rise in pork prices caused by the African Swine Fever pandemic.  There are rising concerns about the political impact of the pork issue.  However, despite the spike in prices, there has been no movement by China to increase its buying from the U.S.  This may occur if conditions continue to deteriorate, but probably not before the CPC meetings in early October.  Meanwhile, the PPI data shows evidence of renewed deflation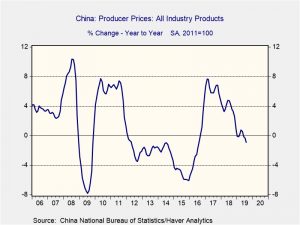 Tech troubles:  Tech firms are facing two threats.  First, more than 40 state attorney generals have joined a bipartisan probe into large tech firms, including Facebook (FB, 188.76) and Alphabet (GOOG, 1204.41), in a broad anti-competitive probe.  Perhaps the greatest threat to the large tech platforms is regulation and the fact that this is state-level, broad and bipartisan will make fending off this action through lobbying very difficult.  Second, California is about to pass new labor laws that will force companies that rely on "gig workers" to reclassify them as employees.  Many of these platforms struggle to attain profitability even with the 1099 structure; the regulatory burden of making their workers W-2 employees will either (a) destroy the model, or (b) require much higher prices.
European Commission:  Incoming European Commission President Ursula von der Leyen is naming her top lieutenants today, and perhaps the most important news is that current Competition Chief Margrethe Vestager will continue in her role.  Vestager has aggressively pursued anti-trust actions against a number of major U.S. and foreign technology firms, including assessing huge fines.  This aggressive approach to enforcing market competition rules will now likely continue, which will add some measure of risk to international firms doing business in Europe.  In a nomination that has implications for Brexit, the EU's trade chief will be Phil Hogan of Ireland.  The new economic policy leader will be Paolo Gentiloni of Italy, and the responsibility for defense, the single market and industrial policy will be in the hands of Sylvie Gouland of France.  The nominees will face questioning by the European Parliament later this month, after which the legislators could reject them as a team or pressure von der Leyen to give them different jobs.
Iran:  Although it isn't catching the attention of the media, tensions in the Middle East surrounding Iran and its proxies are heating up again.  First, Iran is trying to pressure Europe into breaking U.S. sanctions by steadily violating the nuclear deal through increased uranium enrichment.  With the U.S. exit from the agreement and the reimplementation of sanctions, Iran is arguing that it is no longer bound to the deal.  However, it had initially complied (sort of) to try to encourage Europe to violate American sanctions.  Nonetheless, despite efforts to create a method of evading the U.S. financial system, in practice, the Europeans are not buying enough Iranian goods to support the Iranian economy.  In addition, it does appear that one of the fears of opponents of the nuclear deal, the fear that Iran might cheat, may have been realized.  Israel has been arguing that Iran violated the arrangement by illegally stockpiling fissile material.  The IAEA reports that it has  found traces of nuclear material in a warehouse.  Finally, Hezbollah has downed an Israeli drone as tensions rise in the region.  All of this is bullish for oil prices, which have been bolstered by the change of leadership in the Saudi oil industry.
Spain:  An advisor to the European Court of Justice warned today that Spanish banks may have violated consumer protection laws by the way they explained a widely used mortgage price index to borrowers.  As might be expected, the potential for lawsuits and fines is weighing on Spanish bank stocks today.
North Korea:  First Vice Minister Choe Son Hui was quoted in state-run media today as saying Pyongyang is ready to restart denuclearization talks with the United States later this month.  At the same time, however, the country launched two more short-range missiles, likely as a warning that Washington needs to get back to the bargaining table.