Daily Comment (September 1, 2016)
by Bill O'Grady and Kaisa Stucke
[Posted: 9:30 AM EDT] It's global manufacturing PMI day (see Foreign Economic News section for full data table).  China's official PMI came in better than expected, crossing into expansionary territory with a reading above 50.  At the same time, China's Caixin PMI reading came in slightly below expectations but remained right at 50, indicating expectations of neutral growth (no expansion or contraction).  Below is the historical chart for the two Chinese PMIs.  In general, the official PMI tends to be more stable, while the Caixin has produced lower readings for the country's manufacturing.  The good news is that although the Caixin reading showed a generally contracting manufacturing sector for most of last year, both gauges show a manufacturing rebound over the past two months.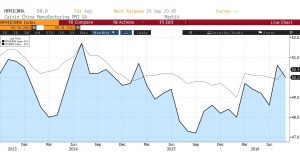 The yuan advanced for the fifth day on relatively strong PMI data, but also on speculation that the PBOC has been supporting the currency ahead of the G-20 meeting.  The chart below shows the one-year move in the yuan.  Although the currency has weakened since the end of last year, speculation is that the central bank does not want the currency to weaken further from its current level ahead of the G-20 meeting.  However, the policy is likely to change later in September.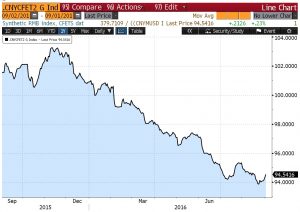 The U.K. also saw a strong rebound in its manufacturing PMI in August following a relatively weak reading in July.  The stronger than expected PMI reading helps dissipate post-Brexit worries and indicates that the country can grow even amidst the prospect of leaving the EU.  We have drawn a vertical line on the chart below at the Brexit vote date.  The subsequent PMI reading in July had plunged to a contractionary level of 48.3, but rebounded strongly to 53.3 in August.