Daily Comment (September 26, 2022)
by Patrick Fearon-Hernandez, CFA, and Thomas Wash
[Posted: 9:30 AM EDT] | PDF
Our Comment today opens with an update on the Russia-Ukraine war, where there are many questions regarding the "partial mobilization" announced by Russian President Putin last week.  We next review a wide range of other international and U.S. developments with the potential to affect the financial markets today, including rumors of a potential coup against Chinese President Xi and a steep drop in the value of the British pound after the tax cuts announced by the U.K. government last week.
Russia-Ukraine:  The latest battlefield reports indicate Ukraine continues to regain territory with its ongoing counteroffensives in the northeastern region around Kharkiv and in the southern region around Kherson.  However, the gains have now become more modest, and Russian forces have apparently managed to turn the Ukrainians back in some places.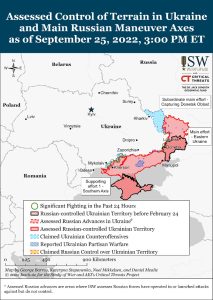 Meanwhile, protests against last week's mobilization order continue to spread, with arson attacks against army recruitment offices now reported in at least 16 regions and protestor arrests topping 2,200. As military-age men continue to flee Russia, independent media outlets claim the Kremlin is also considering closing the country's borders.

Various reports suggest the call-up is being applied much more broadly than indicated in the official announcement. For example, young men with no prior military experience have reportedly been rounded up, despite official assurances that the military would only be mobilizing reservists who had previously served in the military.
If the call-up is indeed much broader than advertised, it would likely generate even more pushback and further threaten President Putin politically. The Kremlin has therefore been blaming the call-up violations on over-zealous local officials.

In another effort to find new troops, Russian military leaders in occupied areas of Ukraine are rounding up local Ukrainians and forcing them into military service against their own countrymen. As with the overly broad mobilization within Russia itself, the roundups in Ukraine are unlikely to result in new units with high morale or a dedication to the fight, even if they could be trained, equipped, and supplied quickly (which they almost certainly cannot).
United Kingdom:  Even though the government's announcement of massive tax cuts last week pummeled the pound, Chancellor Kwarteng doubled down yesterday and said in an interview that there would be further cuts over the coming year.  With the tax cuts generating fears of out-of-control budget deficits and inflation that could further undermine the currency, investors are increasingly expecting the Bank of England to hold an emergency meeting to hike interest rates further.
The decline in the currency continues today, with the pound sliding earlier this morning to an all-time record low of $1.0349, down some 10.9% so far this month and 23.3% year-to-date.
In recent hours, the pound has rebounded somewhat, but it's important to remember that Britain's energy crisis, impending recession, and now the out-sized tax cuts are likely to continue putting downward pressure on the currency in the near term.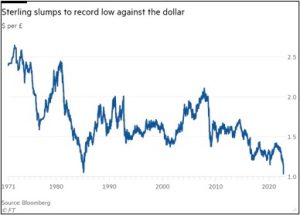 Germany:  As the German government desperately seeks new energy supplies to replace those shut off by Russia, it has struck a deal over the weekend for 137,000 cubic meters of liquified natural gas from the UAE to be delivered later this year.  The delivery will be the first at Germany's new Brunsbüttel LNG import terminal, which is still being built.
Under the deal, the UAE will send another five LNG cargoes to Germany in 2023.
Despite the agreement, we suspect Germany will still find it difficult to meet all its energy needs over the next year or more, leading to continued high prices, economic disruption, and financial market turmoil.
Italy:  In parliamentary elections yesterday, a bloc of three right-wing parties including the neo-fascist Brothers of Italy, the League, and Forza Italia won a majority in parliament but apparently failed to win the two-thirds majority needed to push through constitutional changes.  The new government is expected to be led by Brothers of Italy leader Georgia Meloni, who would become Italy's first female prime minister.
China-Coup Rumors:  Over the weekend, alternative media sources, primarily from India, were swirling with rumors of a coup against Chinese President Xi, possibly driven by Xi's absence due to his quarantining after his trip to Uzbekistan last week.  However, mainstream media reporters said they have seen no signs of military activity or other coup signals in major Chinese cities.  With Xi preparing to take a precedent-breaking third term in office at the Communist Party's 20th National Congress next month, a coup in China would have major implications for global politics, economics, and financial markets.  We will continue to monitor the situation closely.
China-Currency Intervention:  Although the renminbi hasn't depreciated nearly as steeply as the British pound, its recent weakness did prompt the People's Bank of China to intervene today in the market by boosting reserve requirements for banks betting against the currency.  The onshore renminbi touched 7.1685 during early Asian trading hours today, hitting its lowest level since May 2020.
China-Hong Kong:  Beginning today, Hong Kong's municipal government is ending its rule that visitors quarantine in a hotel for several days in order to stop imported COVID-19 infections.  The change marks a significant easing of one of the world's toughest anti-pandemic regimes after more than 2½ years.
The hotel quarantine and other anti-pandemic rules have alienated travelers, shut out tourists, and frustrated local residents, which in turn has diminished Hong Kong's attractiveness as a world financial center. Even if the city government keeps easing its pandemic rules, it may take some time for Hong Kong to regain its past attractiveness.
Although the government linked the eased rules to improvements in the city's pandemic situation, the announcement came even as the municipal health authorities recorded 5,387 new coronavirus infections on Friday, including 156 imported ones, along with 12 more related fatalities. The easing of rules despite continued high infections could mean that the authorities are responding to domestic political pressure to get life back to normal.
That could potentially be a harbinger for the mainland's Zero-COVID policy, although we suspect any change there would be postponed until after the Communist Party's 20th National Congress in October.
China-United States-Solomon Islands:  In his address to the UN General Assembly on Friday, Solomon Islands Prime Minister Sogavare parroted many of China's complaints about the behavior of the U.S. and its allies in the Indo-Pacific region, including what he called their "intimidation" after he recently signed a security pact with China.  Among other worrisome feathers, that deal gave the Chinese military the right to use Solomon Islands' ports.
Sogavare's strident speech underscores how he has become a key political and military asset for Beijing in the region.
In turn, China's "win" in the Solomon Islands will likely exacerbate U.S.-China tensions even further.
United States-United Kingdom-Australia:  In a Friday statement marking the one-year anniversary of their AUKUS partnership, the Australian, British, and U.S. governments said that they have made "significant progress" toward Australia acquiring conventionally armed, nuclear-powered submarines.  The alliance aims to bolster Australia's ability to defend itself and help its allies counter China's growing military threat in the region.
Other reports say that the Biden administration is negotiating with Australia to build its first few nuclear-powered attack submarines in the U.S.

That's consistent with our view that the U.S. defense industry will initially be the main beneficiary as the world's liberal democracies boost their defense spending in the face of greater threats from authoritarian countries like China and Russia.
Even though the U.S. defense industrial base has shrunk significantly since the end of the Cold War, the U.S.'s allies have let their defense industrial bases shrink even further. For the time being, at least, the U.S. industry has most of the key technology and production capacity needed to help the liberal democracies re-arm.

The statement also said AUKUS has made "significant strides" in other areas besides submarines, including hypersonic weapons, cyber, electronic warfare capabilities, and additional undersea capabilities.
U.S. Residential Housing Market:  According to property data firm CoStar Group, asking rents at U.S. apartment complexes fell 0.1% in July, marking their first decline since December 2020.  Meanwhile, apartment-listing site Rent.com said asking rents for one-bedroom apartments fell 2.8% in the same month.  If the cooling economy and the recent apartment building spree drive rents down further, it could eventually help reduce inflation and allow the Federal Reserve to slow its interest-rate hikes.