Daily Comment (September 23, 2022)
by Patrick Fearon-Hernandez, CFA, and Thomas Wash
[Posted: 9:30 AM EDT] | PDF
Good morning! Today's Comment starts with a discussion about the U.S. dollar's impact on equities. Next, we give an overview of the upcoming Italian election over the weekend. Finally, we conclude with an update on the Ukraine war.
Fed Hangover: All focus seems to be on the dollar after the Fed lifted its policy rate by 75 bps. Here are our thoughts regarding the greenback's impact on equities.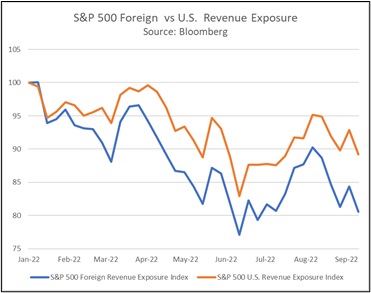 Italian Elections: The right-wing bloc is expected to take over the Italian parliament; however, there are concerns that the coalition may not hold together.
Ukraine Update: Everyone is looking for an off-ramp from the Ukraine war; however, political pressure is forcing the West and Russia to make uncomfortable decisions.