Daily Comment (September 7, 2021)
by Bill O'Grady, Thomas Wash, and Patrick Fearon-Hernandez, CFA
[Posted: 9:30 AM EDT] | PDF
In today's Comment, we open with international developments ranging from a worsening outlook for Chinese corporate debt to a budding political fight in the United Kingdom over higher taxes for the National Health System.  We also cover the latest developments in Afghanistan and the coup in Guinea, which has pushed up aluminum prices today.  We close with the latest news on the coronavirus pandemic.
U.S. Pension System:  As state and local governments continue to struggle with underfunded pension systems, they are increasingly borrowing to meet their pension obligations.  According to an analysis by Municipal Market Analytics, state and local governments have borrowed about $10 billion for pension funding through the end of August this year, more than in any of the previous 15 full calendar years. The number of individual municipalities borrowing for pensions soared to 72 from a 15-year average of 25.
With borrowing rates extraordinarily low, municipalities are betting they can make more on their existing pension investments than they will have to pay in interest.
The practice amounts to a leveraged bet that the pension systems can keep making good returns in the financial markets.  Of course, a key test would come in a significant market downturn and/or a steep rise in borrowing rates.
China:  As we've said many times, one notable economic vulnerability facing China is its high level of debt.  Throughout 2021, that problem has been especially evident among the country's major real estate developers, especially the largest, Evergrande Group (EGRNY, $13.49).  Chinese trading in the company's bonds has now been suspended for the second time in as many days after it admitted last week that it might default, and Moody's twice downgraded the issues.
Evergrande's bonds fell approximately 20% in Shenzhen today, after a similar sharp decline last Friday.
More ominously, concerns about Evergrande appear to be weighing on other Chinese developers' bonds and stocks, raising the specter of broader market contagion.
Russia-Germany:  The German government has accused Russia of launching a series of cyberattacks against national and regional politicians as part of an effort to interfere with Germany's national elections later this month.  The warning comes ahead of what appears to be the most open election in recent German history, with polls pointing to an inconclusive outcome that could usher in months of uncertainty in Europe's most powerful country.
Not only is Russia losing a relative friend and ally in Chancellor Merkel, who is retiring, but Merkel's center-right Christian Democratic Union (CDU) has been losing support faster than most observers expected.
In contrast, the center-left Social Democratic Party (SPD) has been surging.  Perhaps even more concerning for Russia is that the Greens may be able to garner enough votes to enter the next government.  They have become some of the most vocal proponents of pushing back against Russia and China for their economic, environmental, and human rights policies.
Source: POLITICO research
European Union-Poland:  The European Commission has asked the European Court of Justice to fine Poland for ignoring court rulings over the country's controversial judicial reform, in a significant escalation of a stand-off between Brussels and Warsaw over the supremacy of EU law over national rules.
United Kingdom:  Prime Minister Johnson appears to be throwing himself into a political crisis.  He plans this week to introduce tax hikes and benefit cuts to shore up the national health insurance program, despite promising explicitly not to take those actions in the Conservative Party's 2019 manifesto.  Importantly, he faces widespread opposition to the plan, including his own cabinet, even though the expectation of a personnel reshuffle later this week is causing members reluctant to take a public stand.  In any case, the proposal will face widespread opposition from both Conservatives and the opposition Labor Party in parliament.
The coronavirus pandemic appears to be a key driver behind the proposal.  For one thing, the pandemic has boosted the National Health Service's backlog of cases, which Johnson had promised to whittle down.
In addition, the Conservatives manifesto had promised to boost state pensions each year by the greatest of average earnings growth, price inflation, or 2.5%.  Because of labor market distortions brought on by the pandemic, the earnings growth bogey would have boosted pensions by approximately 8% starting next April.
Afghanistan:  Taliban sources yesterday said they had eliminated the last vestiges of armed resistance to them in the province of Panjshir.  If true, it would mean that they now control all of Afghanistan.  Perhaps more significantly, it would also mean that the Taliban have even more control over the country than they did when they last ruled in the 1990s.
The State Department confirmed that it had facilitated the evacuation of four U.S. citizens from Afghanistan on Monday via an undisclosed overland route.  It is believed to be the first confirmed exit since the U.S. finished evacuating troops and civilians last month via the Kabul airport.  According to the State Department, the Taliban were aware of the evacuation and didn't attempt to impede it.
In a press conference today, Secretary of State Blinken said the U.S. is negotiating with the Taliban on resolving issues preventing other American citizens and vulnerable Afghans from leaving Afghanistan through charter flights.  Other countries are working to open the airport in Kabul for international flights within days.
The Russia-led Collective Security Treaty Organization (CSTO) has started three days of military exercises in Kyrgyzstan that it says are needed in response to the ongoing situation in Afghanistan.  The exercises involve military units from Russia, Kazakhstan, and Kyrgyzstan.  Tajik troops were also scheduled to take part but withdrew at the last moment for unspecified reasons.
Guinea:  On Sunday, officers from an elite special forces unit said they have detained President Alpha Condé and suspended the West African country's constitution.  A power struggle appeared to be underway in the capital of Conakry as night fell; the Defense Ministry claimed in a contradictory statement that the coup had been foiled. Western security officials said the situation was "fluid," but the putschists, who controlled state television, "held the cards."
Once celebrated as Guinea's first democratically elected president when he swept to victory in 2010, Condé has since centralized power around his personal authority and cracked down on opposition. Last year he deployed the military to push through controversial constitutional amendments that would have enabled him to stay in power until 2032—when he would be 94 years old.
The country, which has bountiful deposits of bauxite, iron ore, gold, and diamonds, has logged robust economic growth over much of the past decade, but few of its citizens have seen the benefits. Facing a pandemic-related collapse in revenue, the government has significantly raised taxes in recent weeks.  The price of fuel has increased by 20%, aggravating the sense of discontent among many Guineans.

On fears that the political instability could snarl global supplies, aluminum prices on Monday jumped to as much as $2,768 per metric ton, their highest level since 2011.
Shares of major global aluminum firms have also jumped on the news.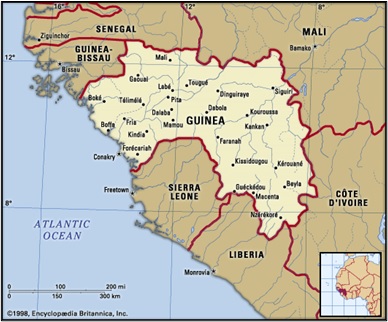 El Salvador:  The country today becomes the first in the world to make bitcoin one of its legal tenders, along with the U.S. dollar.  Proponents of the plan by populist President Nayib Bukele say it will promote financial inclusion for those without bank accounts, facilitate access to a potentially high-yielding asset, and cut the fees Salvadorans pay to send home remittances, which represent one-quarter of the country's gross domestic product.  Critics say the rushed plan could cost poorer Salvadorans when the price falls, raise costs for banks and insurers, provide a shield for money launderers, and risk economic stability.
COVID-19:  Official data show confirmed cases have risen to 221,244,447 worldwide, with 4,578,393 deaths.  In the United States, confirmed cases rose to 40,019,441, with 649,168 deaths.  Vaccine doses delivered in the U.S. now total 450,175,825, while the number of people who have received at least their first shot totals 206,908,710.  Finally, here is the interactive chart from the Financial Times that allows you to compare cases and deaths among countries, scaled by population.
Virology
According to the latest CDC data, 62.3% of the U.S. population has now received at least one dose of a vaccine, and 53.0% of the population is fully vaccinated.
As impatience for a children's vaccine grows, new reporting illustrates that additional safety protocols and other special requirements are slowing the process.  Trial results of the vaccine from Pfizer (PFE, $46.84) for 5- to 12-year-olds could come by the end of this month, which could mean shots aren't authorized for use until October or November, months after those cleared for adolescents.  Data for younger children could come in October.
With more countries easing entry restrictions in line with their vaccine rollouts, Japan's most powerful business lobby is nudging the government to exempt vaccinated travelers from the country's mandatory 14-day quarantine.
Also in Japan, government sources say the current state of emergency in Tokyo and other areas could be extended by up to one month beyond its planned September 12 end date to allow the next prime minister to decide when the measures should end.  Prime Minister Suga will give up his post as leader of the Liberal Democratic Party later in September; his successor will have to battle it out in new parliamentary elections by the end of November.
 Economic and Financial Market Impacts
Travel, tourism, and hospitality businesses that were hoping to see normalizing business conditions this fall are increasingly being disappointed.  The Delta-driven resurgence in infections is prompting more companies to delay calling workers back to the office or renewing business trips.  The more contagious new variant is reportedly affecting the appetite for both business and leisure travel.
U.S. Policy Response