Daily Comment (September 5, 2023)
by Patrick Fearon-Hernandez, CFA, and Thomas Wash
[Posted: 9:30 AM EDT] | PDF
Our Comment today opens with Chinese economic news.  We next review a wide range of other international and U.S. developments with the potential to affect the financial markets today, including shocking new revelations about corruption in Mexico and unsettling news that the United Auto Workers are increasingly likely to go out on strike against one or more major U.S. automakers.
China:  In a bid to bolster confidence and investment among private businesses, the National Development and Reform Commission said it will set up a new bureau to coordinate government policy for the private sector and improve conditions for non-state owned firms.  However, the bureau's leadership won't hold vice-ministerial rank, which suggests it won't be a heavyweight in policymaking.  That's consistent with the way that Beijing's recent economic initiatives have appeared to be half-measures with only limited prospects for boosting growth.
China-United States:  The Wall Street Journal yesterday published a story saying Chinese nationals, sometimes posing as tourists, have entered U.S. military bases and other sensitive defense sites as many as 100 times in recent years.  The "gate crashers" appear to be practicing a nontraditional form of spying under the direction of their handlers in Beijing.  Since many of these amateur spies can only be charged with state or local trespassing crimes, the growing problem has sparked an effort in Congress to tighten up federal security laws.
China-India:  As we noted in our Comment on Friday, the Chinese government has published a controversial new "official" map that shows chunks of India and other countries as belonging to China.  New reporting now suggests the map may have been a response to India's announcement in mid-August that it would move forward with the construction of a dozen new hydroelectric dams in the Himalaya mountain range, including in areas claimed by both India and China.  The Chinese government also continues to build its own hydroelectric dams in the disputed region.  The competing dams illustrate how resource disputes are an important but little-appreciated aspect of the worsening relations between the two countries.
Russia-Ukraine War:  Amid rumors of procurement and recruitment corruption, Ukrainian President Zelensky has named a new defense minister in the midst of the country's ongoing effort to push out the invading Russians.  The new defense minister will be Rustem Umerov, a Crimean Tatar who was formerly the head of Ukraine's state property fund and a special presidential envoy.
Separately, U.S. intelligence reportedly indicates North Korean leader Kim Jong Un will soon meet Russian President Putin in Russia to discuss further North Korean arms deliveries to support the invasion of Ukraine. The meeting would highlight Russia's dwindling arsenal and inability to rebuild it as the war continues.

The meeting would also highlight how countries in the China/Russia bloc are increasingly cooperating in military affairs. A separate report today indicates Russian Defense Minister Shoigu recently invited Pyongyang to participate in joint Chinese-Russian-North Korean naval exercises.
In turn, Russia's proposal for three-way naval drills is consistent with the way it has been leaning on its large, capable, blue-water navy to boost its position in the China/Russia bloc.

In still other Russia-related news, the high-level general arrested in connection with Wagner mercenary leader Prigozhin's June insurrection has reportedly been released. However, it isn't clear whether the general, Sergei Surovikin, is still subject to restrictions or could still be punished for his prior knowledge of the insurrection.
Finally, after meeting with Turkish President Erdoğan, President Putin said Russia won't rejoin the deal allowing Ukraine to export grain through the Black Sea unmolested unless the West does more to ease Russian food shipments. Erdoğan insisted that progress was being made on that demand, but Putin's position has raised the chance that more Ukrainian food products will be kept off the market, potentially boosting grain prices.
Iran:  The International Atomic Energy Agency issued a report that Tehran sharply slowed its production of enriched uranium over the summer, adding just 7.5 kg of 60% enriched material in the three months to August after producing 51.8 kg in the previous six months.  Coupled with Iran's recent release of two U.S. citizens from prison to home confinement, the slowdown in enrichment could mean Tehran is responding to backchannel efforts to ease tensions with the U.S. and the rest of the West.
Mexico:  A blockbuster story in the New York Times over the weekend sheds new light on the infamous disappearance of 43 college students near Acapulco in 2014.  Based on some 23,000 previously unknown wire taps by the U.S. Drug Enforcement Agency, which were provided to Mexico only last year, the story says the students were killed by a local drug cartel merely because it wrongly believed them to be members of a rival gang.  The tragedy unfolded when the students, from a nearby teachers' college, marched into a small town that served as the cartel's stronghold.  In what appears to have been essentially a college prank, they commandeered buses to go to Mexico City for a political protest.  However, the cartel had so successfully corrupted the local military units, police, and public officials, that it was able to kill the students and incinerate their bodies with impunity.
The story highlights the depth of corruption among Mexican public officials, who are often on the payroll of the country's drug cartels. In small towns like the one where the student massacre happened, the cartels can have a virtual monopoly on government power.  In fact, the DEA was reluctant to share its wire taps with Mexican officials precisely because it feared they would pass the taps on to the cartels.
The corruption in the Mexican government remains a key hurdle to its development and an important impediment to investment by both local businesses and foreign firms, in spite of the opportunities presented as U.S.-China tensions prompt companies to shift production out of Asia.
Argentina:  The running mate of radical libertarian presidential candidate Javier Milei has touched off a controversy by holding an event that appeared to justify the crimes of the rightwing military dictatorship that ruled the country from 1976 to 1983.  Nevertheless, Milei remains the frontrunner for the October election, where voters will give their judgement on his plans to dramatically shrink the Argentine state, shut down the central bank, and dollarize the economy in an attempt to control rampant inflation.
U.S. Labor Market:  Various reports suggest it is increasingly likely that the United Auto Workers will go out on strike when their current labor contract with the top U.S. automakers expires on September 14.  Given UAW President Shawn Fain's maximalist demands and the reluctance among auto firms, some observers say the only question is whether the union will strike just one of the Big 3, or all at the same time.
Separately, new analysis of last week's employment report shows that local government payrolls—which are dominated by school employees—have still not recovered from the coronavirus pandemic.
Because of mass teacher retirements, furloughs, and the inability to attract new educators and staff because of low pay, local government employment is now stuck at about 2018 levels, even as students have already begun to return to the classrooms.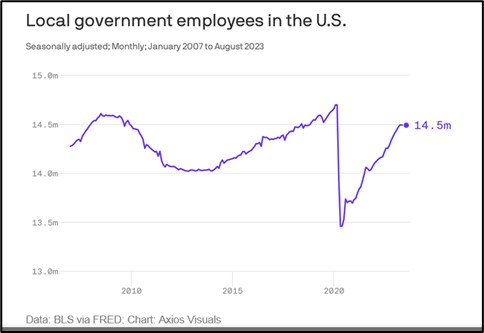 U.S. Green Energy Investing:  Even as high interest rates and shifting sentiment have soured some investors in green energy recently, big players like BlackRock (BLK, $706.19) are reportedly pouring money into battery recyclers.  Their big investments are based on the premise that battery recyclers will thrive into the future even when the government's green subsidies end.