Daily Comment (September 27, 2023)
by Patrick Fearon-Hernandez, CFA, and Thomas Wash
[Posted: 9:30 AM EDT] | PDF
Our Comment today opens with the latest on the prospects for a partial shutdown of the U.S. government starting this weekend due to budget gridlock.  We next review a wide range of other international and U.S. developments with the potential to affect the financial markets today, including an improvement in British Prime Minister Sunak's approval ratings after he eased the U.K.'s climate-stabilization policies and a few words on U.S. antitrust policy.
U.S. Government Shutdown:  The Senate last night advanced a bipartisan stopgap spending bill that would keep the federal government funded at today's levels from the expiration of the current fiscal year on Saturday until November 17.  The bill is designed to give Democrats and Republicans more time to negotiate and pass the needed full-year appropriations bills.
However, Republicans in the House said they wouldn't consider the Senate's bill.
Instead, they voted to clear the way for debate on just four of the 12 appropriations bills, i.e., those for the Departments of Defense, Homeland Security, Agriculture, and State.
While setting up debate on the four spending bills is a win for House Speaker McCarthy, final passage of the four bills before fiscal year-end on Saturday would still leave the departments that rely on the remaining eight bills unfunded.

Since those departments are often top budget-cutting targets, many right-wing Republicans would probably try to drive a very hard bargain before passing their funding bills.
Their approach could well include refusing to pass a stopgap spending bill, setting the stage for a partial government shutdown.
China-Philippines-United States:  After China installed floating barriers to keep Philippine fishing boats out of a contested shoal in the South China Sea, as we reported in our Comment on Monday, the Philippines has taken the risky step of removing the barrier and now plans to step up military, coast guard, and administrative patrols of the area.  It is still not clear how Beijing will respond to Manila's new self-assertiveness, but because of the U.S.-Philippines mutual defense treaty, the action probably raises the risk of increased tension or conflict between the U.S. and China.
China-Australia:  Although bilateral relations have improved under Australian Prime Minister Albanese, with China lifting its punitive import restrictions on Australian coal and barley, the country is still struggling with Chinese punitive import tariffs on Australian wine.  New data shows Australia now has about two billion liters of excess wine in storage, equal to about 859 Olympic-sized swimming pools.  Albanese reportedly urged the end of wine restrictions when he met with Chinese Premier Li Qiang this month, but in the meantime, the glut of supply suggests there may be some good bargains on Australian Shiraz, Cabernet Sauvignon, or other varietals in your local supermarket.
China:  The government's China Integrated Circuit Investment Fund, known as the "Big Fund," is reportedly having trouble raising new money from its target investor base of state-owned enterprises and local governments.  The fund, which has been instrumental in developing China's semiconductor industry since it was established in 2014, raised the equivalent of about $20 billion and $28 billion in its first two funding rounds, but it is falling short of its goal to raise an additional $41 billion in the current round.
The shortfall in funding reflects China's sharp slowdown in economic growth and the increased debt loads faced by state-owned firms and local governments. The country's finance ministry could step in to make up the shortfall but appears reluctant to do so.
The funding shortfall not only could temper the further development of China's technology industry, but it also illustrates the potential that sluggish economic growth and high debt have to slow China's military buildup over time.
On the other hand, if President Xi senses that a prolonged growth slowdown and debt burden will limit future military investments, he could potentially be tempted to launch his long-desired takeover of Taiwan earlier rather than later.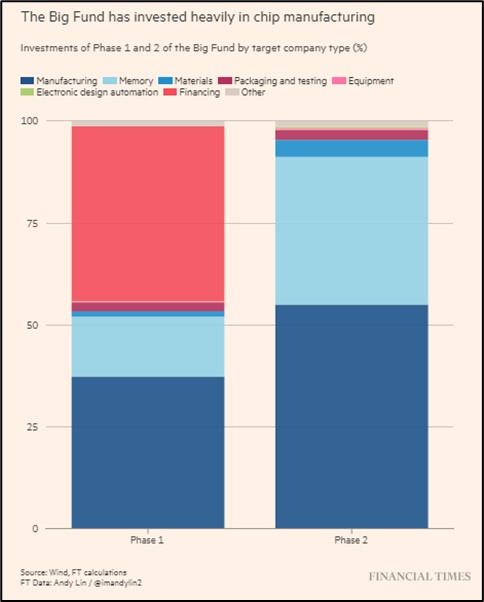 United Kingdom Politics:  Following Prime Minister Sunak's decision last week to delay or jettison some of the government's climate-stabilization regulations, a new poll suggests that the move will be a political winner.  According to the poll, public approval for Sunak's Conservative Party has risen by eight percentage points since the announcement, cutting the Labor Party's lead to 16 percentage points from 24 previously.  The results suggest governments in Europe may continue to water down their green-energy policies as households begin to push back against their costs and inconveniences.
United Kingdom Regulatory Policy:  The Financial Conduct Authority, the U.K.'s top financial regulator, said it will open an investigation into asset valuations in private markets.  The probe reflects growing concerns in the U.K. and elsewhere that valuations on private assets are often overly rosy, potentially setting up financial volatility in time of crisis or falling valuations.
Greece:  The right-wing government of Prime Minister Mitsotakis yesterday said it will grant legal status to as many as 300,000 illegal immigrants to help ease the country's labor shortages in agriculture, tourism, and construction.  Similar to the scandal in which Poland's right-wing, anti-immigrant government was discovered to be selling immigration visas, the new policy in Greece illustrates the tension between conservative governments' rhetoric against immigration and the opportunity for immigrants to ease labor shortages in the developed world.
U.S. Antitrust Policy:  Yesterday, the Federal Trade Commission and 17 states filed a long-expected antitrust complaint against Amazon (AMZN, $125.98), alleging the online retailer illegally wields monopoly power that harms its competitors and keeps prices artificially high.  Nevertheless, FTC Chairwoman Khan has had a spotty record with her antitrust suits, so it isn't clear at this point whether the company would really be convicted and forced to change its operations.
U.S. Labor Market:  The Writers Guild of America said its members can go back to work today under the union's tentative new labor contract with the major movie studios, streamers, and television networks.  However, members won't vote to give formal approval of the new contract until a poll that will run from October 2 to October 9.
According to the WGA, its initial proposal in the negotiations would have had a value of $429 million annually, while the Alliance of Motion Picture and Television Producers made an initial offer worth just $86 million per year.
The WGA estimates that the tentative deal will be worth $233 million per year. That's just 54% of its initial ask, but it's 2.7x what the employers initially offered.