Daily Comment (September 21, 2023)
by Patrick Fearon-Hernandez, CFA, and Thomas Wash
[Posted: 9:30 AM EDT] | PDF
Good morning! Today's Comment is split into three sections: 1) How the Federal Reserve's latest rate decision will impact its policy for next year; 2) Why governments may be forced to moderate some of their climate goals; and 3) Why support for Ukraine may face more resistance as the war rages on.
Hawkish Pause? The Fed held rates steady at its September 19-20 meeting but signaled the possibility of another hike before the year's end.
The Federal Open Market Committee (FOMC) kept rates unchanged at 5.25%-5.50% at its September 19-20 meeting, pausing its aggressive rate-hike campaign. Fed Chair Jerome Powell said the committee will look at the data before deciding whether to adjust policy. The latest FOMC dot plots showed that policymakers are divided on whether to hold rates at their current level or increase them again. Traders, though, are optimistic that the Fed has ended its tightening cycle, projecting a nearly 54% likelihood of a pause in rates, according to the latest forecast from the CME FedWatch Tool.
Policymakers are more optimistic about the economy in 2024, revising up their June projections for GDP growth from 1.1% to 1.5% and the unemployment rate down from 4.5% to 4.1%, according to the Summary of Economic Projections (SEP). However, the Fed statement acknowledges that it expects the tighter financial conditions on households and businesses are likely to weigh on economic activity and hiring. During the press conference, Powell suggested that the central bank's goal is a soft landing and implied that the committee may adjust policy if conditions change. This cautious optimism may explain why officials left inflation expectations largely unchanged for 2024.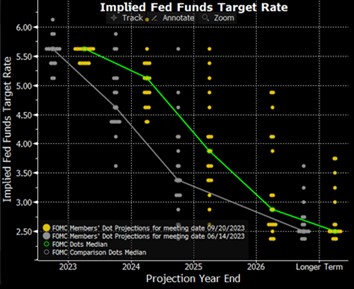 (Source: Bloomberg)
The improved outlook for 2024 likely explains the Federal Reserve's hawkish tilt in the latest dot plots. The median fed funds targets were revised upwards for 2024, 2025, and the longer-term, reflecting policymakers' belief that the economy is still too hot for comfort. Additionally, this may suggest that Fed officials are willing to keep interest rates restrictive for longer in order to bring inflation under control as long as the economic data remains positive. It is possible that if economic conditions start to deteriorate, then the Fed may pivot. That said, Fed officials still project that rates will be 25 basis points below their current levels by the end of 2024, while the market projects a decline of 50 basis points.
Net Zero Reality: The United Kingdom walked back its climate change plans, and we suspect other countries may follow.
British Prime Minister Rishi Sunak is delaying key green initiatives, citing concerns about over-ambitious targets. Sunak has delayed the ban on new petrol and diesel cars and oil boilers until 2035, relaxed the phaseout target for gas boilers, and abandoned efficiency rules for landlords. These policy reversals appear to be a way for him to distinguish himself from the opposition ahead of elections in late 2024 or early 2025. The Conservative Party plans to portray the Labour Party as out of touch with everyday households after the Labour Party vowed to reinstate the target once elected, despite the potential costs it will have on consumers.
The U.K. is not alone in its reconsideration of climate change policy, particularly when it comes to electric vehicles. In the United States, Republican frontrunner Donald Trump has criticized his rival Joe Biden's EV mandate, believing that it will kill the auto industry. Meanwhile, the countries in the European Union are struggling to cope with the influx of Chinese EVs as it aims to ban the sale of combustion engine cars in a little over a decade. To contain the fallout, the EU Commission has launched a probe into Chinese dumping claims.
The green transition, particularly towards electric vehicles, is a key part of achieving energy independence and reducing reliance on authoritarian governments for resources. The recent production cuts by Russia and Saudi Arabia have shown the dangers of importing oil. The quickest way to reach energy independence would be to import Chinese vehicles, but this would lead to a greater dependency on another potential rival. The other alternative is to develop electric vehicles domestically, which would provide greater stability but is a slower and more arduous process. We believe that the latter option is more likely to succeed in the long term, but it will require significant political will and investment.
War in Ukraine: The ongoing row between Ukraine and several Eastern European countries highlights flaws in the West's support for Ukraine.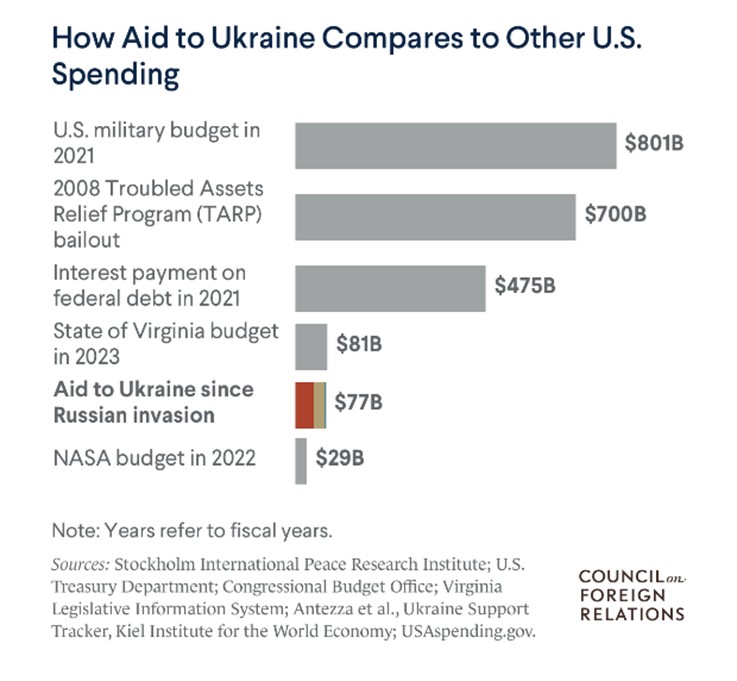 The dispute over imports is the most visible sign of disunity regarding the backing of Ukraine. Despite largely urging countries in the European Union to reverse their bans on Ukrainian products, the EU is also considering helping to defend these governments from Ukraine's lawsuit. At the same time, U.S. policy toward Ukraine is increasingly in disarray, with more politicians urging for a more domestic shift in policy. While it is unlikely that the West will pull its support anytime soon, it is becoming evident that patience is wearing thin. A potential end to the war could lead to a boost in equities as it reduces market uncertainty over commodity prices.