Daily Comment (September 19, 2023)
by Patrick Fearon-Hernandez, CFA, and Thomas Wash
[Posted: 9:30 AM EDT] | PDF
Our Comment today opens with updated forecasts for global economic growth from the Organization for Economic Cooperation and Development.  The OECD report also urged central banks to keep hiking interest rates and keep them high to snuff out consumer price inflation.  We next review a range of other international and U.S. developments with the potential to affect the financial markets today, including an apparent assassination carried out by Indian agents in Canada and the prospect of tighter U.S. regulations on the naming of investment funds.
Global Economic Growth:  In its interim Outlook report, the OECD scaled back its forecasts for global economic growth to 3.0% in 2023 and 2.7% in 2024.  While the organization increased its forecasts for U.S. gross domestic product to show growth of 2.2% in 2023 and 1.3% in 2024, it cut its forecasts for other key economies.
Importantly, the organization now sees much weaker growth in the eurozone, which will be held down by Germany and Italy in particular, and in China, where the economy is being held back by issues such as weak consumer demand, high debt levels, poor demographics, and decoupling policies in the West.
Despite cutting its growth forecasts for many key economies, the OECD argued forcefully for central banks to raise interest rates further and keep them high for long enough to be sure consumer price inflation is vanquished.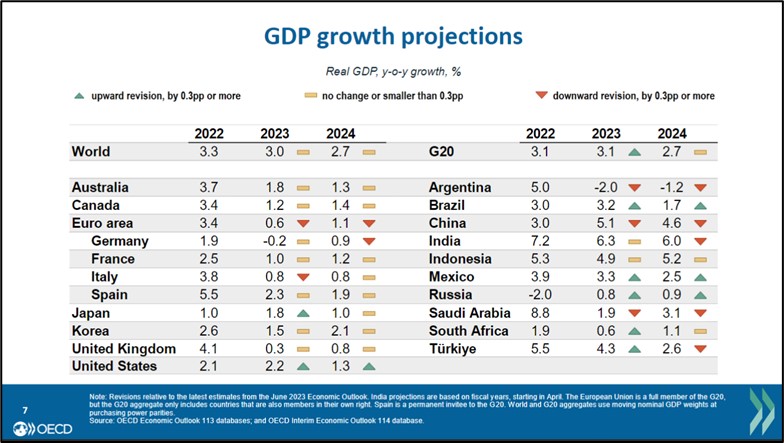 United Nations General Assembly:  The annual meetings of the UN General Assembly began in New York this week, but the proceedings so far have been rather sleepy.  The top news to date is probably the announcement of a new "Partnership for Atlantic Cooperation" led by the U.S. and encompassing dozens of countries that touch the Atlantic Ocean in Europe, Africa, and the Americas.
To wean countries from China's embrace, the pact offers improved economic, environmental, and scientific ties among the signatories.
The agreement also contains pledges to support territorial integrity and political independence, although it doesn't include any security or military ties.
China-United States:  The American Chamber of Commerce in Shanghai said an annual survey of its members showed that only 58% were optimistic about their business prospects in China over the coming five years.  That marked the lowest level of optimism in the survey since it was launched in 1999.  As we have warned previously, companies that export to China or participate in its markets are likely to face headwinds because of issues like worsening U.S.-China tensions; clampdowns on trade, technology, and investment flows; and China's own domestic economic challenges.
China-Germany:  The Chinese government on Sunday called in the German ambassador to complain about Foreign Minister Baerbock's recent description of  President Xi as a dictator.  The incident highlights the increasingly frosty relationship between China and Germany as some German officials take a harder line on China while others keep trying to maintain good relations in the interest of trade and investment.  Ultimately, we suspect the hardliners in Germany will win the day, with negative consequences for the trade-dependent economy.
India-Canada:  In an emergency meeting with lawmakers, Canadian Prime Minister Trudeau said his government is investigating "credible allegations" that Indian agents may have helped kill an exiled Sikh leader near Vancouver in June.  The Sikh leader, Hardeep Singh Nijjar, was a Canadian citizen, prompting Trudeau to call the violation of Canadian sovereignty especially heinous.  In response, Ottawa yesterday expelled a senior Indian diplomat.
The incident will further strain Indian-Canadian relations, with potential economic consequences. The Canadian government recently cancelled a trade mission to Mumbai set for October.
If true, the incident also points to an ominous shift toward brazen, extraterritorial measures by Indian Prime Minister Modi, who many accuse of becoming increasingly authoritarian. If Modi really is adopting the extraterritorial "justice" practiced by authoritarian leaders such as Chinese President Xi, Russian President Putin, and Saudi Crown Prince Mohammed Bin Salman, it may become more politically difficult for the U.S. to embrace New Delhi as a partner in its geopolitical competition with China.
Poland:  Ahead of national elections next month, the ruling right-wing Law and Justice Party is reeling from a scandal in which officials are accused of selling Polish visas at foreign consulates despite the government's assurances it is being tough on illegal immigration.  The political threat from the scandal is probably a reason why the government this week clamped down on Ukrainian food imports to bolster its largely rural voter base.  The Law and Justice Party is still leading the opinion polls, but if its support declines further and it falls out of power, Polish rule-of-law issues would probably no longer be a thorn in the side of the European Union.
Libya:  In the aftermath of last week's floods, which killed thousands in the coastal city of Derna, hundreds of citizens yesterday participated in a violent demonstration demanding an investigation into who was responsible and why the government's response has been so poor.  A key issue is why two nearby dams burst amid torrential rainfall.  Some reports say the dams hadn't been maintained for 20 years, despite the provision of government appropriations.
Derna lies in the territory controlled by Khalifa Haftar, a warlord who is supported by Russia and some Persian Gulf monarchies.
At least for now, the demonstrators are focusing their ire on civilian authorities in the provincial government. However, if they start to target Haftar and his forces, they could spark a bloody crackdown and perhaps even international intervention.
U.S. Monetary Policy:  The Federal Reserve will begin its latest policy meeting today, with its decision on interest rates due tomorrow at 2:00 PM EDT.  The officials are widely expected to hold the benchmark fed funds rate steady at its current range of 5.25% to 5.50%.  The question is whether they'll provide any guidance on future policy changes.  Many investors continue to look for rate cuts in the coming months, but we think they'll be disappointed.  We believe the Fed will try to keep policy tight for an extended period to make sure consumer price inflation is really dead, as recommended by the OECD.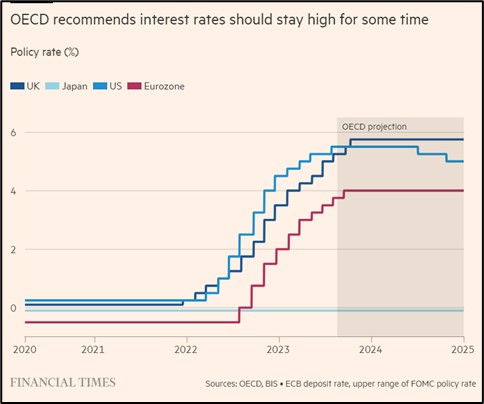 U.S. Regulatory Policy:  The Securities and Exchange Commission tomorrow will take up a proposal to tighten its "names rule" to crack down on deceptive fund descriptions.  The new truth-in-advertising rule would require that at least 80% of the assets held by mutual funds and other investment vehicles match the fund's description as presented to investors.  Financial industry officials warn that the rule could discourage stock picking, violate free speech protections, and force funds to sell assets at a loss when markets are volatile.
U.S. Defense Industry:  At a conference last week, Defense Department Undersecretary for Acquisitions and Sustainment Bill LaPlante unexpectedly announced that the U.S. is now far ahead of schedule on the Pentagon's goal of boosting production of 155-mm artillery shells.  According to LaPlante, output of the shells has already doubled versus just six months ago, to 28,000 shells per month.  Production is now expected to reach 57,000 per month next spring and 100,000 per month by fiscal year 2025, which begins next October.  The military's original goal was 85,000 per month by fiscal 2028.
The surge in production for 155-mm shells will help replenish U.S. stockpiles and allow for the continued support of Ukraine as it tries to defend itself against Russia's invasion.
Although the 155-mm shell is just one of many different types of ammunition and weapons systems that are important to the U.S. military, the surge in its output is welcome evidence that the U.S. defense industry may be able to generally boost production faster than previously thought. That would be a critical capability as the U.S. works to quickly rebuild its armed forces in response to China's rapid military buildup and increased geopolitical aggressiveness.
The surge in 155-mm shell output also helps confirm our view that we will see a bigger, re-invigorated industrial sector as companies bring production back home from China or elsewhere, and as U.S. and allied defense budgets are ratcheted upward. We continue to believe that industrial firms and defense contractors, in particular, will offer attractive investment opportunities in the coming years.