Daily Comment (September 15, 2021)
by Bill O'Grady, Thomas Wash, and Patrick Fearon-Hernandez, CFA
[Posted: 9:30 AM EDT] | PDF
Good morning.  U.S. equity futures are exhibiting a familiar pattern of being stronger overnight and fading into the opening.  It is clear that market momentum is waning.  We think this action is a correction of sorts, but it will be difficult to push the market much lower with so much liquidity available.  Our coverage begins with a look at China, focusing on the continuing financial situation.  We then have a few political notes.  Economics and policy are up next, followed by the international roundup, and we close with the pandemic update.
 China:  Evergrande (EGRNF, USD, 0.40) remains in the news.
Political notes:  Here are a couple of items that caught our attention.
Economics and policy:  Real household income declined last year, and there is a threat to banks.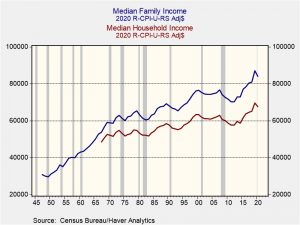 Household income measures all household groups, including those who are unrelated.  Family income measures incomes of households where the members are related by kinship or marriage.
International roundup:  We get the State of the EU today, and Russia holds legislative elections over the weekend.
COVID-19:  The number of reported cases is 225,924,019, with 4,651,193 fatalities.  In the U.S., there are 41,367,771 confirmed cases with 663,963 deaths.  For illustration purposes, the FT has created an interactive chart that allows one to compare cases across nations using similar scaling metrics.  The FT has also issued an economic tracker that looks across countries with high-frequency data on various factors.  The CDC reports that 458,771,465 doses of the vaccine have been distributed with 381,453,265 doses injected.  The number receiving at least one dose is 209,982,936, while the number receiving second doses, which would grant the highest level of immunity, is 179,289,983.  For the population older than 18, 65.1% have been vaccinated.  The FT has a page on global vaccine distribution.