Daily Comment (September 13, 2023)
by Patrick Fearon-Hernandez, CFA, and Thomas Wash
[Posted: 9:30 AM EDT] | PDF
Our Comment today opens with the latest news on souring relations between the West and China.  We next review a wide range of other international and U.S. developments with the potential to affect the financial markets today, including the latest on the Russia-Ukraine war and U.S. inflation and banking dynamics.
United States-China:  The House Select Committee on the Chinese Communist Party has been holding hearings and meetings on Wall Street this week to put further pressure on U.S. financial and business elites who have been reluctant to sever ties with China.  In a statement that we think investors should heed, the Republican chairman of the committee, Mike Gallagher of Wisconsin, and the Democratic vice-chairman, Raja Krishnamoorthi of Illinois, both said they favor new laws to restrict U.S. investment in publicly traded stocks and bonds of certain Chinese firms.
The new legislation mentioned by Gallagher and Krishnamoorthi would go beyond the current U.S. restrictions on bilateral trade, investment, and technology flows, illustrating the risks to investors as U.S.-China geopolitical tensions worsen.
As a reminder that China is also clamping down on bilateral business, the Chinese government today said it has "noticed reports" of "security incidents" related to iPhones made by U.S. technology giant Apple (AAPL, $176.30). The government emphasized that it is still committed to protecting the rights of foreign businesses and supporting free markets.  Nevertheless, since the statement followed so closely on Beijing's recent directive which curbed the use of iPhones by certain government workers, it is being taken as a warning that China is prepared to undermine key U.S. economic interests to retaliate for the U.S. pushback.
European Union-China:  As advanced, low-cost electric vehicles from China start to flood Europe's auto market, European Commission President von der Leyen today announced that she is launching an investigation into the subsidies paid to Chinese producers.  Complaining that European-made autos are often blocked from other markets, von der Leyen signaled Brussels will take a tough approach on subsidized Chinese EVs.
The move is a reminder that von der Leyen and other leaders in Europe have swung behind the U.S. effort to push back against China's growing geopolitical and economic aggressiveness.
In response to von der Leyen's speech, shares in high-flying Chinese EV companies have fallen sharply today, with Warren Buffett-invested BYD (BYDDY, $65.62) losing 2.8% of its value and rival Xpeng (XPEV, $18.65) losing about 2.5%.
United Kingdom-China:  Just days after British police said they had arrested two people, including a parliament researcher, on charges of spying for China, press reports say the authorities are preparing to arrest several more people in the coming months on charges that they have been secretly working to undermine Britain's democracy under the direction of the Chinese government.  The news points to a further rupture in China-U.K. relations, which could potentially include new, U.S.-style restrictions on bilateral trade, investment, and technology flows.
Russia-North Korea-Ukraine:  Russian President Putin and North Korean Supreme Leader Kim met today at a Russian space-launch facility in Vladivostok, with both pledging to deepen their cooperation on security and economic issues.  The two leaders are widely expected to strike a deal under which North Korea will sell weaponry to Russia to help it continue its invasion of Ukraine.
Sweden:  The center-right government this week proposed a 2024 budget that would hike military spending by approximately 28%.  The proposed budget would put Sweden on track to meet the North Atlantic Treaty Organization's standard of spending at least 2% of gross domestic product on defense, even though the country is still waiting to be accepted into the alliance.
U.S. Military:  U.S. Air Force Secretary Kendall has announced that the service will miss its annual recruiting goal by about 10% when the fiscal year ends on September 30, marking the first such shortfall since 1999.  The deficit shows how most of the military is struggling to keep up troop levels because of factors such as the strong civilian job market, lingering disruptions from the coronavirus pandemic, and difficulties in finding enough young people who can meet today's physical and intellectual standards.
U.S. On-Line Prices:  While investors today will focus on the headline Consumer Price Index (see U.S. Economic Releases below), a separate private index shows on-line prices are falling in year-over-year terms.  The Adobe Digital Price Index for August was down a full 3.2% from the same month one year earlier, including annual price declines of 7.3% for appliances, 7.0% for sporting goods, and 11.6% for electronics.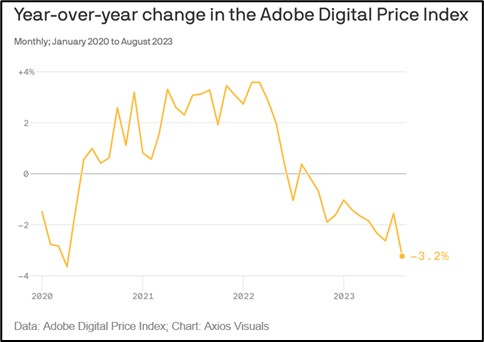 U.S. Banking Industry:  Incoming data shows net new bank lending has slowed to a crawl, with outstanding loans growing at an annualized, seasonally adjusted rate of just 3.6% so far in the third quarter, compared with average growth of about 7.0% over the long term.  Of course, part of the slowdown reflects weaker loan demand now that the Federal Reserve has hiked interest rates so aggressively since last year.  In addition, however, the slow growth reflects cautious lending as banks worry about rising deposit costs and asset values.  Importantly, slow lending could also help to finally push the economy into the recession that we've been expecting all year.