Daily Comment (September 1, 2023)
by Patrick Fearon-Hernandez, CFA, and Thomas Wash
[Posted: 9:30 AM EDT] | PDF
Good morning! Today's Comment will contain three themes: 1) Why Thursday's inflation report is unlikely to change central banks' rate decisions later this month; 2) How China's new map complicates its effort to build a coalition of emerging economies to challenge the G-7; and 3) How political brinkmanship is preventing the U.S. from addressing its debt problems.
Hold the Pause: Central bankers continue to leave the door open for another rate hike later this year despite signs of a slowdown in economic activity and price pressures.
The Federal Reserve's preferred inflation gauge, the PCE price index, rose 3.3% in July from a year ago, and was up from 3.0% in June. Core PCE inflation, which excludes food and energy prices, rose 4.2% year-over-year, up from 4.1% in June. The increase in headline PCE inflation was driven primarily by persistently high housing and utilities prices, which were impacted by base effects. However, the increase in core PCE inflation was not as large, suggesting that underlying inflation pressures may be starting to ease. In July, the annualized monthly change in headline and core PCE inflation was 2.6% and 2.5%, respectively.
Preliminary data showed that inflation in the euro area stagnated in August. The annual change in the region's Consumer Price Index (CPI) rose 5.3% from the prior year, in line with the previous month's reading. Much of the rise in inflation in the region was driven by energy. Core CPI, which excludes energy and food, slowed modestly from 5.5% to 5.3%. Despite inflation still being more than double the central bank's 2% mandate, there are signs that price pressures are easing. Monthly data showed annualized core inflation slowed from 4.54% to 3.46% last month.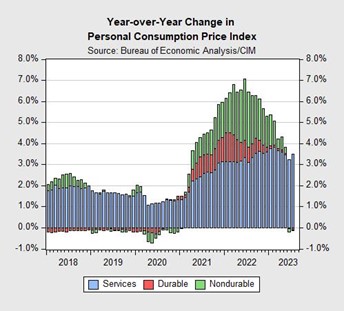 The inflation report is not expected to sway policymakers' rate decisions. Although goods inflation has been declining, services inflation remains a problem. Service inflation accounted for nearly all of the increase in the July PCE report and still outpaces the overall CPI index in the euro area. This is likely to remain a significant concern for central bankers as they decide whether to raise rates at the next two meetings. We expect that there is, at most, one hike remaining this year, with rate increases being a toss-up next year as countries weigh the likelihood of a downturn.
China Playing Defense: Beijing is seeking to avoid isolation in the Indo-Pacific after releasing a controversial map that claims territory from several of its neighbors.
China released a new national map on Monday, claiming disputed territory in the South China Sea and land territory also claimed by India. The map has been met with criticism from several countries, including the Philippines, Malaysia, and India. Beijing has defended the map, saying it is simply correcting what it sees as misrepresentations of its territorial borders. However, the map has further inflamed tensions between China and its neighbors and has raised concerns about China's growing assertiveness in the region. In a sign of Beijing's dissatisfaction with India's objection to its new map, Chinese President Xi Jinping has decided not to attend the G-20 meeting in New Delhi next week.
To prevent other rifts from escalating, China has made overtures to its rivals, offering to mediate tensions and taking other steps to improve relations. In mid-August, Chinese and U.S. military officials met at a defense conference in Fiji to restore dialogue following former House Speaker Nancy Pelosi's decision to travel to Taiwan last August. China had also backed a three-way summit that included South Korea and Japan that would encourage cooperation between the three countries. These moves suggest that China still favors soft power projection as its primary way to influence countries, even when it has disagreements with them.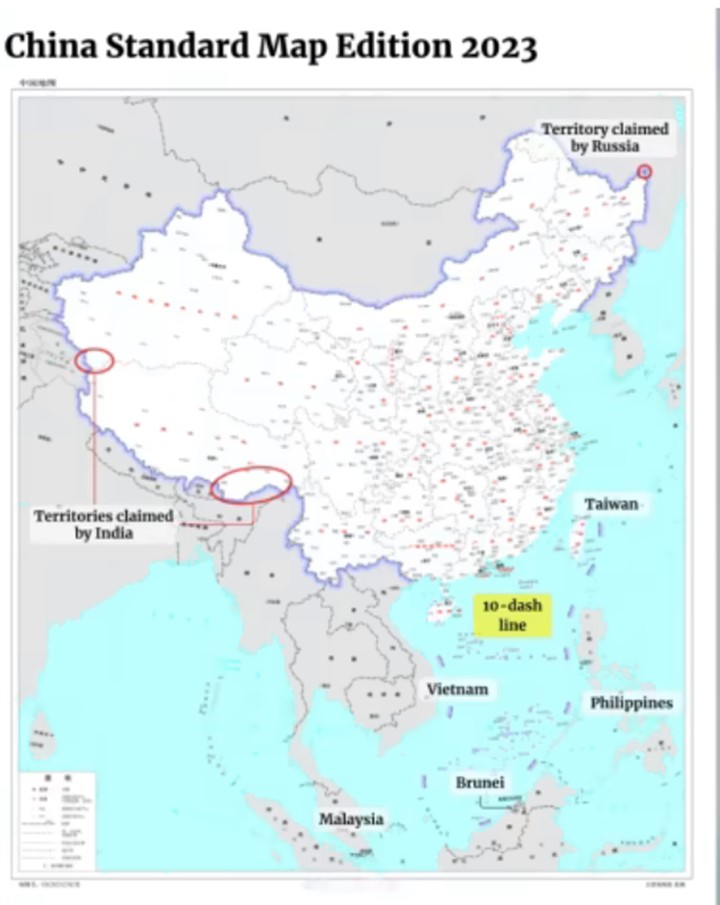 (Source: Channel NewsAsia)
China's decision to release a controversial map of the disputed border with India just days after President Xi and Indian Prime Minister Narendra Modi agreed to have their officials handle the issue is a clear sign that China is not yet ready to lead a bloc of countries. The map is a provocation that will only further alienate India and other countries in the region. Furthermore, China's insistence on historical revisionism and its unwillingness to compromise on territorial disputes will make it difficult to build trust and cooperation with its neighbors. As a result, Beijing will have a hard time corralling its coalition partners behind any effort to challenge the United States directly in the Indo-Pacific.
Budget Bickering: The United States is on track for another budget showdown next year, which could further raise market concerns about the country's growing deficits.
The Biden administration formally requested a short-term spending extension from Congress on Thursday to avert a government shutdown on October 1. The request is likely to face opposition from the House Freedom Caucus, which is rallying Republicans to withhold support for any funding bill that does not include spending cuts and changes to border policies. Congress has yet to approve any of the 12 annual spending bills that typically fund the government. The showdown reflects the growing polarization in American politics, which has led investors to question the country's willingness to honor its debt commitments.
The ongoing political gridlock in Washington has angered credit ratings agencies. Last month, Fitch Ratings became the second credit rating firm to downgrade the United States since S&P Global did so 12 years ago. The agencies are concerned that political brinkmanship will prevent the two sides from addressing the country's deficit problem, which now stands at $1.4 trillion and is expected to grow even larger. Higher interest rates and a potential recession could exacerbate fears of debt levels getting out of control, as both could add to the growing mismatch of funding and spending.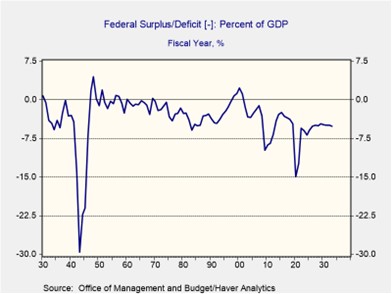 Tackling the deficit will be a difficult task for either party in power. Neither side has the political will to make the tough decisions necessary to address the issue, such as reducing popular entitlement programs or raising taxes. However, the longer they delay action, the worse the problem will become. The government's inability to tackle the deficit is one of the reasons why long-term Treasury yields are likely to be higher in the future and the dollar will weaken against other global currencies, as the rising debt burden will undermine the U.S.'s credibility as a suitable reserve currency.