Daily Comment (October 8, 2020)
by Bill O'Grady, Thomas Wash, and Patrick Fearon-Hernandez, CFA
[Posted: 9:30 AM EDT] | PDF
Good morning and happy Hydrogen Day (its atomic weight is 1.008, or "10-08").  Equity markets continue to move higher; although the S&P 500 remains below its recent peak, the market remains resilient.  Today's commentary starts with the FOMC minutes.  We mention the debate followed by China news.  Brexit comes next with an update on international news.  There is our usual update of pandemic news, and we close with general market observations and other news.  And, being Thursday, the Weekly Energy Update is available.  Here are the details:
The FOMC minutes:  Fed minutes are always a sanitized version of events.  In 2025, the full transcripts will be released.  It is an interesting exercise to see "what they really thought."  But, for now, all we have is the current version of events as described in the official minutes.  In general, there were no huge surprises.  First, there was unanimous concern about the lack of fiscal follow through.  Second, there was some disagreement on forward guidance; most members favored a less specific reaction function, while a few seemed to prefer something more concrete (e.g., no rate hikes until core PCE exceeds 2% for six months), and a few others thought no further guidance beyond the dots was necessary.  Third, there was also some discussion about the allocation of QE (what term of bonds to buy), suggesting the Fed may be trying to establish some level of yield curve control.  We will be watching for more details on this during the November meeting.  Overall, stimulus policy is more important at this point, as the financial markets expect monetary policy to be accommodative for the foreseeable future.  However, as central banks try to do, the minutes show policymakers want to maintain the highest level of flexibility possible, which means the markets don't have complete certainty of future behavior.
The VP debate:  There isn't really a lot to say.  From our perch, neither participant said anything that will change any voters' mind.  At this juncture, the goal is turnout; there is a very small contingent that appears to be truly undecided.  We didn't see anything in the debate that may have swayed the few voters who may still be on the fence.  It has been announced this morning that the next presidential debate will be virtual and held a week from today.  President Trump is opposing this arrangement.
China:  America's China policy has moved significantly over the past five years.  Late in Obama's term, policy became less friendly, but under President Trump it has taken a clear turn toward cooler relations.  SoS Pompeo is laying out a Cold War stance where the U.S. intends to isolate China and eventually cause an ouster of the CPC.  Interestingly enough, a member of the administration considered a China hawk has become increasingly cautious about this turn to hostility.  Robert Lighthizer, the USTR, has a long-term goal of changing how China's economy works.  He wants it to become less export-oriented and more focused on domestic consumption.  In addition, he wants to use trade policy to force China to shift its policy direction.  He appears to have little interest in participating in another Cold War.  In that regard, he seems to view China as similar to Japan in the 1980s, not the Soviets in the 1950s.  It appears his stance is rapidly losing favor in Washington.  Meanwhile, U.S. policy is leading to some level of decoupling; other nations are vying for the direct investment that had gone to China.  Other Asian nations and Mexico appear to be the greatest beneficiaries.
Brexit:  Although there is little solid evidence to suggest a deal is near, optimism is remarkably high, especially from the U.K. side.  This either means that negotiators are putting up a good front, or that positions haven't become too hardened and there remains room for a deal.  Meanwhile, the Scottish parliament has rejected the Internal Market Bill.  We are not sure what this means; it is possible that the law might not apply in Scotland or it may mean that Westminster ignores the outcome (we would wager on the second outcome).  This does show that the risk of devolution is elevated, and there is a risk that the Johnson administration will end up with a smaller United Kingdom.
Market news:  Here are a couple of items worth noting:
Policy news:  Although the White House called off stimulus negotiations, there is talk of passing a series of individual bills to aid certain sectors of the economy.  This plan tends to favor the GOP, which would like to target various industries and households without funding things they don't like, such as state and local governments.  The House leadership opposes individual bills, yet they may have little choice but to accept some of the plans, such as airline bailouts.  The problem with the individual bill approach is that it slows the process significantly.  In addition, since the Senate seems to have little inclination to approve any further spending, this individual bill plan may not go anywhere.
International news:  President Trump announced he would like to see the troops in Afghanistan withdrawn by Christmas.  Although that isn't likely, troop levels are expected to be around 2.5K by year's end, a level low enough that it probably makes little sense to keep any troops in the country.  The problem is that small contingents are less able to affect security but do become targets for insurgents.  For a flavor of the length of the Afghan War, Stars and Stripes has an article about fathers and sons serving in theater.
COVID-19:  The number of reported cases is 36,212,630 with 1,056,768 deaths and 25,268,014 recoveries.  In the U.S., there are 7,551,715 confirmed cases with 211,844 deaths and 2,999,895 recoveries.  For illustration purposes, the FT has created an interactive chart that allows one to compare cases across nations using similar scaling metrics.  The FT has also issued an economic tracker that looks across countries with high frequency data on various factors.  And, for some detail about how the virus has mutated over time, here is a chart exhibiting how different samples from various parts of the world show the degree of mutation over time.  The Axios weekly state map is updated.
Virology: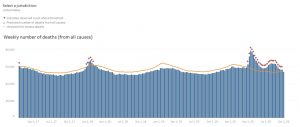 (Source:  https://www.cdc.gov/nchs/nvss/vsrr/covid19/excess_deaths.htm )