Daily Comment (October 7, 2019)
by Bill O'Grady, Thomas Wash, and Patrick Fearon-Hernandez, CFA
[Posted: 9:30 AM EDT] Happy Monday (is it just me? Or are weekends getting shorter?)!  It's a big week—the Fed releases its minutes on Wednesday, we get CPI on Thursday and Chinese officials are in town for trade talks.  Here are some of the details:
China talks:  It appears that Chinese officials are not open to making a broad trade deal with the U.S.  Current thinking is that China will push for a narrow agreement, wanting a removal of sanctions in return for some grain purchases.  The most important development is that China will not agree to change its industrial policy, a key demand of the U.S.  We suspect China is betting that the president needs a win as we are a mere 13 months from the next election.  In addition, with political turmoil in the U.S. rising, China likely believes it has the upper hand.   Unspoken in this stance is perhaps the idea that Beijing thinks there may be a new president in 2020, and that might lead to a different negotiating position.  President Trump has consistently held that he won't accept a small deal; although the president is mercurial, his position on trade does appear to be a core belief.  There seems to be a general belief in the financial markets that Trump will accept a small deal to declare victory; we remain unconvinced and would not be surprised to see the trade talks end without an agreement, which would be bearish for risk assets.
Strike continues:  According to reports, contract negotiations between the UAW and General Motors (GM, 34.91) are not going very well.  The union has rejected the latest offer from the car company.  It appears the two sides, though still talking, remain far apart.  The UAW wants new workers to reach full pay quicker, something GM is reluctant to accept.  However, looming over these talks are worker fears that as the transportation system moves to electric, the number of workers required to build cars will fall as electric cars have fewer parts and are easier to assemble.  GM likely sees the move to electrification as a way to reduce its assembly force and thus will likely fight hard to prevent job guarantees.  As the strike heads into its third week, we will start to see the outage affect the macro data; claims should start to rise, and layoffs could begin to spread into the dealer network and independent parts suppliers.
Pity the Kurds:  The U.S. has begun moving troops out of northern Syria, as Turkey is preparing military operations against the Kurds.  Turkey fears Kurdish autonomy on its southern border in Iraq and Syria because it could build into separatist movements among Turkish Kurds.  The Kurds have been allied with the U.S. since the no-fly zones were established after the Gulf War and have been steadfast allies.  Although the Kurds are a fine fighting force, they will likely struggle to resist the Turkish military.  We will be watching to see how Assad and the Russians react to this incursion, as it could mean Turkey intends to expand its territory into what was once Syrian territory on the pretense that it is combating Kurdish separatists.
There are three items will we be watching.  First, the Kurdish forces, which were instrumental in destroying most of Islamic State's power in Syria, will now be distracted and weakened which could potentially set the stage for a revival of the Islamic State.  Second, this could mark the beginning of a rapprochement between the U.S. and Turkey, after a long period of worsening relations (see our Weekly Geopolitical Report from August 5, 2019).  Third, the troop withdrawal will likely be seen as confirmation that President Trump has abandoned the Carter Doctrine and has no stomach for being involved in Middle Eastern military operations.  The third point is especially important, as it suggests Iran will be emboldened by the move.
Germany:  August industrial new orders came in worse than expected, with a seasonally-adjusted decline of 0.6% instead of the expected rise.  In a sign that the world's manufacturing recession may be spreading beyond trade-oriented sectors, the decline was driven by a sharp 2.6% fall in domestic orders.  Overall orders in August were down 8.9% year-over-year.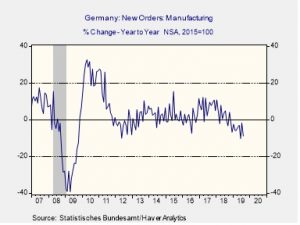 Unrest update:  Despite a ban against face masks, masked protests were widespread in Hong Kong over the weekend.  Now that the National Day holiday is behind us, we will be watching to see how much longer Beijing will tolerate the unrest.  Meanwhile, in Iraq protests continue despite harsh retaliation by the government and paramilitary groups.  So far, the protests have not affected oil flows, but we are watching closely for that development.
Brexit news:  A Scottish court refused a petition by Remain supporters that would have forced the PM to ask for an extension if an agreement isn't reached with the EU.  The judge argued that the Benn Act prevents a hard Brexit, so the court order was unnecessary.  Remainers fear that Johnson will violate the act and may exit on Halloween despite the legislation.  Meanwhile, the EU is signaling to the U.K. that a new proposal on the Irish border will be necessary by Friday.
Iran news:  China's state oil company has pulled out of a plan to develop part of Iran's offshore natural gas field.  Although China does conduct business with Iran despite sanctions, apparently the Chinese company decided not to run afoul of the U.S.  In another interesting development, Iran has detained a Russian journalist.  Although there is a tendency to view Iran and Russia as allies, both are trying to dominate the Middle East and could very well end up at loggerheads.
Portugal:  Prime Minister Costa and his center-left Socialist Party won Sunday's elections, boosting their seat total to 106 in the 230-seat parliament.  Although Costa still needs to find allies to gain a majority, the results suggest Europe's center-left parties are regaining their appeal after the rise of right-wing, populist parties in recent years.
China reserves:  China's foreign reserves fell more than expected to $3.092 bn compared to forecasts of $3.106 bn.  For the most part, reserves remain steady and the larger than expected decline may reflect less dollar exposure; if so, as the dollar appreciates the non-dollar portion of reserves would decline in value.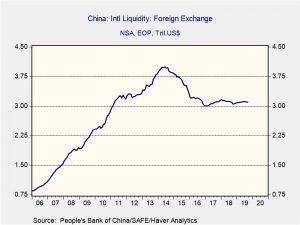 Odds and ends:  Talks with North Korea appear to have broken down, although the State Department has put a positive spin on discussions.  The National Association of Business economists are projecting sub-2% growth for 2020.  A heads-up—you will likely see the linked chart show up often today.