Daily Comment (October 6, 2020)
by Bill O'Grady, Thomas Wash, and Patrick Fearon-Hernandez, CFA
[Posted: 9:30 AM EDT] | PDF
Our Daily Comment today provides the latest details on President Trump's bout with the coronavirus and related election news.  We also discuss various geopolitical and economic developments overseas, including the new hot spots in the Caucasus and Central Asia (we include maps, since most of our readers will probably be unfamiliar with those areas).  We end with the latest pandemic news.
Trump Coronavirus Infection:  Last night, President Trump was discharged from Walter Reed National Military Medical Center and returned to the White House residence, where aides say he will self-isolate while he recovers from the coronavirus.
Meanwhile, Press Secretary Kayleigh McEnany and two of her aides tested positive for the virus, demonstrating how the White House has become a hotbed of infections.  That's likely to be a liability for Trump as the November election approaches; it plays into Democratic challenger Joe Biden's theme that Trump has mismanaged the pandemic.  Trump's infection, therefore, seems likely to compound the decline in support for him in some polls resulting from his aggressive approach in the first presidential debate.  One way to read the strong performance in stocks yesterday is that investors may now be looking at a big enough Biden win to forestall the risk of a disputed election and ensure a sizable new pandemic relief program next year.
In addition, the aggressive treatments given to Trump so far suggest his condition may be worse than officials acknowledge.  In any case, because of his age and obesity, he is also at elevated risk of complications from the disease.  If Trump has been sent home prematurely, eventually relapses, and ends up back at Walter Reed, it would likely cause even further damage to his electoral prospects.
By the way, we note that European Commission President Ursula von der Leyen tested negative for the coronavirus for a second time after a high-risk contact last week. She will nonetheless stay in precautionary self-isolation until this evening.  Austrian Chancellor Sebastian Kurz and much of his staff and cabinet also tested negative after a close colleague tested positive on Monday.
U.S. Presidential Election:  Despite easing concerns about a hung election, investors are still casting about for ways to hedge U.S. equities in the event of a nasty election dispute.  With bonds showing little movement and gold falling during the September market swoon, fund managers are now trying out currencies that mirror stock movements, derivatives that provide insurance against falls, and emerging market bonds that offer a higher yielding, though riskier, hedge for equity holdings.
United States-Russia:  U.S. and Russian negotiators yesterday made progress on a new arms control deal that would freeze each side's nuclear arsenal and outline the parameters for a detailed treaty to be negotiated next year.  If the deal comes together over the coming month, President Trump would have demonstrated that his diplomacy toward Moscow has borne fruit, while Russia would get its desired extension of the New START treaty, which is due to expire in early February.
United States-Switzerland:  Amid the general weakening in the U.S. dollar this year, the Swiss franc continues to appreciate.  Traders believe one positive aspect of the rising franc is that it could help keep the Trump administration from imposing trade restrictions against Switzerland.  If so, that would in turn help buoy the currency even further.
Nagorno-Karabakh:  Fighting between Azerbaijani forces and ethnic Armenian rebels in the Azeri enclave of Nagorno-Karabakh has finally died down a bit, while regional diplomatic efforts to find a longer-term solution have stepped up.  Turkish Foreign Minister Cavusoglu met with Azerbaijani President Aliyev in Baku today, while Armenian Prime Minister Pashinian discussed the fighting in a phone conversation with Russian President Putin.  However, the prospects for a solution are unknown.  Over the weekend, Azerbaijani President Aliyev demanded that Armenia set a timetable for withdrawing from Nagorno-Karabakh and surrounding Azerbaijani territories, saying that Azerbaijan would not end military action until that happened.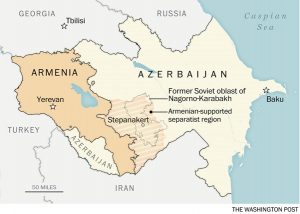 Kygyzstan:  Opposition groups have reportedly stormed the parliament building and other government offices in the capital of Bishkek, in an apparent effort to seize power after elections on Sunday that many claim were rigged.  The electoral authorities quickly invalidated the results of the election, showing parties allied to President Jeenbekov won the largest share of the votes.  The demonstrators also broke into the government's national security headquarters and freed former President Atambayev, whose party said it set up a coordinating group to form a new government.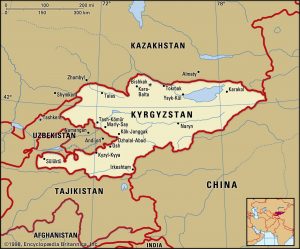 COVID-19:  Official data show confirmed cases have risen to 35,533,953 worldwide, with 1,044,884 deaths and 24,784,714 recoveries.  In the United States, confirmed cases rose to 7,459,101, with 210,195 deaths and 2,935,142 recoveries.  Here is the interactive chart from the Financial Times that allows you to compare cases and deaths among countries, scaled by population.
Virology
 Economic Impacts
 Financial Market Impacts
 Policy Responses