Daily Comment (October 5, 2020)
by Bill O'Grady, Thomas Wash, and Patrick Fearon-Hernandez, CFA
[Posted: 9:30 AM EDT] | PDF
Good morning and happy Monday!  Equity markets continue to work higher this morning.  We lead off with the president's condition.  Policy news follows, which will focus on the potential for further stimulus.  There are three international areas of concern this morning—Brexit, Belarus, and Armenia/Azerbaijan—we summarize the latest.  China news is next, with a recap of economic news.  We close with the pandemic update.  Let's get after it:
The President and COVID-19:  Commentary and speculation continue to swirl around the president's medical condition.  It does appear he is getting aggressive treatment; for example, he reportedly has been given the steroid dexamethasone.  Normal protocols usually deploy this drug when a patient is severely affected by this virus.  That may not be the case this time, but if it is, it would suggest the president is rather ill because dexamethasone does carry significant side effects.
Stimulus in parts?  President Trump has indicated he would like to see another round of fiscal stimulus.  In an interesting development, Speaker Pelosi has indicated she would support separate aid for the airline industry.  If true, this path would undermine her desire for a larger package and suggests she sees her negotiating position as weak.  We suspect the speaker is trying to placate moderate representatives who want to show they will able to bring home fiscal support for their districts.  Other policy news:
Belarus:  The EU has sanctioned 40 members of the government, but, interestingly enough, not Lukashenko.  Belarus has withdrawn foreign media accreditation, meaning foreign journalists will be forced to leave the country.
Brexit:  Although Chancellor Merkel remains optimistic, the broader EU is concluding that the likelihood of a hard Brexit is high.  A no-deal Brexit would, no doubt, be disruptive, affecting the trade in medical goods, causing border snags, and raising uncertainty.
Nagorno-Karabakh:  Fighting continued over the weekend between Azerbaijan and Armenia.  Turkey has aligned with the former, and Armenia is in a difficult position given that Azerbaijan has a much better funded military due to its oil industry.  Turkey's F-16s reportedly attacked Armenian positions.  Armenian artillery attacked the Azerbaijan city of Ganja over the weekend; the city is the nation's second largest.  In previous flare-ups, Russia has eventually intervened and restored a cold peace.  However, Russia, dealing with the economic blowback of the pandemic and weak oil prices, appears less willing to race in this time.  And, the U.S. is obviously distracted.  Thus, Turkey may view this situation as an opportunity.  There is the potential for a disruption of oil supplies from the Baku region, but given global oversupply we doubt it would have a lasting bullish impact on prices.
China:  Fifty senators have sent a letter to USTR Lighthizer urging him to make a trade deal with Taiwan.  We doubt the USTR will be likely to do this, as making such an arrangement would end any future negotiations with Beijing.  However, the letter does highlight the fact that Congress is becoming increasingly anti-China.  China has developed a dominant market position in various key metals; as relations deteriorate, the West will need to develop these resources itself.  China can easily manipulate prices of these metals, making private investment too risky.  Thus, the government is stepping in to provide support.  China's largest chipmaker, Semiconductor Manufacturing International Corp (USD SMICY 11.77), has been informed by U.S. suppliers that export restrictions may prevent them from selling goods to the company.
Economic news:  Some states apparently overpaid laid-off workers.  They want their money back, and it is unlikely these recipients have the savings to pay the states back.  Congress may deliver relief at some point, but, given how slow the states were to meet the demands for unemployment insurance, the mere news of this situation could crimp spending.
Due to delays in movie releases, Regal Entertainment (CNWGY, USD 2.20) is shutting down its theaters.
Eurozone services PMI data shows a definite softening, raising concerns that the recent rise in COVID-19 cases may be weakening the economy.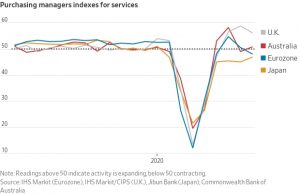 (Source: WSJ)
COVID-19:  The number of reported cases is 35,231,182 with 1,037,914 deaths and 24,539,096 recoveries.  In the U.S., there are 7,418,836 confirmed cases with 209,734 deaths and 2,911,699 recoveries.  For illustration purposes, the FT has created an interactive chart that allows one to compare cases across nations using similar scaling metrics.  The FT has also issued an economic tracker that looks across countries with high frequency data on various factors.
Virology: