Daily Comment (October 31, 2016)
by Bill O'Grady, Kaisa Stucke, and Thomas Wash
[Posted: 9:30 AM EDT] Happy Halloween!
There was lots of news over the weekend.  Let's dig in:
The return of the emails.  On Friday, FBI Director Comey announced the agency had come across a massive number of emails related to the private server issue that somehow ended up on a computer in the household of Anthony Weiner and Huma Abedin.  The latter is a long-time close aide to Sen. Clinton.  It is unclear what, if anything, is in these emails.  In fact, it's not obvious how these emails ended up on a laptop reportedly controlled by Weiner.  The emails were discovered because the FBI was investigating a different issue with Weiner.  Whatever the reason, this issue has resurrected itself just about a week before the election.  Here is our take:
There is no way the FBI can get through all these emails before the vote. According to reports, some 650k emails were gathered and, with a mere eight days before the vote, it is physically impossible to vet them all.  Thus, the odds of a blockbuster revelation before the election are low.
It probably doesn't swing the presidential election, but it might affect the down ballot vote. It's hard to imagine there are any more truly undecided voters between Trump and Clinton.  Both offer stark differences in policy direction and thus, by now, most voters have probably made up their minds, regardless of what they tell pollsters.  However, the news might encourage voters to opt for the familiar in terms of Senate and Congress, which would favor the GOP.
Comey was stuck. Earlier this year, when FBI Director Comey opted not to recommend an indictment against Sen. Clinton, Democrats lauded his position and Republicans wanted him to resign.  On Friday and through the weekend, the same support and criticism was expressed, but the party names had been switched.  Comey's problem was that in the face of this huge amount of potentially new information, if he had kept quiet and something was revealed to trigger an indictment, he would have been accused of throwing the election to the Democrats.  Some Democrats claim that all of the new information is actually old information, which cannot be ascertained in advance; at the same time, it is probable that much of what has emerged isn't new.
It didn't help Comey that AG Lynch has been compromised by her ill-advised contact with the Clintons. She really could not offer any guidance.  If she suggested the FBI should wait, it would be unclear whether she was taking that position because she didn't believe the new emails were material or if she was offering allegiance to the Clintons.  About all that Lynch could do to remain above reproach would be exactly what Comey did, and she would have made herself the target of what Comey is now suffering.
The email uncertainty will plague a President Clinton should she win the election. As we have discussed before, new presidents have a limited amount of political capital that has a "sell date" of about 18 months after the inauguration.  A President-Elect Clinton would already have less than a normal new president because she ran a campaign similar to that of a sitting vice president, who wins by vowing to maintain the policies of the predecessor.  The email issue would further require a President Clinton to spend precious political capital to defend herself from charges that could stem from this investigation.
A President Clinton, wounded by the ongoing investigation, may be forced to tack to the Sanders-Warren wing of the party. The Sanders-Warren wing could offer Clinton unwavering support in return for getting their preferred candidates in key cabinet positions.  Depending on how dire the investigation becomes, she may seek shelter in this wing of the party.  If so, regulations could take a much harder turn to the left on both the financial system and the environment.
So, our take is that the emails will take the focus off of the Trump campaign and will cause the polls to tighten (which it appears has already occurred).  However, we have been holding a rather jaundiced eye toward the polls anyway on fears that preference falsification is rampant in this election.  Our probabilities haven't changed—we see a 10% chance of a Clinton landslide, a 50% chance of a narrow Clinton win and a 40% chance of a narrow Trump win.
Will Carney leave?  The weekend British press reported that BOE Governor Carney is preparing to resign.  The FT's lead story this morning scotched these reports, which appear to have emerged from the right-wing press in Britain.  Carney supported the Remain campaign and Brexit supporters have been furious with him.  At the same time, Carney has been a steady hand during this period of tumult and it would be quite bearish for the GBP if he were to exit early.  If he stays his entire term, he will be in office into 2018.
OPEC fail?  OPEC held informal meetings over the weekend to hash out production adjustments before the major meeting on Nov. 30.  The meetings did not go well.  Iran and Iraq insisted that they should not be forced to cut output.  Iran says it is still recovering from sanctions and Iraq says it's fighting a war against IS and needs the revenue.  It seems that if cuts are going to come, the Saudis will be the primary source, forcing the kingdom back to the "swing producer" role it has rejected since the mid-1980s.  Since Saudi Arabia has priced its bond issue, we would be surprised to see the kingdom shoulder most of the burden of output cuts.  Non-OPEC producers rejected the idea of cuts if OPEC isn't able to negotiate a deal.  Although hope still exists that the cartel can engineer a cut by the end of November, it looks increasingly unlikely.  If no deal emerges, a retreat to the $40 to $45 range for oil prices is likely.
Charges dropped against Gordhan.  Earlier this month, South Africa's finance minister, Pravin Gordhan, was due to face charges on corruption, which appeared to be politically motivated.  This morning, we learned these charges will be dropped.  The South African rand rallied.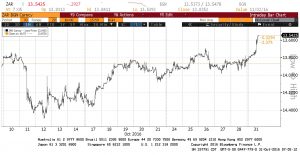 This chart shows XAR per USD on an inverted scale.  Note how the currency rallied today.