Daily Comment (October 29, 2019)
by Bill O'Grady, Thomas Wash, and Patrick Fearon-Hernandez, CFA
[Posted: 9:30 AM EDT]
The S&P 500 hit a new record yesterday.[1] There is growing hope of a trade deal.  The FOMC meeting begins today.  Brexit continues.  Here are the details:
China trade:  Contours of a trade deal, or ceasefire, are slowly emerging.  There are reports that the U.S. will offer to extend tariff delays of 25% on $34 bn of Chinese consumer electronics.  These tariffs were initially set for July 2018 but granted exclusions that ran through December 28th of this year.  The USTR is said to be considering extending these by another year.   This seems like a rather small offer; we haven't heard anything from the Chinese side most likely because they are holding CPC meetings.  Peter Navarro is said to be opposed to the trend of negotiations but, unlike in earlier talks, he and Lighthizer are not together in opposition.  From our perspective, a modest extension of tariff exclusions and an offer to buy soybeans seems like a rather small agreement.  However, we do note that China is allowing the CNY to appreciate, which may be a signal it is willing to make an arrangement.  However, a simple delay in trade hostilities is probably enough to cool market worries and give stocks a boost.
FOMC:  Market expectations are calling for a 25 bp rate cut at this week's meeting, which will end tomorrow.  This is a meeting without "dots" so all we will have to work with is the statement and the press conference.  What we will be watching for is how the financial markets react to a signal of a pause.  Chair Powell still has a large contingent of Phillips Curve adherents who will be less that keen on further cuts in the face of low unemployment.  And, equities hitting new highs will weaken the resolve of the few members who worry about financial market froth.  If Powell is using the mid-1990s soft landing as a policy guide, we are getting close to a pause point.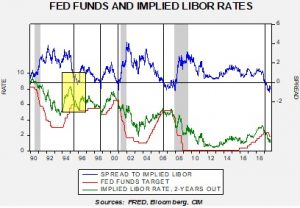 This chart shows the implied three-month LIBOR rate from the Eurodollar futures market along with the fed funds target.  The spread is the upper line.  Inversions are shown by vertical lines.  In 1995, the Greenspan Fed abruptly ended a tightening cycle as the spread inverted and generally guided rates based on the behavior of the implied LIBOR rate.  The current spread is -40 bps; another 25 bps cut will get us close to a positive spread.  It would not surprise us to see the Fed pause if we get a cut tomorrow.
In light of new highs in equity indices, the question then becomes how will equity markets react if the Fed pauses?  Most likely, without a steady diet of accommodation, equity markets will probably stall.  However, through all of the recent strength, retail money market levels continue to rise.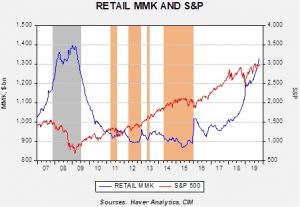 If investor sentiment swings to euphoria, there is ample fuel for a major rally in equities.  For that to occur, we would probably need more than a ceasefire in the trade situation.  Nevertheless, the rally in equities while cash levels are increasing is impressive.
Brexit:  The saga continues.  After seeing an election bill fail, PM Johnson is trying another tactic, this time a simple bill that would allow for an election without a two-thirds majority.  So far, the GBP is holding up through these machinations.  U.K. betting sites are leaning toward a hung election, where no party wins a governing majority.  In the details, at least one major bookie says there are even odds that no party will win an outright majority, while two others put the odds of that outcome at 11/10 (52.4%).  All three major bookies put the odds of the Conservative Party winning an outright majority at 10/11 (47.6%), while they put the odds of Labor winning a majority at between 23/1 (4.2%) and 16/1 (5.9%).
Global Investment Flows:  In a sign that anti-globalism political leaders aren't just rolling back trade, the OECD has issued a report showing international investment flows are also dropping.  In the first half of 2019, the data shows foreign direct investment across the globe was down some 20% from the second half of 2018.  FDI into the United States was down more than 25%.
Japan-South Korea:  Media reports yesterday said Japanese and South Korean officials are working on a deal to resolve their dispute over Japan's behavior in Korea before and during World War II.  The deal would focus on compensating Koreans who were subject to forced labor by the Japanese, potentially via an "economic cooperation" fund to be financed by Japanese companies.  As we discussed in our WGR of September 30 and October 7, the Japanese government insists that it owes nothing under the 1965 treaty that normalized relations between the countries, while recent South Korean court decisions have allowed Koreans to sue Japanese firms for redress.  The proposed deal would allow compensation to be paid in all but name.  Today, Japanese officials denied any such deal is in the works, but that could just be political posturing.  If such a deal is completed, it would remove a significant cloud over Japanese-South Korean trade, so it would likely be a modest positive for Asian equities.
Hong Kong:  Pro-democracy activist Joshua Wong was officially disqualified from running in next month's local elections, on grounds that his political group has called for Hong Kong to have self-determination.  Meanwhile, municipal Chief Executive Carrie Lam denied that Chinese leaders in Beijing are planning to oust her for her failure to control the city's continuing and increasingly violent anti-China protests.  Together, the developments are likely to add more fuel to the protests, and further weigh on the Hong Kong economy and financial markets.
Russia:  As a reminder that various Russian organizations continue to push back against President Putin's narrative of a Great Power Russia where all is well, activists in Moscow today publicly read the names of 40,000 fellow citizens executed by Stalin in 1937-38.  The ceremony took place in Lubyanka Square, directly in front of the former KGB headquarters, which is now the headquarters for the KGB's main successor agency, the Federal Security Service (FSB).  Similar readings took place in some 35 cities across the country.
Saudi Arabia:  The government opens its third annual Future Investment Initiative conference today, featuring at least five presidents and the chiefs of several major multinational corporations.  Given the high-level attendees, the "Davos in the Desert" meeting will have the potential to produce policy or corporate news – and potential mischief by Saudi rival Iran.
Odds and ends:  As impeachment accelerates, there is concern that the other business of Congress is getting sidelined.  For example, we might see a government shutdown or USMCA may be put at risk.  One of the side benefits of the raid that killed al-Baghdadi is that intelligence is gathered from the leader's compound.  Something similar occurred after the raid on bin Laden's compound.  We note that an IS spokesman was killed in an airstrike yesterday.
---
[1] It's the 90th anniversary of "Black Tuesday." The Dow Jones Industrials lost nearly 25% over two days on October 28th and 29th and volume on the 29th reached a record that held for nearly 40 years.