Daily Comment (October 28, 2016)
by Bill O'Grady, Kaisa Stucke, and Thomas Wash
[Posted: 9:30 AM EDT] As we discuss below in detail, Q3 GDP rose 2.9%, exceeding estimates of 2.6%.  The quick analysis of the data shows that two components were key to the report.  First, investment rebounded but mostly due to a rebuild in inventories.  The other major surprise was a bounce in net exports, which added 83 bps to growth.  Looking at the data on a trend basis, the stall in the dollar's rally supported trade.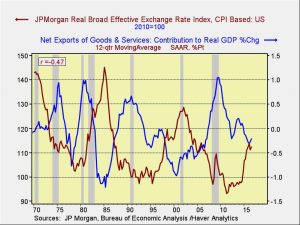 This chart looks at the JPM inflation and trade-adjusted dollar index and the three-year average of net exports' contribution to growth.  On a trend basis, net exports are still a drag on growth but we are seeing a modest improvement in trade as the dollar's rally has cooled.  Recently, the dollar has staged a modest rally on expectations of FOMC tightening.
Tomorrow, Iceland's voters go to the polls for parliamentary elections.  Normally, we don't track Iceland's political situation.  It's a small country[1] and an equally small economy, although it was a "canary in the coal mine" for the financial crisis in 2008.  What is notable about this election is that the Pirate Party, whom the FT refers to as "a ragtag bunch of internet activists," could either be the leading or second largest party in the legislature after the vote.  The Pirate Party was polling near 40% support in H1 of this year, but its lack of policy prescriptions and inexperience has diminished its support to around 20%.  One characteristic of the party is that it intends to use the internet to conduct snap referendums, which will probably not be binding but could evolve into a form of direct democracy.
Why is this important?  First, it shows another emerging element of populism.  By not having a well-defined platform and planning to simply ask voters what they think, it will open the potential for more direct democracy.  In a small and, at least for now, mostly homogeneous society, Iceland might be able to allow voters to directly signal their intentions in an orderly fashion.  In other words, this could be a step away from representative democracy.  Second, it shows that a growing disregard for political elites has clearly developed in Iceland, reflecting similar movements across the West.  A recent paper from Barclays[2] suggests that the two most powerful and common features of populists are the perceived loss of sovereignty and the belief that they are not represented.  The Pirate Party movement is another element of this issue.
_______________________________
[1] Though, apparently, a lovely country.  Mrs. O'Grady has pined for a trip to this island nation for some time.
[2] Barth, Marvin. "The Politics of Rage."