Daily Comment (October 23, 2019)
by Bill O'Grady, Thomas Wash, and Patrick Fearon-Hernandez, CFA
[Posted: 9:30 AM EDT] Good morning!  An update on Brexit, Carrie Lam on the outs, trade update, Syria update and more on repo.  Here are the details:
Brexit: It was both a good and bad day for Boris.  The good news is that his Brexit bill passed Parliament as he pulled in independents and Labour defectors to pass the measure.  Then, the disappointment followed—lawmakers voted 322 to 308 to delay the legislation for more time to examine what turned out to be a rather large bill.  So, now what?
The likelihood of a Halloween exit is not zero, but it is highly unlikely. The EU is already signaling it will offer an extension until at least the end of January.
Johnson will press for an election, but that path has two problems:

Labour might not support that outcome; polls suggest Corbyn will lose in an election and he may not want to risk that outcome.
Johnson needs to convince voters in the Brexit Party that he has delivered their outcome by passing the bill. If he can't, those voters could prevent him from gaining a majority in Parliament.  If Brexit had occurred, the reason for the Brexit Party's existence would no longer be operative and these voters would likely shift to the Tories.

It is possible that, after further review, MPs could decide to implement the passed bill in the 90 days between Halloween and January 31, 2020. In that case, an election would likely follow.
There will be attempts at adding amendments. One such addition might be to signal that the U.K. should consider negotiating on a U.K.-wide customs union.  However, that won't be part of the bill that passed.  Another would be a referendum, but it doesn't appear that has the votes either.
Time is not on Johnson's side. As MPs have more time to read the complicated document, it is a real risk that the details could cost him some support.
Thus, the status quo will be in place for now. The next big decision, or lack thereof, is probably on the election.
Finally, here is an interesting chart on the Brexit issue.  It shows U.K. imports of technology components from the Netherlands.  There is a clear increase in imports from mid-2018, when the Brexit vote occurred.  One issue that develops under conditions of trade uncertainty is that companies and consumers begin to stockpile critical goods on fears of potential supply disruption.  This inventory accumulation, if large enough, can distort economic data, leading to stronger data before the trade disruption occurs and weaker data afterward as the inventoried goods are used up after the trade action is implemented.  What could be happening in the U.K. now is that companies and consumers are building inventories, causing the economy to look stronger than it really is; after Brexit, we could see an inventory "hangover."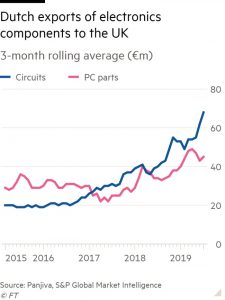 Carrie Lam out?  The FT is reporting that Beijing is planning to force out the current Hong Kong leader, Carrie Lam, with new leadership.  According to reports, Lam will resign at the end of Q1 and an "interim" leader will be appointed by Chairman Xi.  Reports suggest the head of the Hong Kong Monetary Authority, Norman Chan, is the frontrunner to replace Lam.  It is likely that Beijing hopes removing Lam will ease tensions with protestors.  We have our doubts but, clearly, Lam has become unpopular.
Trade update: In a rambling interview with the FT, Wilbur Ross suggested that new trade talks with the EU are possible, which might avert a trade conflict with the U.S.  The U.S. has set a deadline for mid-November on auto tariffs; new talks could delay the implementation or avoid them completely.  Ross also indicated that talks with Chinese negotiators are going well.
Syria: Russia and Turkey have reached an agreement to jointly operate a buffer zone in Syria.  The winners?  Turkey, which now gets what it wanted—a Kurdish-free zone on its southern border.  Other winners are Assad, who ostensibly gets more of his territory back, and Russia, which is rapidly becoming the power broker in the Middle East.  Under the deal, the Kurds have six days to retreat more than 20 miles from the Syrian/Turkey frontier.  We will now be watching to see if Kurdish forces actually retreat or fight against Turkey (and perhaps some Russian forces) to oppose the new zone.  We suspect there will be some fighting but, in the end, without air cover, the Kurds are doomed if they resist.  However, over time, we would expect the time-honored tactic of guerrilla warfare to develop, with Kurdish irregulars harassing Turkish troops guarding the new zone.
Repo: The Fed is continuing to inject liquidity into the system.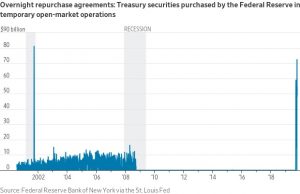 Although officials are continuing to argue that all is well, the size and continuous injection of liquidity is concerning.  What we find interesting is that there is a growing dispute over this issue.  The banks are arguing that the liquidity problem is due to excessive regulation, while Sen. Warren and others are countering that this may be a manufactured crisis to force a rollback in regulation.  Here is the problem—if the banks are right and Warren and others prevent changes in regulation, we could end up with a liquidity crisis.  If Warren et al. is right and regulations are rolled back, this could encourage risky behavior and create a financial crisis.  It is critical that regulators figure out who is "on the side of the angels" on this one because getting it wrong could have serious consequences.
Recessions fears rise: According to a report from the National League of Cities, expected to be released on Monday, two-thirds of finance officers in large cities are predicting a recession within the next two years.  As finance managers head into the next fiscal year, many suspect that their government expenditure could outpace revenue.  This is worrisome as a reduction in government expenditure can lead to a slowdown in economic activity in these cities.  In addition, it is widely believed that a slowdown in cities generally foreshadows a broader slowdown on the national level.  Furthermore, fears of localized contractions have been noted on the state level as well.  According the Philadelphia Fed's state leading indicators, five states are expected to contract over the next six months.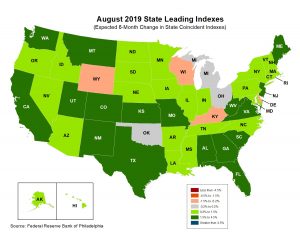 European complications: One of our themes has been that the U.S. is withdrawing from three conflict zones in the Far East, the Middle East and Europe.  Our most recent podcast touches on that theme.  Here are a couple of interesting complications that highlight this issue in Europe.  First, France has been reluctant to expand the EU to include Albania and North Macedonia.  In response, these nations are considering reaching out to China and Russia for support.  Second, in the turmoil surrounding impeachment and Ukraine, Hungary has been a background influence.  After WWI, when the Austro-Hungarian Empire was broken up, thousands of ethnic Hungarians were scattered across Eastern Europe.  Hungary has generally considered this diaspora as part of its citizenry.  The nations in which these Hungarians live disagree.  In 2010, PM Orban issued Hungarian passports to Hungarians living outside of Hungary.  This allowed these Hungarians to vote in Hungary's elections and they tended to vote for Orban's party.  However, Ukraine doesn't allow its citizens to hold dual passports; thus, Orban had a problem with Ukraine, which was expressed by raising corruption issues with the U.S. against Ukraine.  While this is all now part of the impeachment discussion, the bigger issue is that Europe is riven with similar ethnic dispersions.  U.S. power has prevented these issues from dividing Europe, allowing the EU to flourish.  However, as the U.S. withdraws, expect more of these sorts of historic claims to become a destabilizing problem for Europe.
Odds and ends: Zuckerberg goes to Capitol Hill today to discuss Libra.  Facebook (FB 182.34) is now facing an antitrust probe backed by 47 states.  Brazil's Senate passed an important pension reform bill that should be enacted in the coming weeks.  It will allow the country to bring its retirement spending under control and is a major victory.