Daily Comment (October 22, 2019)
by Bill O'Grady, Thomas Wash, and Patrick Fearon-Hernandez, CFA
[Posted: 9:30 AM EDT] Good morning!  It's rather quiet in the markets this morning.  Trudeau wins another term, but not a majority.  The Brexit saga continues.  No government in Israel.  Some background on Chile.  Here are the details:
Trudeau wins:  PM Trudeau won another term but his party didn't get a majority, falling 13 seats short.  To govern, he will need the support of either the New Democrats, or the Bloc Quebecois.  The former won 24 seats, the latter won 32 seats.  So far, financial market reaction has been modest as, at least initially, little will change.  However, the parties that he will need to partner with in order to gain a majority are much more left wing, and pushing for strong climate change legislation.  Both parties are not strongly in favor of USMCA.  Thus, we could see a leftward drift in Canadian policy, which would not be favorable for Canadian assets longer term.
Today in Brexit:  Today, at 2:00 EDT, the House of Commons will vote on the Withdrawal Agreement Bill.  This vote is known as the "second reading."  This is a straight up or down vote on proceeding to further debate.  If it fails, the clock essentially stops; the bill will likely be pulled, and there is a possibility of a hard Brexit.  If it passes, and it appears it will, then Parliament will decide if the bill will be subject to amendments. That vote will likely happen tomorrow.  Labour wants to attach a second referendum for approval; that amendment doesn't appear to have the votes.  There is also a separate amendment that would mean all of the U.K. will remain in the EU customs union instead of just Northern Ireland.  That amendment might pass.  Johnson, at that point, can either pull the legislation and go to an election, or accept the arrangement, get Brexit done and go to election.  If he wins a strong enough majority, he can then move to remove the amendment.   We expect him to take the second option; he likely feels that if he can deliver Brexit, his chances of winning an election are very strong (and we would agree with this position), and thus he can use that majority to shape Brexit going forward.  It's important to remember that Brexit is more like the end of the beginning, than the beginning of the end.  Once the exit agreement has been struck, the U.K. and the EU will then decide on what sort of trading arrangement will be put in place going forward.
One side note; there is growing speculation that if Northern Ireland remains in the EU customs union but legally in the U.K., the region will have interesting trade characteristics.  Suppose the Trump administration applies tariffs to the EU post-Brexit.  Those tariffs would apply to the EU but not the U.K.  Northern Ireland would then be in the EU customs union, but not subject to the U.S. tariffs.  This unique condition could make Northern Ireland a haven for EU companies seeking to avoid U.S. tariffs.
Chinese trade:  Chinese officials reported that "substantial progress" had been made during recent talks.  Although there is little evidence that the difficult measures are being discussed, a small deal that can be signed next month looks increasingly likely.  Yesterday's equity market rally was due, in part, to trade optimism.  However, to push markets to new highs, we will likely need to see the U.S. postpone tariffs due for December.  This is possible; however, the administration will likely only agree to a postponement, not a removal.  If so, the positive impact will be lessened.
A couple of other notes on China; as China negotiates on trade, it is petitioning the WTO for $2.4 bn in retaliatory tariffs.  We also note that, in reaction to slowing economic growth, Chinese officials are returning to a familiar pattern, boosting public works investment to lift growth.
Chile:  Unrest continues to spread in Chile, with 12 reported deaths.  The key problem is inequality.  Chile has leaned towards free markets since Pinochet built the economy on advice from University of Chicago economists.  One of the ways the political class tries to deal with the "pie sharing" problem is to expand the pie; that way, those who currently "have" can receive the same, while those who "have not" can get more.  Chile's economic problem is its heavy dependence on copper. GDP tends to lag copper prices by about three quarters.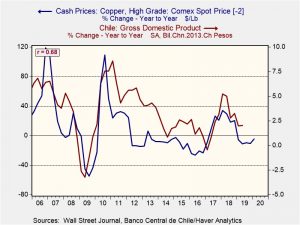 The exchange rate also closely tracks prices of the red metal.  The chart below shows the exchange rate (inverted) relative to the price of copper.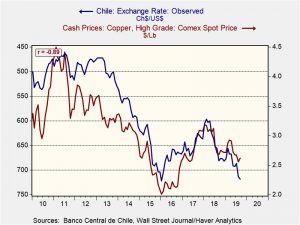 The inequality problem in Chile needs stronger Chinese growth to fix; slowing world growth, but especially in the commodity consuming China, is a problem for commodity suppliers.
Israel: Yesterday, right-wing Prime Minister Netanyahu gave up trying to form a government, so President Rivlin is now widely expected to give a shot to Benny Gantz, the former army chief heading up the center-right Blue and White Alliance.  It appears Gantz could form a minority government if he can strike a deal with leftist and Israeli Arab parties.
Bolivia:  Authorities this morning resumed issuing vote-count updates from Sunday's elections, with the numbers now showing leftist President Morales likely to win by enough to avoid a runoff.  Initial counts Sunday suggested a runoff would be needed.  After an inexplicable lull in count updates, the huge swing is raising concerns of electoral fraud, and protests have erupted.
Japan:  Emperor Naruhito completed his accession to the Chrysanthemum Throne today, with Prime Minister Abe shouting "banzai" (meaning "10,000 years"), and spectators ranging from Britain's Prince Charles to South Korean Prime Minister Lee Nak-yon (though, notably, not South Korean President Moon).
Japan-China:  The Japanese and Chinese navies have held their first joint drills since 2011, including the first Chinese naval visit to Japan since 2009.  Despite tensions over China's claims to the South China Sea, the countries' leaders reportedly want to improve trade and defense ties as the United States takes a more confrontational, protectionist stance against them.