Daily Comment (October 21, 2016)
by Bill O'Grady and Kaisa Stucke
[Posted: 9:30 AM EDT] The dollar is higher this morning on speculation that the Fed interest rate policy will diverge from the easy monetary policies implemented in Europe and Asia.  The dollar rose yesterday and the euro fell as investors interpreted ECB President Draghi's comments as an indication that stimulus policies will continue.  The dollar rose to its highest level against the euro since March.  As the chart below indicates, the dollar index, in general, has been rising since reaching its most recent low in the beginning of May.  Central bank policy divergence alongside relatively strong domestic economic growth have squeezed the dollar higher.  In turn, the higher dollar will likely dampen domestic exports.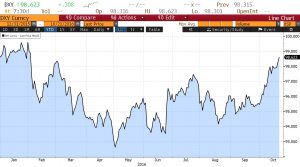 The currency also reached a six-year high against the yuan after the PBOC weakened its daily reference rate by the most since August.  The chart below shows the onshore yuan rate (the chart is in yuan per dollar, so a higher reading means a weaker yuan).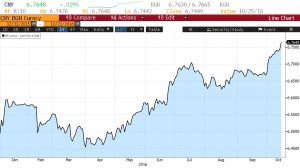 We would like to take a closer look at yesterday's Philadelphia Fed business outlook index.  The overall level weakened to 9.7 in October from 12.8 the month before, beating estimates of 5.0.  Details of the report reveal a generally improving picture, with new orders and shipments improving for October.  Additionally, the six-month forecast indicates an expansion of almost all measures.  The chart below shows the six-month average of the index, a more stable measure of manufacturing health.  The average continued improving in October, coming in at +4.1.